Out now: the summer issue!
Subscribe
Page 39 from: Out now: the summer issue!
REVERSE LOGISTICS 39recyclinginternational.com | July/August | 2020 'Our pallets are designed and built for reuse,' says company ceo Roeland Moens. 'They are tough and have an average lifecycle of ten years.' This is possi...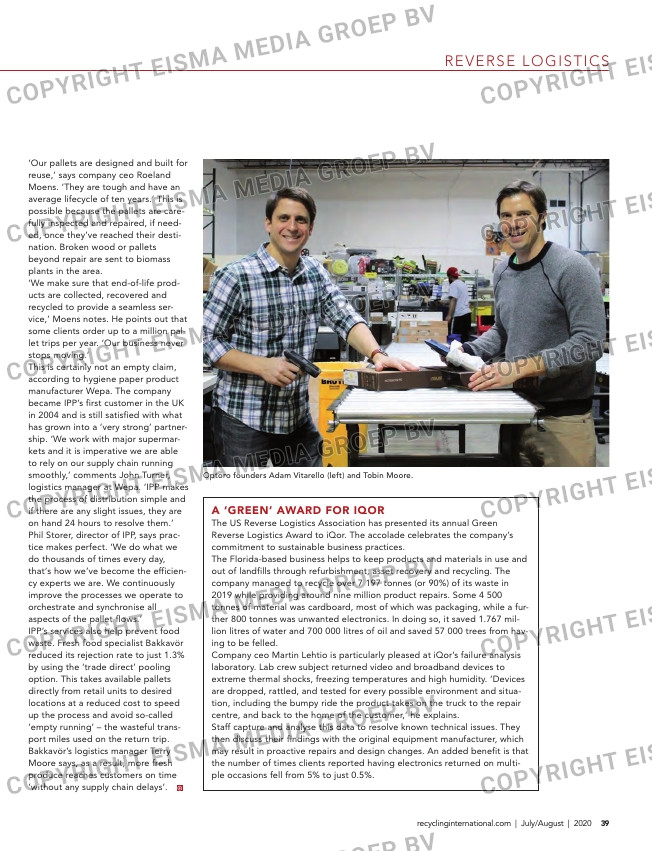 REVERSE LOGISTICS
39recyclinginternational.com | July/August | 2020
'Our pallets are designed and built for
reuse,' says company ceo Roeland
Moens. 'They are tough and have an
average lifecycle of ten years.' This is
possible because the pallets are care-
fully inspected and repaired, if need-
ed, once they've reached their desti-
nation. Broken wood or pallets
beyond repair are sent to biomass
plants in the area.
'We make sure that end-of-life prod-
ucts are collected, recovered and
recycled to provide a seamless ser-
vice,' Moens notes. He points out that
some clients order up to a million pal-
let trips per year. 'Our business never
stops moving.'
This is certainly not an empty claim,
according to hygiene paper product
manufacturer Wepa. The company
became IPP's first customer in the UK
in 2004 and is still satisfied with what
has grown into a 'very strong' partner-
ship. 'We work with major supermar-
kets and it is imperative we are able
to rely on our supply chain running
smoothly,' comments John Turner,
logistics manager at Wepa. 'IPP makes
the process of distribution simple and
if there are any slight issues, they are
on hand 24 hours to resolve them.'
Phil Storer, director of IPP, says prac-
tice makes perfect. 'We do what we
do thousands of times every day,
that's how we've become the efficien-
cy experts we are. We continuously
improve the processes we operate to
orchestrate and synchronise all
aspects of the pallet flows.'
IPP's services also help prevent food
waste. Fresh food specialist Bakkavör
reduced its rejection rate to just 1.3%
by using the 'trade direct' pooling
option. This takes available pallets
directly from retail units to desired
locations at a reduced cost to speed
up the process and avoid so-called
'empty running' – the wasteful trans-
port miles used on the return trip.
Bakkavör's logistics manager Terry
Moore says, as a result, more fresh
produce reaches customers on time
'without any supply chain delays'.
agement sector: a cathode ray tube
waste box, a universal e-scrap box, a
solar panel waste box, a post-consumer
flatscreen box; and a box for hazardous
goods like spent lithium batteries.
Other big names IPP caters to include
Danone, Tesco and PepsiCo with cus-
tomers using reverse vending benefit-
ting from:
• simple fees
• the right amount of pallets
• competitive pricing
• delivery to a specific location
• checks and repairs before delivery
• long-term contracts and daily rental
options
a 'greeN' award for IQor
The US Reverse Logistics Association has presented its annual Green
Reverse Logistics Award to iQor. The accolade celebrates the company's
commitment to sustainable business practices.
The Florida-based business helps to keep products and materials in use and
out of landfills through refurbishment, asset recovery and recycling. The
company managed to recycle over 7 197 tonnes (or 90%) of its waste in
2019 while providing around nine million product repairs. Some 4 500
tonnes of material was cardboard, most of which was packaging, while a fur-
ther 800 tonnes was unwanted electronics. In doing so, it saved 1.767 mil-
lion litres of water and 700 000 litres of oil and saved 57 000 trees from hav-
ing to be felled.
Company ceo Martin Lehtio is particularly pleased at iQor's failure analysis
laboratory. Lab crew subject returned video and broadband devices to
extreme thermal shocks, freezing temperatures and high humidity. 'Devices
are dropped, rattled, and tested for every possible environment and situa-
tion, including the bumpy ride the product takes on the truck to the repair
centre, and back to the home of the customer,' he explains.
Staff capture and analyse this data to resolve known technical issues. They
then discuss their findings with the original equipment manufacturer, which
may result in proactive repairs and design changes. An added benefit is that
the number of times clients reported having electronics returned on multi-
ple occasions fell from 5% to just 0.5%.
Optoro founders Adam Vitarello (left) and Tobin Moore.
36-37-38-39_optimisedscraplogistics.indd 39 06-07-20 13:24