Out now: the summer issue!
Subscribe
Page 36 from: Out now: the summer issue!
36 Bring it back! Circularity at the end of the line… Whatever sector you're in, logistics connects businesses across the globe. In recent years, sustainability has become increasingly important in transport and commerce, with rev...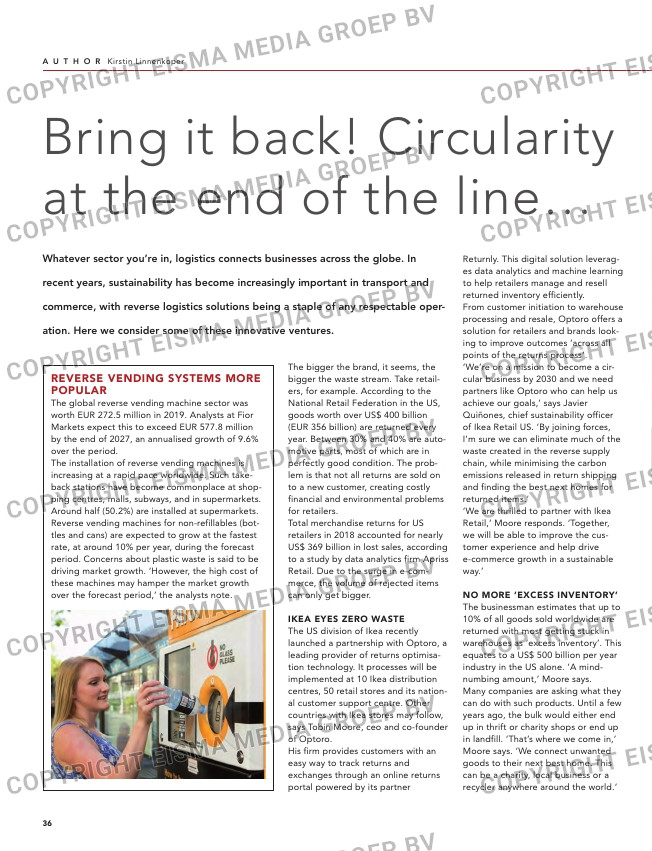 36
Bring it back! Circularity
at the end of the line…
Whatever sector you're in, logistics connects businesses across the globe. In
recent years, sustainability has become increasingly important in transport and
commerce, with reverse logistics solutions being a staple of any respectable oper-
ation. Here we consider some of these innovative ventures.
As soon as a product arrives, Optoro's
crew scans it and puts a detailed
description into the system. 'This
enables us to find the best path for
each item, to curb consumption and
reduce waste,' Moore explains.
Besides supporting circular economy
goals, Optoro's approach also fosters
strong customer relations. The com-
pany claims over 95% of consumers
are likely to buy again from a retailer if
they have a positive returns experi-
ence.
A breakdown of the company's annual
returns figures shows:
• 50% goes back into the stock of the
original retailer
• 25% goes back to the vendor for
credit from the retailer
• 15% is sold wholesale to secondary
customers
• 7% is sold to secondary customers
via direct-to-consumer channels
• 3% goes to landfill
The bigger the brand, it seems, the
bigger the waste stream. Take retail-
ers, for example. According to the
National Retail Federation in the US,
goods worth over US$ 400 billion
(EUR 356 billion) are returned every
year. Between 30% and 40% are auto-
motive parts, most of which are in
perfectly good condition. The prob-
lem is that not all returns are sold on
to a new customer, creating costly
financial and environmental problems
for retailers.
Total merchandise returns for US
retailers in 2018 accounted for nearly
US$ 369 billion in lost sales, according
to a study by data analytics firm Apriss
Retail. Due to the surge in e-com-
merce, the volume of rejected items
can only get bigger.
Ikea eyes zero waste
The US division of Ikea recently
launched a partnership with Optoro, a
leading provider of returns optimisa-
tion technology. It processes will be
implemented at 10 Ikea distribution
centres, 50 retail stores and its nation-
al customer support centre. Other
countries with Ikea stores may follow,
says Tobin Moore, ceo and co-founder
of Optoro.
His firm provides customers with an
easy way to track returns and
exchanges through an online returns
portal powered by its partner
Returnly. This digital solution leverag-
es data analytics and machine learning
to help retailers manage and resell
returned inventory efficiently.
From customer initiation to warehouse
processing and resale, Optoro offers a
solution for retailers and brands look-
ing to improve outcomes 'across all
points of the returns process'.
'We're on a mission to become a cir-
cular business by 2030 and we need
partners like Optoro who can help us
achieve our goals,' says Javier
Quiñones, chief sustainability officer
of Ikea Retail US. 'By joining forces,
I'm sure we can eliminate much of the
waste created in the reverse supply
chain, while minimising the carbon
emissions released in return shipping
and finding the best next homes for
returned items.'
'We are thrilled to partner with Ikea
Retail,' Moore responds. 'Together,
we will be able to improve the cus-
tomer experience and help drive
e-commerce growth in a sustainable
way.'
No more 'excess INveNtory'
The businessman estimates that up to
10% of all goods sold worldwide are
returned with most getting stuck in
warehouses as 'excess inventory'. This
equates to a US$ 500 billion per year
industry in the US alone. 'A mind-
numbing amount,' Moore says.
Many companies are asking what they
can do with such products. Until a few
years ago, the bulk would either end
up in thrift or charity shops or end up
in landfill. 'That's where we come in,'
Moore says. 'We connect unwanted
goods to their next best home. This
can be a charity, local business or a
recycler anywhere around the world.'
reverse veNdINg systems more
popular
The global reverse vending machine sector was
worth EUR 272.5 million in 2019. Analysts at Fior
Markets expect this to exceed EUR 577.8 million
by the end of 2027, an annualised growth of 9.6%
over the period.
The installation of reverse vending machines is
increasing at a rapid pace worldwide. Such take-
back stations have become commonplace at shop-
ping centres, malls, subways, and in supermarkets.
Around half (50.2%) are installed at supermarkets.
Reverse vending machines for non-refillables (bot-
tles and cans) are expected to grow at the fastest
rate, at around 10% per year, during the forecast
period. Concerns about plastic waste is said to be
driving market growth. 'However, the high cost of
these machines may hamper the market growth
over the forecast period,' the analysts note.
a u t H o r Kirstin Linnenkoper
36-37-38-39_optimisedscraplogistics.indd 36 06-07-20 13:24