Out now: the summer issue!
Subscribe
Page 27 from: Out now: the summer issue!
BUSINESS 27recyclinginternational.com | July/August | 2020 ture top quality masks from discarded plastic bottles. The pioneers used post-consumer polyethylene (PET) bottles to develop a single thin layer of nano-nonwoven membrane ...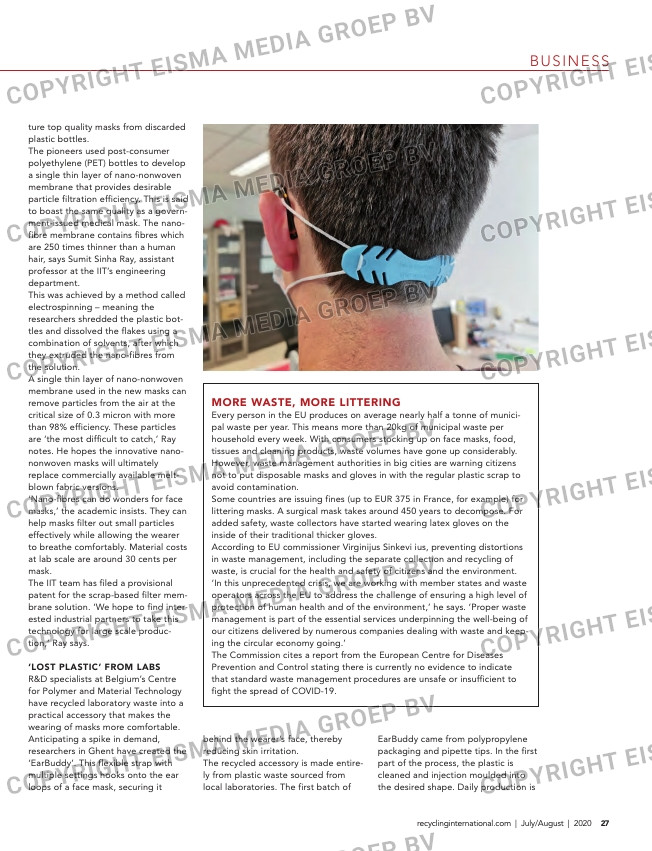 BUSINESS
27recyclinginternational.com | July/August | 2020
ture top quality masks from discarded
plastic bottles.
The pioneers used post-consumer
polyethylene (PET) bottles to develop
a single thin layer of nano-nonwoven
membrane that provides desirable
particle filtration efficiency. This is said
to boast the same quality as a govern-
ment-issued medical mask. The nano-
fibre membrane contains fibres which
are 250 times thinner than a human
hair, says Sumit Sinha Ray, assistant
professor at the IIT's engineering
department.
This was achieved by a method called
electrospinning – meaning the
researchers shredded the plastic bot-
tles and dissolved the flakes using a
combination of solvents, after which
they extruded the nano-fibres from
the solution.
A single thin layer of nano-nonwoven
membrane used in the new masks can
remove particles from the air at the
critical size of 0.3 micron with more
than 98% efficiency. These particles
are 'the most difficult to catch,' Ray
notes. He hopes the innovative nano-
nonwoven masks will ultimately
replace commercially available melt-
blown fabric versions.
'Nano-fibres can do wonders for face
masks,' the academic insists. They can
help masks filter out small particles
effectively while allowing the wearer
to breathe comfortably. Material costs
at lab scale are around 30 cents per
mask.
The IIT team has filed a provisional
patent for the scrap-based filter mem-
brane solution. 'We hope to find inter-
ested industrial partners to take this
technology for large scale produc-
tion,' Ray says.
'Lost pLastic' from Labs
R&D specialists at Belgium's Centre
for Polymer and Material Technology
have recycled laboratory waste into a
practical accessory that makes the
wearing of masks more comfortable.
Anticipating a spike in demand,
researchers in Ghent have created the
'EarBuddy'. This flexible strap with
multiple settings hooks onto the ear
loops of a face mask, securing it
behind the wearer's face, thereby
reducing skin irritation.
The recycled accessory is made entire-
ly from plastic waste sourced from
local laboratories. The first batch of
EarBuddy came from polypropylene
packaging and pipette tips. In the first
part of the process, the plastic is
cleaned and injection moulded into
the desired shape. Daily production is
Fotobijschrift
kaderkop
??
more waste, more Littering
Every person in the EU produces on average nearly half a tonne of munici-
pal waste per year. This means more than 20kg of municipal waste per
household every week. With consumers stocking up on face masks, food,
tissues and cleaning products, waste volumes have gone up considerably.
However, waste management authorities in big cities are warning citizens
not to put disposable masks and gloves in with the regular plastic scrap to
avoid contamination.
Some countries are issuing fines (up to EUR 375 in France, for example) for
littering masks. A surgical mask takes around 450 years to decompose. For
added safety, waste collectors have started wearing latex gloves on the
inside of their traditional thicker gloves.
According to EU commissioner Virginijus Sinkevičius, preventing distortions
in waste management, including the separate collection and recycling of
waste, is crucial for the health and safety of citizens and the environment.
'In this unprecedented crisis, we are working with member states and waste
operators across the EU to address the challenge of ensuring a high level of
protection of human health and of the environment,' he says. 'Proper waste
management is part of the essential services underpinning the well-being of
our citizens delivered by numerous companies dealing with waste and keep-
ing the circular economy going.'
The Commission cites a report from the European Centre for Diseases
Prevention and Control stating there is currently no evidence to indicate
that standard waste management procedures are unsafe or insufficient to
fight the spread of COVID-19.
26-27-28-29_mouthmasksrecyclinghype.indd 27 06-07-20 15:04