Out now: the summer issue!
Subscribe
Page 22 from: Out now: the summer issue!
22 Paper recyclers: No future without exports How will plastic recyclers get back on the horse? In six months China will close its doors to recovered fibre, challenging recyclers and traders around the globe to find new markets for t...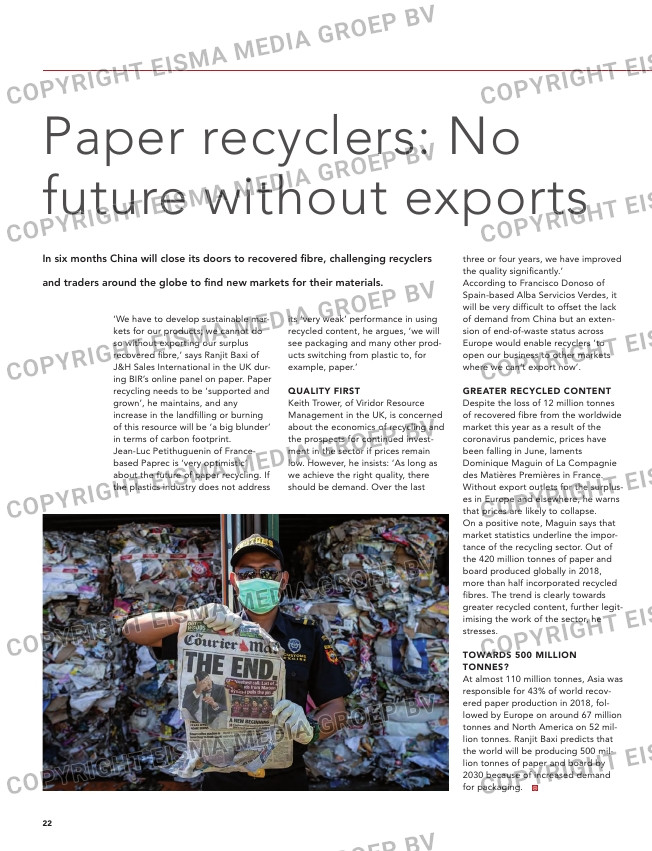 22
Paper recyclers: No
future without exports
How will plastic recyclers
get back on the horse?
In six months China will close its doors to recovered fibre, challenging recyclers
and traders around the globe to find new markets for their materials.
Plastic recycling centres in the US are 'really pinched', according to
Sally Houghton. The materials manager at Plastic Recycling Corp. in
California says collection volumes are slowly but surely going up
again following a coronavirus-induced standstill.
'We have to develop sustainable mar-
kets for our products; we cannot do
so without exporting our surplus
recovered fibre,' says Ranjit Baxi of
J&H Sales International in the UK dur-
ing BIR's online panel on paper. Paper
recycling needs to be 'supported and
grown', he maintains, and any
increase in the landfilling or burning
of this resource will be 'a big blunder'
in terms of carbon footprint.
Jean-Luc Petithuguenin of France-
based Paprec is 'very optimistic'
about the future of paper recycling. If
the plastics industry does not address
its 'very weak' performance in using
recycled content, he argues, 'we will
see packaging and many other prod-
ucts switching from plastic to, for
example, paper.'
QUALITy fIRST
Keith Trower, of Viridor Resource
Management in the UK, is concerned
about the economics of recycling and
the prospects for continued invest-
ment in the sector if prices remain
low. However, he insists: 'As long as
we achieve the right quality, there
should be demand. Over the last
'But we're still seeing a very limited
rate of redemption of containers in our
area,' she says. 'It's hard to compete
with the extremely low prices of virgin
oil. Margins are very tight right now.'
On top of volatile prices, producers
are turning their back on rPET and
other grades as momentum towards
using recycled content fades. 'The
recycling industry is on its knees. The
reality for recyclers is that unless they
experience immediate financial relief,
some of them won't make it,'
Houghton warns.
wAKE-UP TIME
Following the lockdown in China and
heavy restrictions in many other coun-
tries, there has been little demand for
plastic scrap since early March. 'It's a log-
ical consequence,' reasons Steve Wong
of the China Scrap Plastics Association.
He reports that domestic demand is still
low. 'The import market is literally only
20 to 30% of the normal level.'
The good news, Wong observes, is
that Europe is 'waking up again –
slowly'. Due to continuing health con-
cerns, there is strong demand for
plastic to produce personal protection
equipment, such as face shields, as
well as plastic packaging.
LIQUIDITy CONCERNS
Some recyclers are anxious that big
brands will prefer the cheaper option
three or four years, we have improved
the quality significantly.'
According to Francisco Donoso of
Spain-based Alba Servicios Verdes, it
will be very difficult to offset the lack
of demand from China but an exten-
sion of end-of-waste status across
Europe would enable recyclers 'to
open our business to other markets
where we can't export now'.
GREATER RECyCLED CONTENT
Despite the loss of 12 million tonnes
of recovered fibre from the worldwide
market this year as a result of the
coronavirus pandemic, prices have
been falling in June, laments
Dominique Maguin of La Compagnie
des Matières Premières in France.
Without export outlets for the surplus-
es in Europe and elsewhere, he warns
that prices are likely to collapse.
On a positive note, Maguin says that
market statistics underline the impor-
tance of the recycling sector. Out of
the 420 million tonnes of paper and
board produced globally in 2018,
more than half incorporated recycled
fibres. The trend is clearly towards
greater recycled content, further legit-
imising the work of the sector, he
stresses.
TOwARDS 500 MILLION
TONNES?
At almost 110 million tonnes, Asia was
responsible for 43% of world recov-
ered paper production in 2018, fol-
lowed by Europe on around 67 million
tonnes and North America on 52 mil-
lion tonnes. Ranjit Baxi predicts that
the world will be producing 500 mil-
lion tonnes of paper and board by
2030 because of increased demand
for packaging.
18-19-20-21-22-23_bire-conferencehighlights.indd 22 06-07-20 15:57