Out now: the summer issue!
Subscribe
Page 21 from: Out now: the summer issue!
BIR E-FORUM 21recyclinginternational.com | July/August | 2020 has now been overcome. But he warns a further container equipment imbal- ance could emerge as Chinese export- ers are experiencing a growing short- age. He also notes that...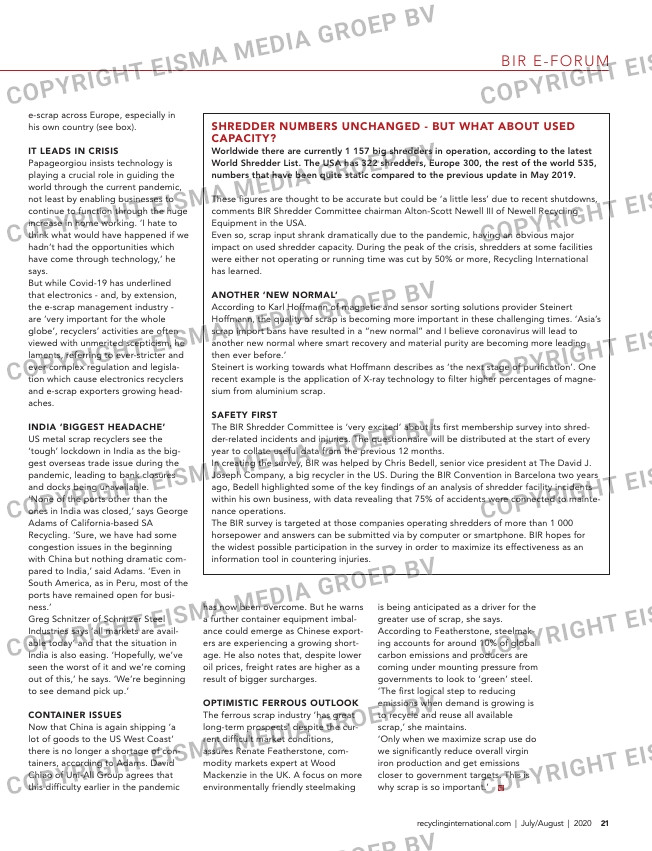 BIR E-FORUM
21recyclinginternational.com | July/August | 2020
has now been overcome. But he warns
a further container equipment imbal-
ance could emerge as Chinese export-
ers are experiencing a growing short-
age. He also notes that, despite lower
oil prices, freight rates are higher as a
result of bigger surcharges.
OPTIMISTIC fERROUS OUTLOOK
The ferrous scrap industry 'has great
long-term prospects' despite the cur-
rent difficult market conditions,
assures Renate Featherstone, com-
modity markets expert at Wood
Mackenzie in the UK. A focus on more
environmentally friendly steelmaking
is being anticipated as a driver for the
greater use of scrap, she says.
According to Featherstone, steelmak-
ing accounts for around 10% of global
carbon emissions and producers are
coming under mounting pressure from
governments to look to 'green' steel.
'The first logical step to reducing
emissions when demand is growing is
to recycle and reuse all available
scrap,' she maintains.
'Only when we maximize scrap use do
we significantly reduce overall virgin
iron production and get emissions
closer to government targets. This is
why scrap is so important.'
SHREDDER NUMBERS UNCHANGED – BUT wHAT ABOUT USED
CAPACITy?
Worldwide there are currently 1 157 big shredders in operation, according to the latest
World Shredder List. The USA has 322 shredders, Europe 300, the rest of the world 535,
numbers that have been quite static compared to the previous update in May 2019.
These figures are thought to be accurate but could be 'a little less' due to recent shutdowns,
comments BIR Shredder Committee chairman Alton-Scott Newell III of Newell Recycling
Equipment in the USA.
Even so, scrap input shrank dramatically due to the pandemic, having an obvious major
impact on used shredder capacity. During the peak of the crisis, shredders at some facilities
were either not operating or running time was cut by 50% or more, Recycling International
has learned.
ANOTHER 'NEw NORMAL'
According to Karl Hoffmann of magnetic and sensor sorting solutions provider Steinert
Hoffmann, the quality of scrap is becoming more important in these challenging times. 'Asia's
scrap import bans have resulted in a "new normal" and I believe coronavirus will lead to
another new normal where smart recovery and material purity are becoming more leading
then ever before.'
Steinert is working towards what Hoffmann describes as 'the next stage of purification'. One
recent example is the application of X-ray technology to filter higher percentages of magne-
sium from aluminium scrap.
SAfETy fIRST
The BIR Shredder Committee is 'very excited' about its first membership survey into shred-
der-related incidents and injuries. The questionnaire will be distributed at the start of every
year to collate useful data from the previous 12 months.
In creating the survey, BIR was helped by Chris Bedell, senior vice president at The David J.
Joseph Company, a big recycler in the US. During the BIR Convention in Barcelona two years
ago, Bedell highlighted some of the key findings of an analysis of shredder facility incidents
within his own business, with data revealing that 75% of accidents were connected to mainte-
nance operations.
The BIR survey is targeted at those companies operating shredders of more than 1 000
horsepower and answers can be submitted via by computer or smartphone. BIR hopes for
the widest possible participation in the survey in order to maximize its effectiveness as an
information tool in countering injuries.
ket in the coming months,' she insists.
According to Thomas Papageorgiou
of Greece-based Anamet, the closure
of the retail shops sector and the sus-
pension of many scrap dealer opera-
tions caused a dramatic decrease in
e-scrap across Europe, especially in
his own country (see box).
IT LEADS IN CRISIS
Papageorgiou insists technology is
playing a crucial role in guiding the
world through the current pandemic,
not least by enabling businesses to
continue to function through the huge
increase in home working. 'I hate to
think what would have happened if we
hadn't had the opportunities which
have come through technology,' he
says.
But while Covid-19 has underlined
that electronics – and, by extension,
the e-scrap management industry –
are 'very important for the whole
globe', recyclers' activities are often
viewed with unmerited scepticism, he
laments, referring to ever-stricter and
ever-complex regulation and legisla-
tion which cause electronics recyclers
and e-scrap exporters growing head-
aches.
INDIA 'BIGGEST HEADACHE'
US metal scrap recyclers see the
'tough' lockdown in India as the big-
gest overseas trade issue during the
pandemic, leading to bank closures
and docks being unavailable.
'None of the ports other than the
ones in India was closed,' says George
Adams of California-based SA
Recycling. 'Sure, we have had some
congestion issues in the beginning
with China but nothing dramatic com-
pared to India,' said Adams. 'Even in
South America, as in Peru, most of the
ports have remained open for busi-
ness.'
Greg Schnitzer of Schnitzer Steel
Industries says 'all markets are avail-
able today' and that the situation in
India is also easing. 'Hopefully, we've
seen the worst of it and we're coming
out of this,' he says. 'We're beginning
to see demand pick up.'
CONTAINER ISSUES
Now that China is again shipping 'a
lot of goods to the US West Coast'
there is no longer a shortage of con-
tainers, according to Adams. David
Chiao of Uni-All Group agrees that
this difficulty earlier in the pandemic
18-19-20-21-22-23_bire-conferencehighlights.indd 21 06-07-20 15:57