Out now: the summer issue!
Subscribe
Page 19 from: Out now: the summer issue!
BIR E-FORUM 19recyclinginternational.com | July/August | 2020 Joost van Kleef, whose company Oryx Stainless has operations in Europe and Asia, agrees with suggestions of regional fragmentation as supply chains become less global w...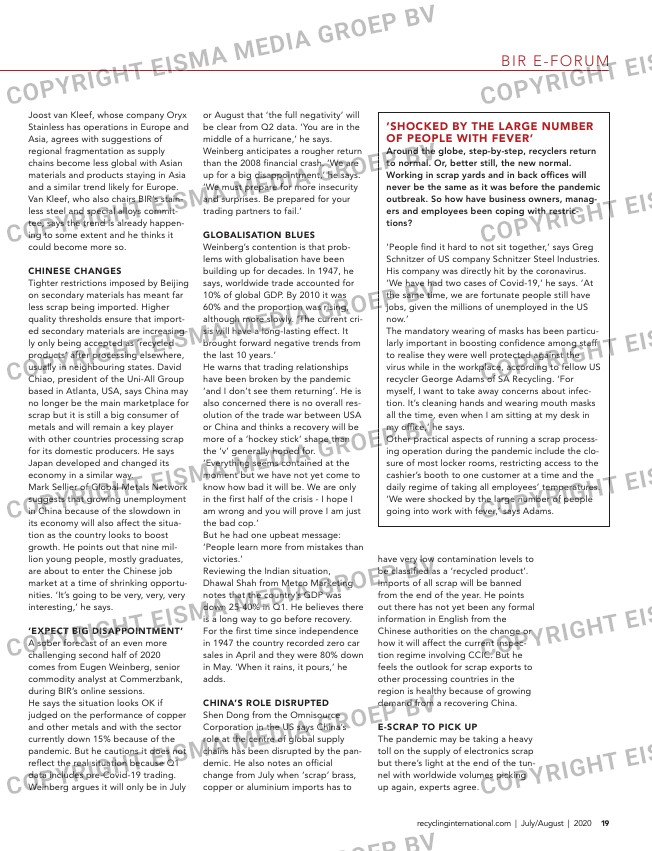 BIR E-FORUM
19recyclinginternational.com | July/August | 2020
Joost van Kleef, whose company Oryx
Stainless has operations in Europe and
Asia, agrees with suggestions of
regional fragmentation as supply
chains become less global with Asian
materials and products staying in Asia
and a similar trend likely for Europe.
Van Kleef, who also chairs BIR's stain-
less steel and special alloys commit-
tee, says the trend is already happen-
ing to some extent and he thinks it
could become more so.
CHINESE CHANGES
Tighter restrictions imposed by Beijing
on secondary materials has meant far
less scrap being imported. Higher
quality thresholds ensure that import-
ed secondary materials are increasing-
ly only being accepted as 'recycled
products' after processing elsewhere,
usually in neighbouring states. David
Chiao, president of the Uni-All Group
based in Atlanta, USA, says China may
no longer be the main marketplace for
scrap but it is still a big consumer of
metals and will remain a key player
with other countries processing scrap
for its domestic producers. He says
Japan developed and changed its
economy in a similar way.
Mark Sellier of Global Metals Network
suggests that growing unemployment
in China because of the slowdown in
its economy will also affect the situa-
tion as the country looks to boost
growth. He points out that nine mil-
lion young people, mostly graduates,
are about to enter the Chinese job
market at a time of shrinking opportu-
nities. 'It's going to be very, very, very
interesting,' he says.
'EXPECT BIG DISAPPOINTMENT'
A sober forecast of an even more
challenging second half of 2020
comes from Eugen Weinberg, senior
commodity analyst at Commerzbank,
during BIR's online sessions.
He says the situation looks OK if
judged on the performance of copper
and other metals and with the sector
currently down 15% because of the
pandemic. But he cautions it does not
reflect the real situation because Q1
data includes pre-Covid-19 trading.
Weinberg argues it will only be in July
or August that 'the full negativity' will
be clear from Q2 data. 'You are in the
middle of a hurricane,' he says.
Weinberg anticipates a rougher return
than the 2008 financial crash. 'We are
up for a big disappointment,' he says.
'We must prepare for more insecurity
and surprises. Be prepared for your
trading partners to fail.'
GLOBALISATION BLUES
Weinberg's contention is that prob-
lems with globalisation have been
building up for decades. In 1947, he
says, worldwide trade accounted for
10% of global GDP. By 2010 it was
60% and the proportion was rising,
although more slowly. 'The current cri-
sis will have a long-lasting effect. It
brought forward negative trends from
the last 10 years.'
He warns that trading relationships
have been broken by the pandemic
'and I don't see them returning'. He is
also concerned there is no overall res-
olution of the trade war between USA
or China and thinks a recovery will be
more of a 'hockey stick' shape than
the 'v' generally hoped for.
'Everything seems contained at the
moment but we have not yet come to
know how bad it will be. We are only
in the first half of the crisis – I hope I
am wrong and you will prove I am just
the bad cop.'
But he had one upbeat message:
'People learn more from mistakes than
victories.'
Reviewing the Indian situation,
Dhawal Shah from Metco Marketing
notes that the country's GDP was
down 25-40% in Q1. He believes there
is a long way to go before recovery.
For the first time since independence
in 1947 the country recorded zero car
sales in April and they were 80% down
in May. 'When it rains, it pours,' he
adds.
CHINA'S ROLE DISRUPTED
Shen Dong from the Omnisource
Corporation in the US says China's
role at the centre of global supply
chains has been disrupted by the pan-
demic. He also notes an official
change from July when 'scrap' brass,
copper or aluminium imports has to
have very low contamination levels to
be classified as a 'recycled product'.
Imports of all scrap will be banned
from the end of the year. He points
out there has not yet been any formal
information in English from the
Chinese authorities on the change or
how it will affect the current inspec-
tion regime involving CCIC. But he
feels the outlook for scrap exports to
other processing countries in the
region is healthy because of growing
demand from a recovering China.
E-SCRAP TO PICK UP
The pandemic may be taking a heavy
toll on the supply of electronics scrap
but there's light at the end of the tun-
nel with worldwide volumes picking
up again, experts agree.
Fotobijschrift
KADERKOP
??
'SHOCKED By THE LARGE NUMBER
Of PEOPLE wITH fEvER'
Around the globe, step-by-step, recyclers return
to normal. Or, better still, the new normal.
Working in scrap yards and in back offices will
never be the same as it was before the pandemic
outbreak. So how have business owners, manag-
ers and employees been coping with restric-
tions?
'People find it hard to not sit together,' says Greg
Schnitzer of US company Schnitzer Steel Industries.
His company was directly hit by the coronavirus.
'We have had two cases of Covid-19,' he says. 'At
the same time, we are fortunate people still have
jobs, given the millions of unemployed in the US
now.'
The mandatory wearing of masks has been particu-
larly important in boosting confidence among staff
to realise they were well protected against the
virus while in the workplace, according to fellow US
recycler George Adams of SA Recycling. 'For
myself, I want to take away concerns about infec-
tion. It's cleaning hands and wearing mouth masks
all the time, even when I am sitting at my desk in
my office,' he says.
Other practical aspects of running a scrap process-
ing operation during the pandemic include the clo-
sure of most locker rooms, restricting access to the
cashier's booth to one customer at a time and the
daily regime of taking all employees' temperatures.
'We were shocked by the large number of people
going into work with fever,' says Adams.
18-19-20-21-22-23_bire-conferencehighlights.indd 19 06-07-20 15:57