Out now: the summer issue!
Subscribe
Page 17 from: Out now: the summer issue!
TECHNOLOGY EXPERT New line of ANdritz Aduro shredders delivers high performance for recycling operations Andritz may not be the most recognized name in recycling technology, but it is a leading global supplier to other process in...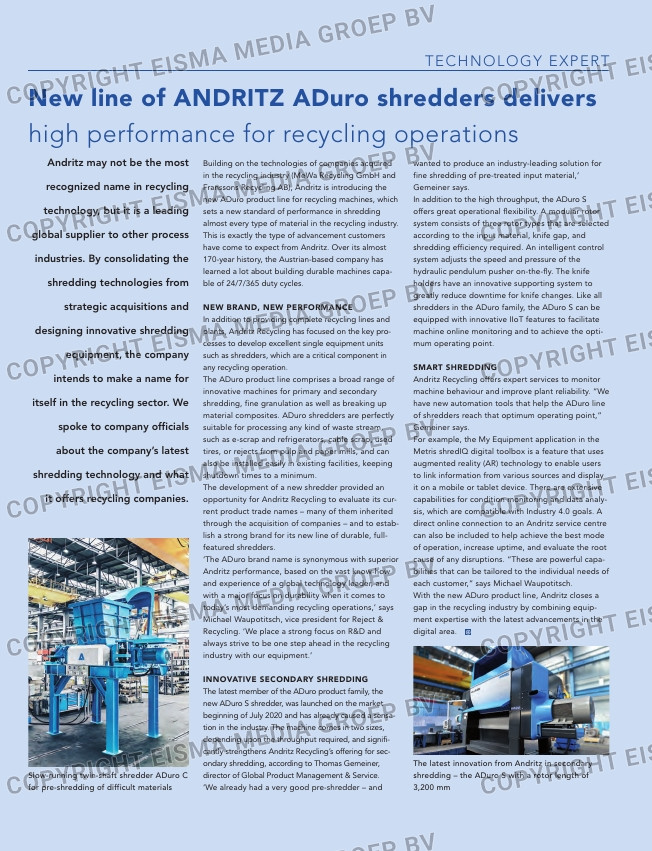 TECHNOLOGY EXPERT
New line of ANdritz Aduro shredders delivers
high performance for recycling operations
Andritz may not be the most
recognized name in recycling
technology, but it is a leading
global supplier to other process
industries. By consolidating the
shredding technologies from
strategic acquisitions and
designing innovative shredding
equipment, the company
intends to make a name for
itself in the recycling sector. We
spoke to company officials
about the company's latest
shredding technology and what
it offers recycling companies.
Building on the technologies of companies acquired
in the recycling industry (MeWa Recycling GmbH and
Franssons Recycling AB), Andritz is introducing the
new ADuro product line for recycling machines, which
sets a new standard of performance in shredding
almost every type of material in the recycling industry.
This is exactly the type of advancement customers
have come to expect from Andritz. Over its almost
170-year history, the Austrian-based company has
learned a lot about building durable machines capa-
ble of 24/7/365 duty cycles.
New brANd, New performANce
In addition to providing complete recycling lines and
plants, Andritz Recycling has focused on the key pro-
cesses to develop excellent single equipment units
such as shredders, which are a critical component in
any recycling operation.
The ADuro product line comprises a broad range of
innovative machines for primary and secondary
shredding, fine granulation as well as breaking up
material composites. ADuro shredders are perfectly
suitable for processing any kind of waste stream,
such as e-scrap and refrigerators, cable scrap, used
tires, or rejects from pulp and paper mills, and can
also be installed easily in existing facilities, keeping
shutdown times to a minimum.
The development of a new shredder provided an
opportunity for Andritz Recycling to evaluate its cur-
rent product trade names – many of them inherited
through the acquisition of companies – and to estab-
lish a strong brand for its new line of durable, full-
featured shredders.
'The ADuro brand name is synonymous with superior
Andritz performance, based on the vast know-how
and experience of a global technology leader, and
with a major focus on durability when it comes to
today's most demanding recycling operations,' says
Michael Waupotitsch, vice president for Reject &
Recycling. 'We place a strong focus on R&D and
always strive to be one step ahead in the recycling
industry with our equipment.'
iNNovAtive secoNdAry shreddiNg
The latest member of the ADuro product family, the
new ADuro S shredder, was launched on the market
beginning of July 2020 and has already caused a sensa-
tion in the industry. The machine comes in two sizes,
depending upon the throughput required, and signifi-
cantly strengthens Andritz Recycling's offering for sec-
ondary shredding, according to Thomas Gemeiner,
director of Global Product Management & Service.
'We already had a very good pre-shredder – and
wanted to produce an industry-leading solution for
fine shredding of pre-treated input material,'
Gemeiner says.
In addition to the high throughput, the ADuro S
offers great operational flexibility. A modular rotor
system consists of three rotor types that are selected
according to the input material, knife gap, and
shredding efficiency required. An intelligent control
system adjusts the speed and pressure of the
hydraulic pendulum pusher on-the-fly. The knife
holders have an innovative supporting system to
greatly reduce downtime for knife changes. Like all
shredders in the ADuro family, the ADuro S can be
equipped with innovative IIoT features to facilitate
machine online monitoring and to achieve the opti-
mum operating point.
smArt shreddiNg
Andritz Recycling offers expert services to monitor
machine behaviour and improve plant reliability. "We
have new automation tools that help the ADuro line
of shredders reach that optimum operating point,"
Gemeiner says.
For example, the My Equipment application in the
Metris shredIQ digital toolbox is a feature that uses
augmented reality (AR) technology to enable users
to link information from various sources and display
it on a mobile or tablet device. There are extensive
capabilities for condition monitoring and data analy-
sis, which are compatible with Industry 4.0 goals. A
direct online connection to an Andritz service centre
can also be included to help achieve the best mode
of operation, increase uptime, and evaluate the root
cause of any disruptions. "These are powerful capa-
bilities that can be tailored to the individual needs of
each customer," says Michael Waupotitsch.
With the new ADuro product line, Andritz closes a
gap in the recycling industry by combining equip-
ment expertise with the latest advancements in the
digital area.
The latest innovation from Andritz in secondary
shredding – the ADuro S with a rotor length of
3,200 mm
Slow-running twin-shaft shredder ADuro C
for pre-shredding of difficult materials
17_andritz-technologyexperts.indd 17 06-07-20 14:01