Out now: the summer issue!
Subscribe
Page 12 from: Out now: the summer issue!
12 Herbold Meckesheim GmbH Your Partner for Plastics Wash Lines www.herbold.com As a one-stop supplier, we provide all relevant process components:  Pre-washing units  Hydro-cyclone separation systems  Friction washers ...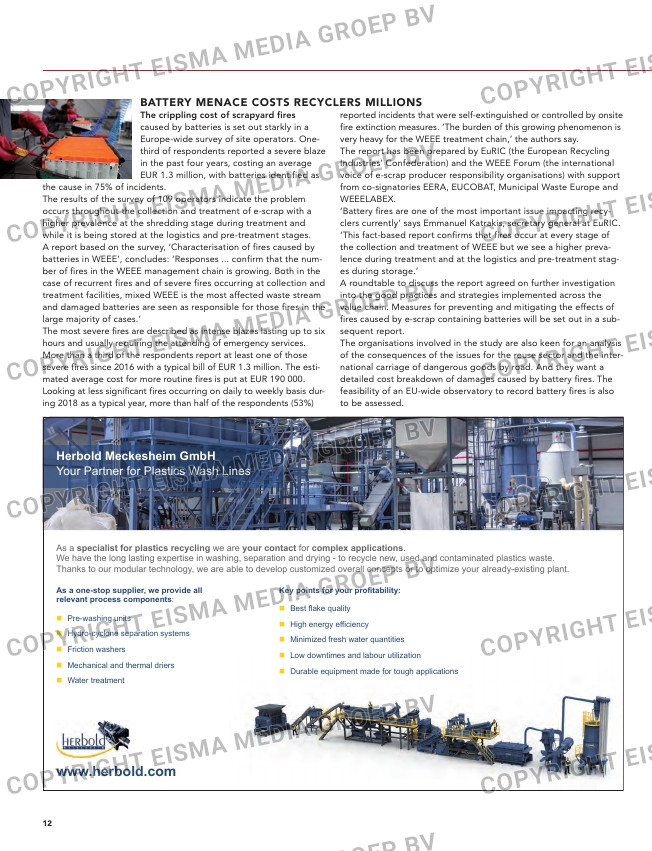 12
Herbold Meckesheim GmbH
Your Partner for Plastics Wash Lines
www.herbold.com

As a one-stop supplier, we provide all
relevant process components:
 Pre-washing units
 Hydro-cyclone separation systems
 Friction washers
 Mechanical and thermal driers
 Water treatment
As a specialist for plastics recycling we are your contact for complex applications.
We have the long lasting expertise in washing, separation and drying – to recycle new, used and contaminated plastics waste.
Thanks to our modular technology, we are able to develop customized overall concepts or to optimize your already-existing plant.
Key points for your profitability:

 Best flake quality
 High energy efficiency
 Minimized fresh water quantities
 Low downtimes and labour utilization
 Durable equipment made for tough applications
UNIVERSAL GRANULATOR XG
UNIVERSAL GRANULATOR XG

YEARS OF
EXPERIENCE
SERVICE AND
QUALITY MAINTENANCE
Neu- und Gebrauchtmaschinen
Kompetente Beratung, telefonisch oder bei Ihnen vor Ort
Schnelle zuverlässige Lieferung direkt ab Lager
Reparatur, Überholung, Montage, Inbetriebnahme,
mechanisch sowie elektrisch
30 JAHRE ERFAHRUNG IN DER ENTWICKLUNG
UND PRODUKTION VON ZERKLEINERUNGSMASCHINEN
THM recycling solutions GmbH
75031 Eppingen (Hauptsitz, Produktion, Lager und Service) | 34613 Schwalmstadt (Servicestützpunkt West)
Fon: +49 (0) 72 62 / 92 43 -200 · Fax: +49 (0) 72 62 / 92 43 -29 · [email protected] · www.thm-rs.de

Das THM recycling solutions Serviceangebot:
reCyClers turn to seCond-
hand in response to Covid-19
The online marketplace Myscrapmachine.com is
now available in five languages in response to its
growing user base. As well as English, it caters
to businesses in Germany, Italy, France and the
Netherlands.
In only a few clicks, Myscrapmachine.com connects
thousands of players in the recycling, construction
and demolition industry looking to sell or buy
machines and equipment. 'The platform gives a
second life to your machines and parts and has
become a vital partner for our users,' says company
commercial manager Julien Jean. 'Myscrapmachine
offers a highly qualitative buying experience.'
The site hosts a wide range of used equipment and
machinery and this has generated a lot of traffic
the last few months. This is partly because the
coronavirus is inspiring industry players to expand
their second-hand fleet rather than spend more on
new recycling tech.
'We are already working on a new version of the
website to improve the customer's experience
even more,' Jean adds. This includes new member-
ship features.
battery menaCe Costs reCyClers millions
The crippling cost of scrapyard fires
caused by batteries is set out starkly in a
Europe-wide survey of site operators. One-
third of respondents reported a severe blaze
in the past four years, costing an average
EUR 1.3 million, with batteries identified as
the cause in 75% of incidents.
The results of the survey of 109 operators indicate the problem
occurs throughout the collection and treatment of e-scrap with a
higher prevalence at the shredding stage during treatment and
while it is being stored at the logistics and pre-treatment stages.
A report based on the survey, 'Characterisation of fires caused by
batteries in WEEE', concludes: 'Responses … confirm that the num-
ber of fires in the WEEE management chain is growing. Both in the
case of recurrent fires and of severe fires occurring at collection and
treatment facilities, mixed WEEE is the most affected waste stream
and damaged batteries are seen as responsible for those fires in the
large majority of cases.'
The most severe fires are described as intense blazes lasting up to six
hours and usually requiring the attending of emergency services.
More than a third of the respondents report at least one of those
severe fires since 2016 with a typical bill of EUR 1.3 million. The esti-
mated average cost for more routine fires is put at EUR 190 000.
Looking at less significant fires occurring on daily to weekly basis dur-
ing 2018 as a typical year, more than half of the respondents (53%)
reported incidents that were self-extinguished or controlled by onsite
fire extinction measures. 'The burden of this growing phenomenon is
very heavy for the WEEE treatment chain,' the authors say.
The report has been prepared by EuRIC (the European Recycling
Industries' Confederation) and the WEEE Forum (the international
voice of e-scrap producer responsibility organisations) with support
from co-signatories EERA, EUCOBAT, Municipal Waste Europe and
WEEELABEX.
'Battery fires are one of the most important issue impacting recy-
clers currently' says Emmanuel Katrakis, secretary general at EuRIC.
'This fact-based report confirms that fires occur at every stage of
the collection and treatment of WEEE but we see a higher preva-
lence during treatment and at the logistics and pre-treatment stag-
es during storage.'
A roundtable to discuss the report agreed on further investigation
into the good practices and strategies implemented across the
value chain. Measures for preventing and mitigating the effects of
fires caused by e-scrap containing batteries will be set out in a sub-
sequent report.
The organisations involved in the study are also keen for an analysis
of the consequences of the issues for the reuse sector and the inter-
national carriage of dangerous goods by road. And they want a
detailed cost breakdown of damages caused by battery fires. The
feasibility of an EU-wide observatory to record battery fires is also
to be assessed.
10-11-12-13-14-15_trendsupdatesi.indd 12 06-07-20 14:00