Out now: the summer issue!
Subscribe
Page 11 from: Out now: the summer issue!
trends & updates 11recyclinginternational.com | July/August | 2020 Fotobijschrift KaderKop ?? China warns of new inspeCtions after sCrap ban Exporters have been told that shipments of secondary materi- als to China after the en...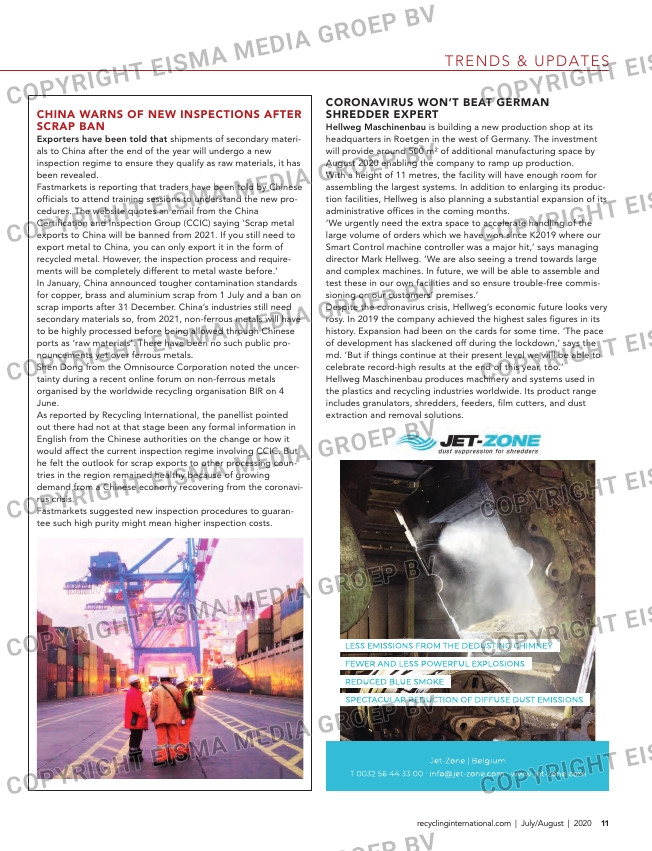 trends & updates
11recyclinginternational.com | July/August | 2020
Fotobijschrift
KaderKop
??
China warns of new inspeCtions after
sCrap ban
Exporters have been told that shipments of secondary materi-
als to China after the end of the year will undergo a new
inspection regime to ensure they qualify as raw materials, it has
been revealed.
Fastmarkets is reporting that traders have been told by Chinese
officials to attend training sessions to understand the new pro-
cedures. The website quotes an email from the China
Certification and Inspection Group (CCIC) saying 'Scrap metal
exports to China will be banned from 2021. If you still need to
export metal to China, you can only export it in the form of
recycled metal. However, the inspection process and require-
ments will be completely different to metal waste before.'
In January, China announced tougher contamination standards
for copper, brass and aluminium scrap from 1 July and a ban on
scrap imports after 31 December. China's industries still need
secondary materials so, from 2021, non-ferrous metals will have
to be highly processed before being allowed through Chinese
ports as 'raw materials'. There have been no such public pro-
nouncements yet over ferrous metals.
Shen Dong from the Omnisource Corporation noted the uncer-
tainty during a recent online forum on non-ferrous metals
organised by the worldwide recycling organisation BIR on 4
June.
As reported by Recycling International, the panellist pointed
out there had not at that stage been any formal information in
English from the Chinese authorities on the change or how it
would affect the current inspection regime involving CCIC. But
he felt the outlook for scrap exports to other processing coun-
tries in the region remained healthy because of growing
demand from a Chinese economy recovering from the coronavi-
rus crisis.
Fastmarkets suggested new inspection procedures to guaran-
tee such high purity might mean higher inspection costs.
send in your
Candidates!
*Technology and machinery
providers can contact our sales
manager, Judith Wanjala:
[email protected]
*Recyclers can contact the
editorial staff:
[email protected].
com or [email protected]
tional.com
Coronavirus won't beat german
shredder expert
Hellweg Maschinenbau is building a new production shop at its
headquarters in Roetgen in the west of Germany. The investment
will provide around 500 m² of additional manufacturing space by
August 2020 enabling the company to ramp up production.
With a height of 11 metres, the facility will have enough room for
assembling the largest systems. In addition to enlarging its produc-
tion facilities, Hellweg is also planning a substantial expansion of its
administrative offices in the coming months.
'We urgently need the extra space to accelerate handling of the
large volume of orders which we have won since K2019 where our
Smart Control machine controller was a major hit,' says managing
director Mark Hellweg. 'We are also seeing a trend towards large
and complex machines. In future, we will be able to assemble and
test these in our own facilities and so ensure trouble-free commis-
sioning on our customers' premises.'
Despite the coronavirus crisis, Hellweg's economic future looks very
rosy. In 2019 the company achieved the highest sales figures in its
history. Expansion had been on the cards for some time. 'The pace
of development has slackened off during the lockdown,' says the
md. 'But if things continue at their present level we will be able to
celebrate record-high results at the end of this year, too.'
Hellweg Maschinenbau produces machinery and systems used in
the plastics and recycling industries worldwide. Its product range
includes granulators, shredders, feeders, film cutters, and dust
extraction and removal solutions.
10-11-12-13-14-15_trendsupdatesi.indd 11 06-07-20 14:00