Out now: Recycling Technology 2021!
Subscribe
Page 60 from: Out now: Recycling Technology 2021!
60 2021 Innovation From dusty old carpet tiles to pure, valuable yarn French multinational Tarkett found a new way to recycle carpets at its facility in Waalwijk, the Netherlands. The company is now able to separate the two principal co...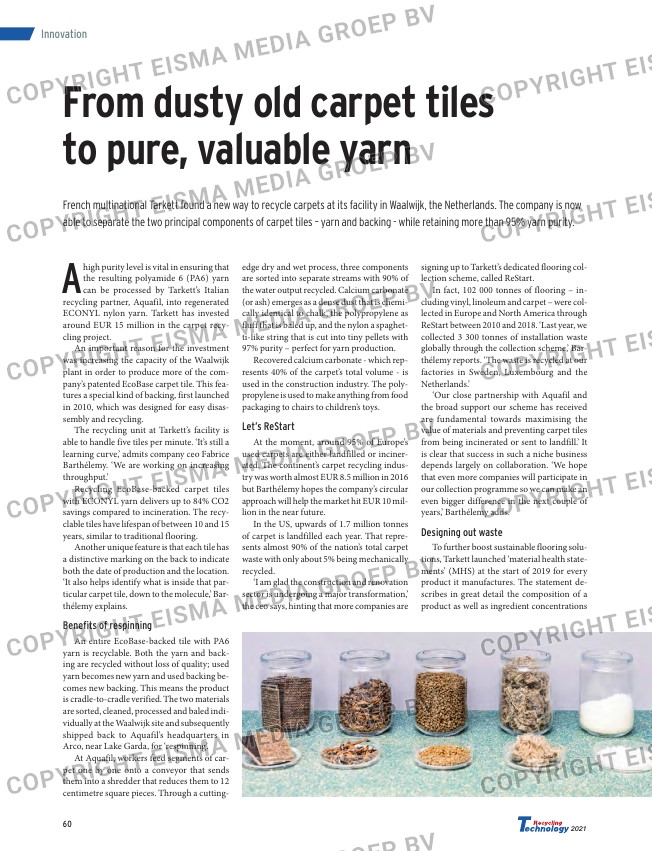 60
2021

Innovation
From dusty old carpet tiles
to pure, valuable yarn
French multinational Tarkett found a new way to recycle carpets at its facility in Waalwijk, the Netherlands. The company is now
able to separate the two principal components of carpet tiles – yarn and backing – while retaining more than 95% yarn purity.
A high purity level is vital in ensuring that the resulting polyamide 6 (PA6) yarn can be processed by Tarkett's Italian
recycling partner, Aquafil, into regenerated
ECONYL nylon yarn. Tarkett has invested
around EUR 15 million in the carpet recy-
cling project.
An important reason for the investment
was increasing the capacity of the Waalwijk
plant in order to produce more of the com-
pany's patented EcoBase carpet tile. This fea-
tures a special kind of backing, first launched
in 2010, which was designed for easy disas-
sembly and recycling.
The recycling unit at Tarkett's facility is
able to handle five tiles per minute. 'It's still a
learning curve,' admits company ceo Fabrice
Barthélemy. 'We are working on increasing
throughput.'
Recycling EcoBase-backed carpet tiles
with ECONYL yarn delivers up to 84% CO2
savings compared to incineration. The recy-
clable tiles have lifespan of between 10 and 15
years, similar to traditional flooring.
Another unique feature is that each tile has
a distinctive marking on the back to indicate
both the date of production and the location.
'It also helps identify what is inside that par-
ticular carpet tile, down to the molecule,' Bar-
thélemy explains.
Benefits of respinning
An entire EcoBase-backed tile with PA6
yarn is recyclable. Both the yarn and back-
ing are recycled without loss of quality; used
yarn becomes new yarn and used backing be-
comes new backing. This means the product
is cradle-to-cradle verified. The two materials
are sorted, cleaned, processed and baled indi-
vidually at the Waalwijk site and subsequently
shipped back to Aquafil's headquarters in
Arco, near Lake Garda, for 'respinning'.
At Aquafil, workers feed segments of car-
pet one by one onto a conveyor that sends
them into a shredder that reduces them to 12
centimetre square pieces. Through a cutting-
edge dry and wet process, three components
are sorted into separate streams with 90% of
the water output recycled. Calcium carbonate
(or ash) emerges as a dense dust that is chemi-
cally identical to chalk, the polypropylene as
fluff that is baled up, and the nylon a spaghet-
ti-like string that is cut into tiny pellets with
97% purity – perfect for yarn production.
Recovered calcium carbonate – which rep-
resents 40% of the carpet's total volume – is
used in the construction industry. The poly-
propylene is used to make anything from food
packaging to chairs to children's toys.
Let's ReStart
At the moment, around 95% of Europe's
used carpets are either landfilled or inciner-
ated. The continent's carpet recycling indus-
try was worth almost EUR 8.5 million in 2016
but Barthélemy hopes the company's circular
approach will help the market hit EUR 10 mil-
lion in the near future.
In the US, upwards of 1.7 million tonnes
of carpet is landfilled each year. That repre-
sents almost 90% of the nation's total carpet
waste with only about 5% being mechanically
recycled.
'I am glad the construction and renovation
sector is undergoing a major transformation,'
the ceo says, hinting that more companies are
signing up to Tarkett's dedicated flooring col-
lection scheme, called ReStart.
In fact, 102 000 tonnes of flooring – in-
cluding vinyl, linoleum and carpet – were col-
lected in Europe and North America through
ReStart between 2010 and 2018. 'Last year, we
collected 3 300 tonnes of installation waste
globally through the collection scheme,' Bar-
thélemy reports. 'The waste is recycled at our
factories in Sweden, Luxembourg and the
Netherlands.'
'Our close partnership with Aquafil and
the broad support our scheme has received
are fundamental towards maximising the
value of materials and preventing carpet tiles
from being incinerated or sent to landfill.' It
is clear that success in such a niche business
depends largely on collaboration. 'We hope
that even more companies will participate in
our collection programme so we can make an
even bigger difference in the next couple of
years,' Barthélemy adds.
Designing out waste
To further boost sustainable flooring solu-
tions, Tarkett launched 'material health state-
ments' (MHS) at the start of 2019 for every
product it manufactures. The statement de-
scribes in great detail the composition of a
product as well as ingredient concentrations
60-61_research-carpetrecycling.indd 60 09-09-20 14:30