Out now: Recycling Technology 2021!
Subscribe
Page 6 from: Out now: Recycling Technology 2021!
6 2021 Cononavirus crisis Pandemic-proof thanks to smart remote service From the very first outbreak of the Coronavirus, exporters of recycling equipment had to rethink their business models regarding how best to support their customers...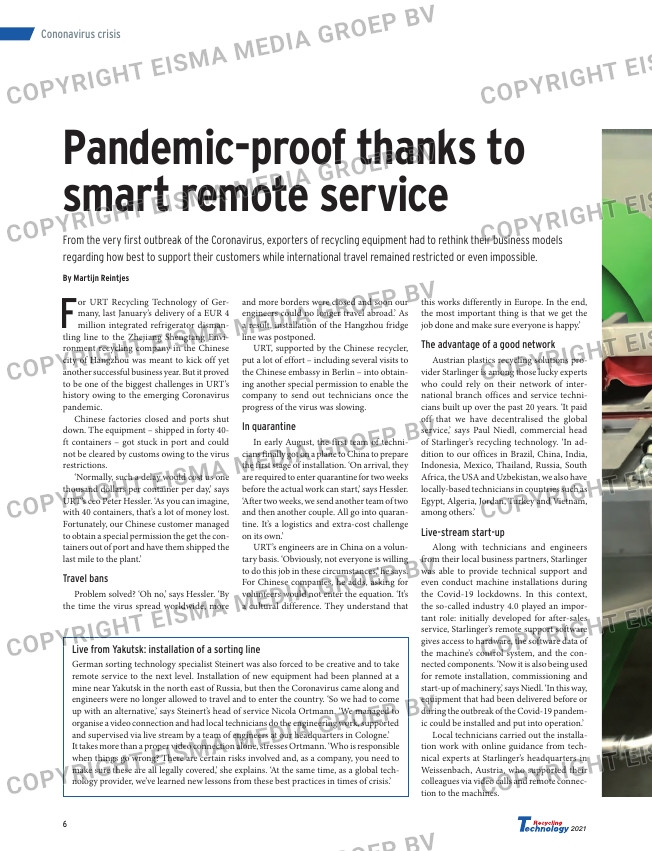 6
2021

Cononavirus crisis
Pandemic-proof thanks to
smart remote service
From the very first outbreak of the Coronavirus, exporters of recycling equipment had to rethink their business models
regarding how best to support their customers while international travel remained restricted or even impossible.
F
or URT Recycling Technology of Ger-
many, last January's delivery of a EUR 4
million integrated refrigerator disman-
tling line to the Zhejiang Shengtang Envi-
ronment recycling company in the Chinese
city of Hangzhou was meant to kick off yet
another successful business year. But it proved
to be one of the biggest challenges in URT's
history owing to the emerging Coronavirus
pandemic.
Chinese factories closed and ports shut
down. The equipment – shipped in forty 40-
ft containers – got stuck in port and could
not be cleared by customs owing to the virus
restrictions.
'Normally, such a delay would cost us one
thousand dollars per container per day,' says
URT's ceo Peter Hessler. 'As you can imagine,
with 40 containers, that's a lot of money lost.
Fortunately, our Chinese customer managed
to obtain a special permission the get the con-
tainers out of port and have them shipped the
last mile to the plant.'
Travel bans
Problem solved? 'Oh no,' says Hessler. 'By
the time the virus spread worldwide, more
and more borders were closed and soon our
engineers could no longer travel abroad.' As
a result, installation of the Hangzhou fridge
line was postponed.
URT, supported by the Chinese recycler,
put a lot of effort – including several visits to
the Chinese embassy in Berlin – into obtain-
ing another special permission to enable the
company to send out technicians once the
progress of the virus was slowing.
In quarantine
In early August, the first team of techni-
cians finally got on a plane to China to prepare
the first stage of installation. 'On arrival, they
are required to enter quarantine for two weeks
before the actual work can start,' says Hessler.
'After two weeks, we send another team of two
and then another couple. All go into quaran-
tine. It's a logistics and extra-cost challenge
on its own.'
URT's engineers are in China on a volun-
tary basis. 'Obviously, not everyone is willing
to do this job in these circumstances,' he says.
For Chinese companies, he adds, asking for
volunteers would not enter the equation. 'It's
a cultural difference. They understand that
this works differently in Europe. In the end,
the most important thing is that we get the
job done and make sure everyone is happy.'
The advantage of a good network
Austrian plastics recycling solutions pro-
vider Starlinger is among those lucky experts
who could rely on their network of inter-
national branch offices and service techni-
cians built up over the past 20 years. 'It paid
off that we have decentralised the global
service,' says Paul Niedl, commercial head
of Starlinger's recycling technology. 'In ad-
dition to our offices in Brazil, China, India,
Indonesia, Mexico, Thailand, Russia, South
Africa, the USA and Uzbekistan, we also have
locally-based technicians in countries such as
Egypt, Algeria, Jordan, Turkey and Vietnam,
among others.'
Live-stream start-up
Along with technicians and engineers
from their local business partners, Starlinger
was able to provide technical support and
even conduct machine installations during
the Covid-19 lockdowns. In this context,
the so-called industry 4.0 played an impor-
tant role: initially developed for after-sales
service, Starlinger's remote support software
gives access to hardware, the software data of
the machine's control system, and the con-
nected components. 'Now it is also being used
for remote installation, commissioning and
start-up of machinery,' says Niedl. 'In this way,
equipment that had been delivered before or
during the outbreak of the Covid-19 pandem-
ic could be installed and put into operation.'
Local technicians carried out the installa-
tion work with online guidance from tech-
nical experts at Starlinger's headquarters in
Weissenbach, Austria, who supported their
colleagues via video calls and remote connec-
tion to the machines.
By Martijn Reintjes

Live from Yakutsk: installation of a sorting line
German sorting technology specialist Steinert was also forced to be creative and to take
remote service to the next level. Installation of new equipment had been planned at a
mine near Yakutsk in the north east of Russia, but then the Coronavirus came along and
engineers were no longer allowed to travel and to enter the country. 'So we had to come
up with an alternative,' says Steinert's head of service Nicola Ortmann. 'We managed to
organise a video connection and had local technicians do the engineering work, supported
and supervised via live stream by a team of engineers at our headquarters in Cologne.'
It takes more than a proper video connection alone, stresses Ortmann. 'Who is responsible
when things go wrong? There are certain risks involved and, as a company, you need to
make sure these are all legally covered,' she explains. 'At the same time, as a global tech-
nology provider, we've learned new lessons from these best practices in times of crisis.'
06-07_remoteservice.indd 6 09-09-20 15:12