Out now: Recycling Technology 2021!
Subscribe
Page 56 from: Out now: Recycling Technology 2021!
56 2021 Application What made you decide to purchase from Vezzani? 'Our son Max at age 21, having discovered Vezzani on YouTube, wrote an email to Vez- zani inquiring about its inclined shears. This led to four years of communicatio...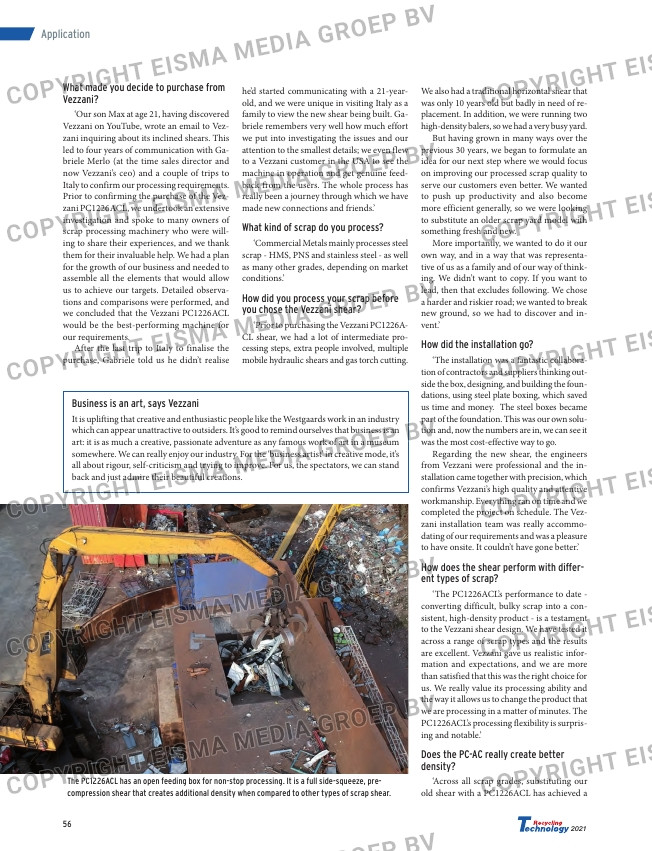 56
2021

Application
What made you decide to purchase from
Vezzani?
'Our son Max at age 21, having discovered
Vezzani on YouTube, wrote an email to Vez-
zani inquiring about its inclined shears. This
led to four years of communication with Ga-
briele Merlo (at the time sales director and
now Vezzani's ceo) and a couple of trips to
Italy to confirm our processing requirements.
Prior to confirming the purchase of the Vez-
zani PC1226ACL, we undertook an extensive
investigation and spoke to many owners of
scrap processing machinery who were will-
ing to share their experiences, and we thank
them for their invaluable help. We had a plan
for the growth of our business and needed to
assemble all the elements that would allow
us to achieve our targets. Detailed observa-
tions and comparisons were performed, and
we concluded that the Vezzani PC1226ACL
would be the best-performing machine for
our requirements.
After the last trip to Italy to finalise the
purchase, Gabriele told us he didn't realise
he'd started communicating with a 21-year-
old, and we were unique in visiting Italy as a
family to view the new shear being built. Ga-
briele remembers very well how much effort
we put into investigating the issues and our
attention to the smallest details; we even flew
to a Vezzani customer in the USA to see the
machine in operation and get genuine feed-
back from the users. The whole process has
really been a journey through which we have
made new connections and friends.'
What kind of scrap do you process?
'Commercial Metals mainly processes steel
scrap – HMS, PNS and stainless steel – as well
as many other grades, depending on market
conditions.'
How did you process your scrap before
you chose the Vezzani shear?
'Prior to purchasing the Vezzani PC1226A-
CL shear, we had a lot of intermediate pro-
cessing steps, extra people involved, multiple
mobile hydraulic shears and gas torch cutting.
We also had a traditional horizontal shear that
was only 10 years old but badly in need of re-
placement. In addition, we were running two
high-density balers, so we had a very busy yard.
But having grown in many ways over the
previous 30 years, we began to formulate an
idea for our next step where we would focus
on improving our processed scrap quality to
serve our customers even better. We wanted
to push up productivity and also become
more efficient generally, so we were looking
to substitute an older scrap yard model with
something fresh and new.
More importantly, we wanted to do it our
own way, and in a way that was representa-
tive of us as a family and of our way of think-
ing. We didn't want to copy. If you want to
lead, then that excludes following. We chose
a harder and riskier road; we wanted to break
new ground, so we had to discover and in-
vent.'
How did the installation go?
'The installation was a fantastic collabora-
tion of contractors and suppliers thinking out-
side the box, designing, and building the foun-
dations, using steel plate boxing, which saved
us time and money. The steel boxes became
part of the foundation. This was our own solu-
tion and, now the numbers are in, we can see it
was the most cost-effective way to go.
Regarding the new shear, the engineers
from Vezzani were professional and the in-
stallation came together with precision, which
confirms Vezzani's high quality and attentive
workmanship. Everything ran on time and we
completed the project on schedule. The Vez-
zani installation team was really accommo-
dating of our requirements and was a pleasure
to have onsite. It couldn't have gone better.'
How does the shear perform with differ-
ent types of scrap?
'The PC1226ACL's performance to date –
converting difficult, bulky scrap into a con-
sistent, high-density product – is a testament
to the Vezzani shear design. We have tested it
across a range of scrap types and the results
are excellent. Vezzani gave us realistic infor-
mation and expectations, and we are more
than satisfied that this was the right choice for
us. We really value its processing ability and
the way it allows us to change the product that
we are processing in a matter of minutes. The
PC1226ACL's processing flexibility is surpris-
ing and notable.'
Does the PC-AC really create better
density?
'Across all scrap grades, substituting our
old shear with a PC1226ACL has achieved a
The PC1226ACL has an open feeding box for non-stop processing. It is a full side-squeeze, pre-
compression shear that creates additional density when compared to other types of scrap shear.
Business is an art, says Vezzani
It is uplifting that creative and enthusiastic people like the Westgaards work in an industry
which can appear unattractive to outsiders. It's good to remind ourselves that business is an
art: it is as much a creative, passionate adventure as any famous work of art in a museum
somewhere. We can really enjoy our industry. For the 'business artist' in creative mode, it's
all about rigour, self-criticism and trying to improve. For us, the spectators, we can stand
back and just admire their beautiful creations.
54-55-56-57_application-vezzani.indd 56 09-09-20 14:29