Out now: Recycling Technology 2021!
Subscribe
Page 48 from: Out now: Recycling Technology 2021!
48 2021 Techtalks Tomra's multi-feed system to take collection rates to new heights Consumers can for the first time pour more than 100 empty beverage containers and bottles into a reverse vending machine in one go, says recycling te...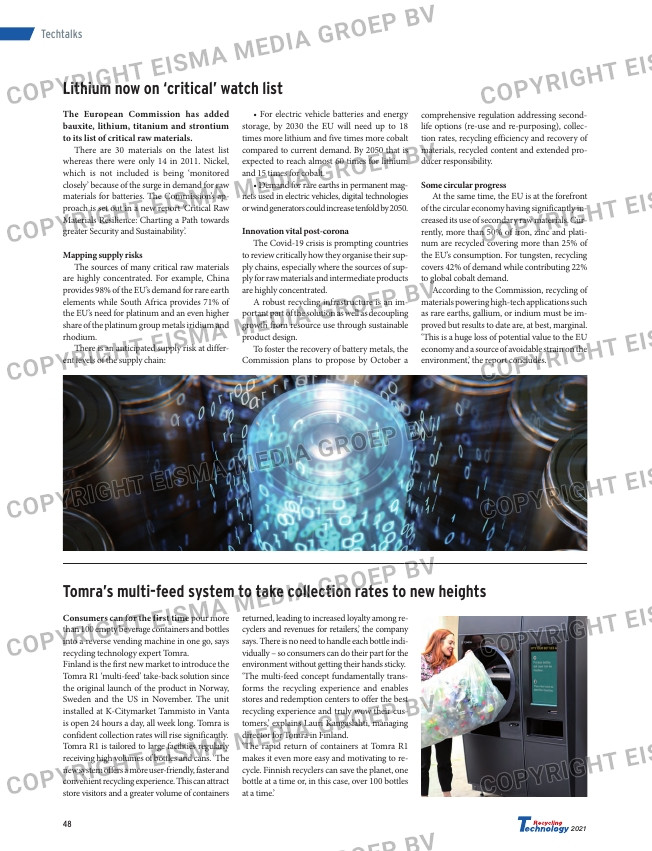 48
2021

Techtalks
Tomra's multi-feed system to take collection rates to new heights
Consumers can for the first time pour more
than 100 empty beverage containers and bottles
into a reverse vending machine in one go, says
recycling technology expert Tomra.
Finland is the first new market to introduce the
Tomra R1 'multi-feed' take-back solution since
the original launch of the product in Norway,
Sweden and the US in November. The unit
installed at K-Citymarket Tammisto in Vanta
is open 24 hours a day, all week long. Tomra is
confident collection rates will rise significantly.
Tomra R1 is tailored to large facilities regularly
receiving high volumes of bottles and cans. 'The
new system offers a more user-friendly, faster and
convenient recycling experience. This can attract
store visitors and a greater volume of containers
returned, leading to increased loyalty among re-
cyclers and revenues for retailers,' the company
says. There is no need to handle each bottle indi-
vidually – so consumers can do their part for the
environment without getting their hands sticky.
'The multi-feed concept fundamentally trans-
forms the recycling experience and enables
stores and redemption centers to offer the best
recycling experience and truly wow their cus-
tomers,' explains Lauri Kangaslahti, managing
director for Tomra in Finland.
'The rapid return of containers at Tomra R1
makes it even more easy and motivating to re-
cycle. Finnish recyclers can save the planet, one
bottle at a time or, in this case, over 100 bottles
at a time.'
Lithium now on 'critical' watch list
The European Commission has added
bauxite, lithium, titanium and strontium
to its list of critical raw materials.

There are 30 materials on the latest list
whereas there were only 14 in 2011. Nickel,
which is not included is being 'monitored
closely' because of the surge in demand for raw
materials for batteries. The Commission's ap-
proach is set out in a new report 'Critical Raw
Materials Resilience: Charting a Path towards
greater Security and Sustainability'.
Mapping supply risks
The sources of many critical raw materials
are highly concentrated. For example, China
provides 98% of the EU's demand for rare earth
elements while South Africa provides 71% of
the EU's need for platinum and an even higher
share of the platinum group metals iridium and
rhodium.
There is an anticipated supply risk at differ-
ent levels of the supply chain:
• For electric vehicle batteries and energy
storage, by 2030 the EU will need up to 18
times more lithium and five times more cobalt
compared to current demand. By 2050 that is
expected to reach almost 60 times for lithium
and 15 times for cobalt.
• Demand for rare earths in permanent mag-
nets used in electric vehicles, digital technologies
or wind generators could increase tenfold by 2050.
Innovation vital post-corona
The Covid-19 crisis is prompting countries
to review critically how they organise their sup-
ply chains, especially where the sources of sup-
ply for raw materials and intermediate products
are highly concentrated.
A robust recycling infrastructure is an im-
portant part of the solution as well as decoupling
growth from resource use through sustainable
product design.
To foster the recovery of battery metals, the
Commission plans to propose by October a
comprehensive regulation addressing second-
life options (re-use and re-purposing), collec-
tion rates, recycling efficiency and recovery of
materials, recycled content and extended pro-
ducer responsibility.
Some circular progress
At the same time, the EU is at the forefront
of the circular economy having significantly in-
creased its use of secondary raw materials. Cur-
rently, more than 50% of iron, zinc and plati-
num are recycled covering more than 25% of
the EU's consumption. For tungsten, recycling
covers 42% of demand while contributing 22%
to global cobalt demand.
According to the Commission, recycling of
materials powering high-tech applications such
as rare earths, gallium, or indium must be im-
proved but results to date are, at best, marginal.
'This is a huge loss of potential value to the EU
economy and a source of avoidable strain on the
environment,' the report concludes.
48-49-50-51-52-53_techtalks-14pagina.indd 48 09-09-20 14:29