Out now: Recycling Technology 2021!
Subscribe
Page 47 from: Out now: Recycling Technology 2021!
47 2021 Research It's frequently claimed that lithium-ion batteries 'can't be recycled'. This is not the case, says the Swedish Energy Agency; its data show that lithium-ion batteries are being recycled on a large scale. In addit...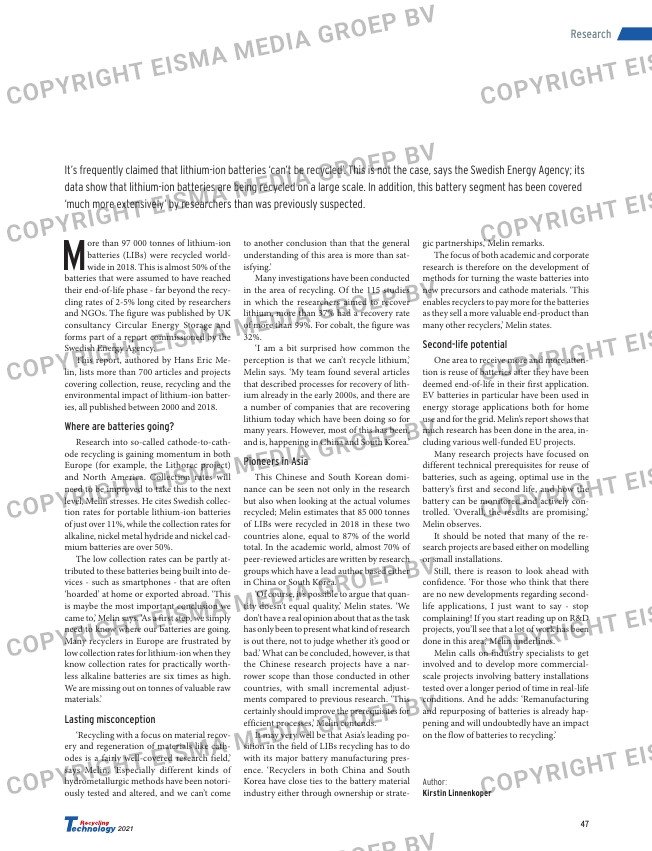 47
2021

Research
It's frequently claimed that lithium-ion batteries 'can't be recycled'. This is not the case, says the Swedish Energy Agency; its
data show that lithium-ion batteries are being recycled on a large scale. In addition, this battery segment has been covered
'much more extensively' by researchers than was previously suspected.
M
ore than 97 000 tonnes of lithium-ion
batteries (LIBs) were recycled world-
wide in 2018. This is almost 50% of the
batteries that were assumed to have reached
their end-of-life phase – far beyond the recy-
cling rates of 2-5% long cited by researchers
and NGOs. The figure was published by UK
consultancy Circular Energy Storage and
forms part of a report commissioned by the
Swedish Energy Agency.
This report, authored by Hans Eric Me-
lin, lists more than 700 articles and projects
covering collection, reuse, recycling and the
environmental impact of lithium-ion batter-
ies, all published between 2000 and 2018.
Where are batteries going?
Research into so-called cathode-to-cath-
ode recycling is gaining momentum in both
Europe (for example, the Lithorec project)
and North America. Collection rates will
need to be improved to take this to the next
level, Melin stresses. He cites Swedish collec-
tion rates for portable lithium-ion batteries
of just over 11%, while the collection rates for
alkaline, nickel metal hydride and nickel cad-
mium batteries are over 50%.
The low collection rates can be partly at-
tributed to these batteries being built into de-
vices – such as smartphones – that are often
'hoarded' at home or exported abroad. 'This
is maybe the most important conclusion we
came to,' Melin says. 'As a first step, we simply
need to know where our batteries are going.
Many recyclers in Europe are frustrated by
low collection rates for lithium-ion when they
know collection rates for practically worth-
less alkaline batteries are six times as high.
We are missing out on tonnes of valuable raw
materials.'
Lasting misconception
'Recycling with a focus on material recov-
ery and regeneration of materials like cath-
odes is a fairly well-covered research field,'
says Melin. 'Especially different kinds of
hydrometallurgic methods have been notori-
ously tested and altered, and we can't come
to another conclusion than that the general
understanding of this area is more than sat-
isfying.'
Many investigations have been conducted
in the area of recycling. Of the 115 studies
in which the researchers aimed to recover
lithium, more than 37% had a recovery rate
of more than 99%. For cobalt, the figure was
32%.
'I am a bit surprised how common the
perception is that we can't recycle lithium,'
Melin says. 'My team found several articles
that described processes for recovery of lith-
ium already in the early 2000s, and there are
a number of companies that are recovering
lithium today which have been doing so for
many years. However, most of this has been,
and is, happening in China and South Korea.'
Pioneers in Asia
This Chinese and South Korean domi-
nance can be seen not only in the research
but also when looking at the actual volumes
recycled; Melin estimates that 85 000 tonnes
of LIBs were recycled in 2018 in these two
countries alone, equal to 87% of the world
total. In the academic world, almost 70% of
peer-reviewed articles are written by research
groups which have a lead author based either
in China or South Korea.
'Of course, it's possible to argue that quan-
tity doesn't equal quality,' Melin states. 'We
don't have a real opinion about that as the task
has only been to present what kind of research
is out there, not to judge whether it's good or
bad.' What can be concluded, however, is that
the Chinese research projects have a nar-
rower scope than those conducted in other
countries, with small incremental adjust-
ments compared to previous research. 'This
certainly should improve the prerequisites for
efficient processes,' Melin contends.
It may very well be that Asia's leading po-
sition in the field of LIBs recycling has to do
with its major battery manufacturing pres-
ence. 'Recyclers in both China and South
Korea have close ties to the battery material
industry either through ownership or strate-
gic partnerships,' Melin remarks.
The focus of both academic and corporate
research is therefore on the development of
methods for turning the waste batteries into
new precursors and cathode materials. 'This
enables recyclers to pay more for the batteries
as they sell a more valuable end-product than
many other recyclers,' Melin states.
Second-life potential
One area to receive more and more atten-
tion is reuse of batteries after they have been
deemed end-of-life in their first application.
EV batteries in particular have been used in
energy storage applications both for home
use and for the grid. Melin's report shows that
much research has been done in the area, in-
cluding various well-funded EU projects.
Many research projects have focused on
different technical prerequisites for reuse of
batteries, such as ageing, optimal use in the
battery's first and second life, and how the
battery can be monitored and actively con-
trolled. 'Overall, the results are promising,'
Melin observes.
It should be noted that many of the re-
search projects are based either on modelling
or small installations.
Still, there is reason to look ahead with
confidence. 'For those who think that there
are no new developments regarding second-
life applications, I just want to say – stop
complaining! If you start reading up on R&D
projects, you'll see that a lot of work has been
done in this area,' Melin underlines.
Melin calls on industry specialists to get
involved and to develop more commercial-
scale projects involving battery installations
tested over a longer period of time in real-life
conditions. And he adds: 'Remanufacturing
and repurposing of batteries is already hap-
pening and will undoubtedly have an impact
on the flow of batteries to recycling.'
Author:
Kirstin Linnenkoper

46-47_lithium-ionbatteries.indd 47 09-09-20 14:28