Out now: Recycling Technology 2021!
Subscribe
Page 41 from: Out now: Recycling Technology 2021!
41 2021 Application Joe Roberto: 'Almost every order that we receive is customized to a certain extent.' Wide spread of production facilities 'On an annual basis, we sell shred¬ders to almost every industry category you can im- ...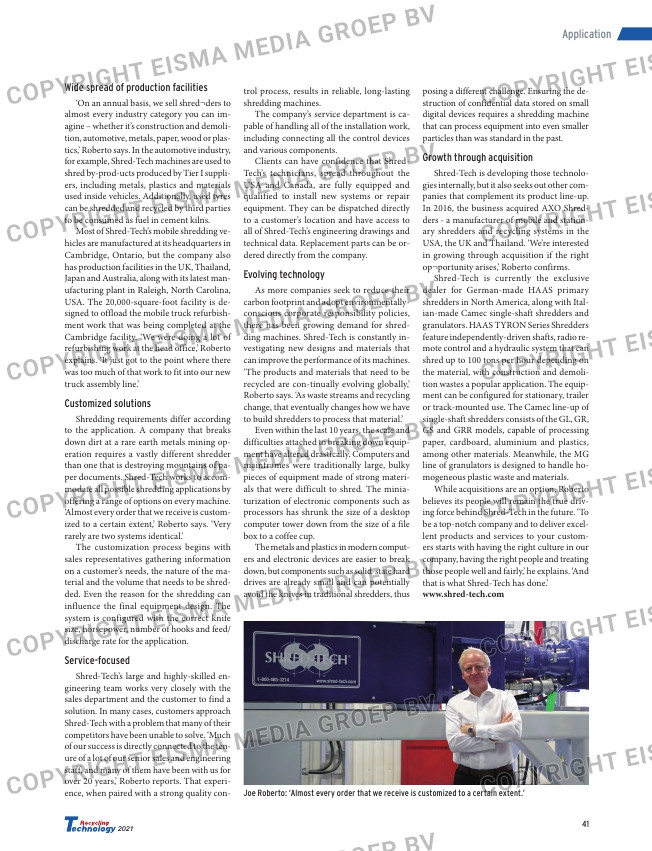 41
2021

Application
Joe Roberto: 'Almost every order that we receive is customized to a certain extent.'
Wide spread of production facilities
'On an annual basis, we sell shred¬ders to
almost every industry category you can im-
agine – whether it's construction and demoli-
tion, automotive, metals, paper, wood or plas-
tics,' Roberto says. In the automotive industry,
for example, Shred-Tech machines are used to
shred by-prod-ucts produced by Tier I suppli-
ers, including metals, plastics and materials
used inside vehicles. Additionally, used tyres
can be shredded and recycled by third parties
to be consumed as fuel in cement kilns.
Most of Shred-Tech's mobile shredding ve-
hicles are manufactured at its headquarters in
Cambridge, Ontario, but the company also
has production facilities in the UK, Thailand,
Japan and Australia, along with its latest man-
ufacturing plant in Raleigh, North Carolina,
USA. The 20,000-square-foot facility is de-
signed to offload the mobile truck refurbish-
ment work that was being completed at the
Cambridge facility. 'We were doing a lot of
refurbishing work at the head office,' Roberto
explains. 'It just got to the point where there
was too much of that work to fit into our new
truck assembly line.'
Customized solutions
Shredding requirements differ according
to the application. A company that breaks
down dirt at a rare earth metals mining op-
eration requires a vastly different shredder
than one that is destroying mountains of pa-
per documents. Shred-Tech works to accom-
modate all possible shredding applications by
offering a range of options on every machine.
'Almost every order that we receive is custom-
ized to a certain extent,' Roberto says. 'Very
rarely are two systems identical.'
The customization process begins with
sales representatives gathering information
on a customer's needs, the nature of the ma-
terial and the volume that needs to be shred-
ded. Even the reason for the shredding can
influence the final equipment design. The
system is configured with the correct knife
size, horsepower, number of hooks and feed/
discharge rate for the application.
Service-focused
Shred-Tech's large and highly-skilled en-
gineering team works very closely with the
sales department and the customer to find a
solution. In many cases, customers approach
Shred-Tech with a problem that many of their
competitors have been unable to solve. 'Much
of our success is directly connected to the ten-
ure of a lot of our senior sales and engineering
staff, and many of them have been with us for
over 20 years,' Roberto reports. That experi-
ence, when paired with a strong quality con-
trol process, results in reliable, long-lasting
shredding machines.
The company's service department is ca-
pable of handling all of the installation work,
including connecting all the control devices
and various components.
Clients can have confidence that Shred-
Tech's technicians, spread throughout the
USA and Canada, are fully equipped and
qualified to install new systems or repair
equipment. They can be dispatched directly
to a customer's location and have access to
all of Shred-Tech's engineering drawings and
technical data. Replacement parts can be or-
dered directly from the company.
Evolving technology
As more companies seek to reduce their
carbon footprint and adopt environmentally-
conscious corporate responsibility policies,
there has been growing demand for shred-
ding machines. Shred-Tech is constantly in-
vestigating new designs and materials that
can improve the performance of its machines.
'The products and materials that need to be
recycled are con-tinually evolving globally,'
Roberto says. 'As waste streams and recycling
change, that eventually changes how we have
to build shredders to process that material.'
Even within the last 10 years, the scale and
difficulties attached to breaking down equip-
ment have altered drastically. Computers and
mainframes were traditionally large, bulky
pieces of equipment made of strong materi-
als that were difficult to shred. The minia-
turization of electronic components such as
processors has shrunk the size of a desktop
computer tower down from the size of a file
box to a coffee cup.
The metals and plastics in modern comput-
ers and electronic devices are easier to break
down, but components such as solid-state hard
drives are already small and can potentially
avoid the knives in traditional shredders, thus
posing a different challenge. Ensuring the de-
struction of confidential data stored on small
digital devices requires a shredding machine
that can process equipment into even smaller
particles than was standard in the past.
Growth through acquisition
Shred-Tech is developing those technolo-
gies internally, but it also seeks out other com-
panies that complement its product line-up.
In 2016, the business acquired AXO Shred-
ders – a manufacturer of mobile and station-
ary shredders and recycling systems in the
USA, the UK and Thailand. 'We're interested
in growing through acquisition if the right
op¬portunity arises,' Roberto confirms.
Shred-Tech is currently the exclusive
dealer for German-made HAAS primary
shredders in North America, along with Ital-
ian-made Camec single-shaft shredders and
granulators. HAAS TYRON Series Shredders
feature independently-driven shafts, radio re-
mote control and a hydraulic system that can
shred up to 100 tons per hour depending on
the material, with construction and demoli-
tion wastes a popular application. The equip-
ment can be configured for stationary, trailer
or track-mounted use. The Camec line-up of
single-shaft shredders consists of the GL, GR,
GS and GRR models, capable of processing
paper, cardboard, aluminium and plastics,
among other materials. Meanwhile, the MG
line of granulators is designed to handle ho-
mogeneous plastic waste and materials.
While acquisitions are an option, Roberto
believes its people will remain the true driv-
ing force behind Shred-Tech in the future. 'To
be a top-notch company and to deliver excel-
lent products and services to your custom-
ers starts with having the right culture in our
company, having the right people and treating
those people well and fairly,' he explains. 'And
that is what Shred-Tech has done.'
www.shred-tech.com

40-41_application-shredtech.indd 41 09-09-20 11:44