Out now: Recycling Technology 2021!
Subscribe
Page 37 from: Out now: Recycling Technology 2021!
37 2021 Innovation Kiril Mugerman. few times, it can easily be liberated from the rest of the electronics. The alloy powder yielded is 'so clean' that, after pressing and sin- tering, it can go straight back into the manu- facture ...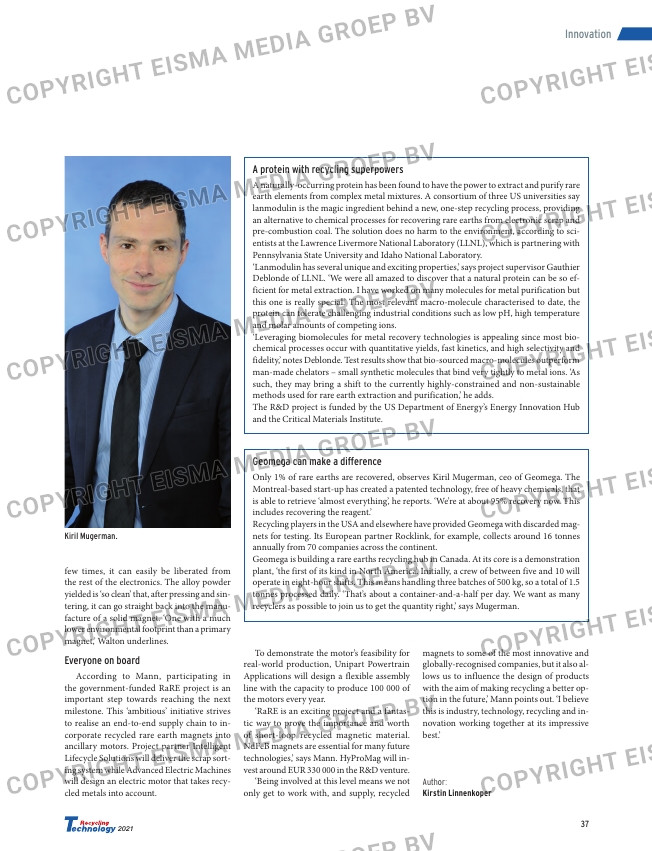 37
2021

Innovation
Kiril Mugerman.
few times, it can easily be liberated from
the rest of the electronics. The alloy powder
yielded is 'so clean' that, after pressing and sin-
tering, it can go straight back into the manu-
facture of a solid magnet. 'One with a much
lower environmental footprint than a primary
magnet,' Walton underlines.
Everyone on board
According to Mann, participating in
the government-funded RaRE project is an
important step towards reaching the next
milestone. This 'ambitious' initiative strives
to realise an end-to-end supply chain to in-
corporate recycled rare earth magnets into
ancillary motors. Project partner Intelligent
Lifecycle Solutions will deliver the scrap sort-
ing system while Advanced Electric Machines
will design an electric motor that takes recy-
cled metals into account.
To demonstrate the motor's feasibility for
real-world production, Unipart Powertrain
Applications will design a flexible assembly
line with the capacity to produce 100 000 of
the motors every year.
'RaRE is an exciting project and a fantas-
tic way to prove the importance and worth
of short-loop recycled magnetic material.
NdFeB magnets are essential for many future
technologies,' says Mann. HyProMag will in-
vest around EUR 330 000 in the R&D venture.
'Being involved at this level means we not
only get to work with, and supply, recycled
magnets to some of the most innovative and
globally-recognised companies, but it also al-
lows us to influence the design of products
with the aim of making recycling a better op-
tion in the future,' Mann points out. 'I believe
this is industry, technology, recycling and in-
novation working together at its impressive
best.'
Author:
Kirstin Linnenkoper

A protein with recycling superpowers
A naturally-occurring protein has been found to have the power to extract and purify rare
earth elements from complex metal mixtures. A consortium of three US universities say
lanmodulin is the magic ingredient behind a new, one-step recycling process, providing
an alternative to chemical processes for recovering rare earths from electronic scrap and
pre-combustion coal. The solution does no harm to the environment, according to sci-
entists at the Lawrence Livermore National Laboratory (LLNL), which is partnering with
Pennsylvania State University and Idaho National Laboratory.
'Lanmodulin has several unique and exciting properties,' says project supervisor Gauthier
Deblonde of LLNL. 'We were all amazed to discover that a natural protein can be so ef-
ficient for metal extraction. I have worked on many molecules for metal purification but
this one is really special.' The most relevant macro-molecule characterised to date, the
protein can tolerate challenging industrial conditions such as low pH, high temperature
and molar amounts of competing ions.
'Leveraging biomolecules for metal recovery technologies is appealing since most bio-
chemical processes occur with quantitative yields, fast kinetics, and high selectivity and
fidelity,' notes Deblonde. Test results show that bio-sourced macro-molecules outperform
man-made chelators – small synthetic molecules that bind very tightly to metal ions. 'As
such, they may bring a shift to the currently highly-constrained and non-sustainable
methods used for rare earth extraction and purification,' he adds.
The R&D project is funded by the US Department of Energy's Energy Innovation Hub
and the Critical Materials Institute.
Geomega can make a difference
Only 1% of rare earths are recovered, observes Kiril Mugerman, ceo of Geomega. The
Montreal-based start-up has created a patented technology, free of heavy chemicals, that
is able to retrieve 'almost everything', he reports. 'We're at about 95% recovery now. This
includes recovering the reagent.'
Recycling players in the USA and elsewhere have provided Geomega with discarded mag-
nets for testing. Its European partner Rocklink, for example, collects around 16 tonnes
annually from 70 companies across the continent.
Geomega is building a rare earths recycling hub in Canada. At its core is a demonstration
plant, 'the first of its kind in North America'. Initially, a crew of between five and 10 will
operate in eight-hour shifts. This means handling three batches of 500 kg, so a total of 1.5
tonnes processed daily. 'That's about a container-and-a-half per day. We want as many
recyclers as possible to join us to get the quantity right,' says Mugerman.
36-37_rareearths.indd 37 09-09-20 10:09