Out now: Recycling Technology 2021!
Subscribe
Page 24 from: Out now: Recycling Technology 2021!
24 2021 INNOVATION 3D vision: how new tech is shaping the future New products with different material compositions are entering the market all the time. Indeed, recyclers are kept busy adapting their processing techniques to accommodat...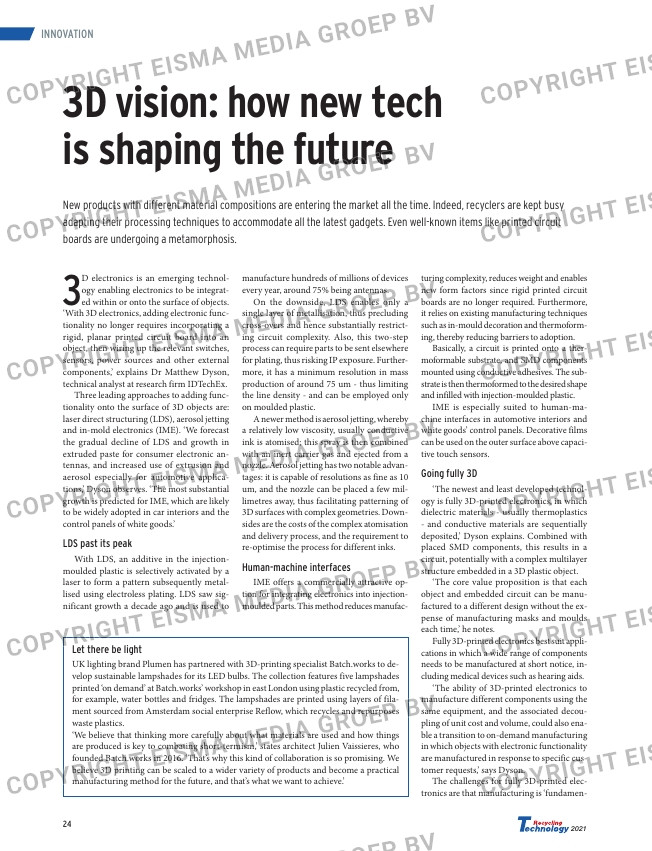 24
2021

INNOVATION
3D vision: how new tech
is shaping the future
New products with different material compositions are entering the market all the time. Indeed, recyclers are kept busy
adapting their processing techniques to accommodate all the latest gadgets. Even well-known items like printed circuit
boards are undergoing a metamorphosis.
3
D electronics is an emerging technol-
ogy enabling electronics to be integrat-
ed within or onto the surface of objects.
'With 3D electronics, adding electronic func-
tionality no longer requires incorporating a
rigid, planar printed circuit board into an
object, then wiring up the relevant switches,
sensors, power sources and other external
components,' explains Dr Matthew Dyson,
technical analyst at research firm IDTechEx.
Three leading approaches to adding func-
tionality onto the surface of 3D objects are:
laser direct structuring (LDS), aerosol jetting
and in-mold electronics (IME). 'We forecast
the gradual decline of LDS and growth in
extruded paste for consumer electronic an-
tennas, and increased use of extrusion and
aerosol especially for automotive applica-
tions,' Dyson observes. 'The most substantial
growth is predicted for IME, which are likely
to be widely adopted in car interiors and the
control panels of white goods.'
LDS past its peak
With LDS, an additive in the injection-
moulded plastic is selectively activated by a
laser to form a pattern subsequently metal-
lised using electroless plating. LDS saw sig-
nificant growth a decade ago and is used to
manufacture hundreds of millions of devices
every year, around 75% being antennas.
On the downside, LDS enables only a
single layer of metallisation, thus precluding
cross-overs and hence substantially restrict-
ing circuit complexity. Also, this two-step
process can require parts to be sent elsewhere
for plating, thus risking IP exposure. Further-
more, it has a minimum resolution in mass
production of around 75 um – thus limiting
the line density – and can be employed only
on moulded plastic.
A newer method is aerosol jetting, whereby
a relatively low viscosity, usually conductive
ink is atomised; this spray is then combined
with an inert carrier gas and ejected from a
nozzle. Aerosol jetting has two notable advan-
tages: it is capable of resolutions as fine as 10
um, and the nozzle can be placed a few mil-
limetres away, thus facilitating patterning of
3D surfaces with complex geometries. Down-
sides are the costs of the complex atomisation
and delivery process, and the requirement to
re-optimise the process for different inks.
Human-machine interfaces
IME offers a commercially attractive op-
tion for integrating electronics into injection-
moulded parts. This method reduces manufac-
turing complexity, reduces weight and enables
new form factors since rigid printed circuit
boards are no longer required. Furthermore,
it relies on existing manufacturing techniques
such as in-mould decoration and thermoform-
ing, thereby reducing barriers to adoption.
Basically, a circuit is printed onto a ther-
moformable substrate, and SMD components
mounted using conductive adhesives. The sub-
strate is then thermoformed to the desired shape
and infilled with injection-moulded plastic.
IME is especially suited to human-ma-
chine interfaces in automotive interiors and
white goods' control panels. Decorative films
can be used on the outer surface above capaci-
tive touch sensors.
Going fully 3D
'The newest and least developed technol-
ogy is fully 3D-printed electronics, in which
dielectric materials – usually thermoplastics
– and conductive materials are sequentially
deposited,' Dyson explains. Combined with
placed SMD components, this results in a
circuit, potentially with a complex multilayer
structure embedded in a 3D plastic object.
'The core value proposition is that each
object and embedded circuit can be manu-
factured to a different design without the ex-
pense of manufacturing masks and moulds
each time,' he notes.
Fully 3D-printed electronics best suit appli-
cations in which a wide range of components
needs to be manufactured at short notice, in-
cluding medical devices such as hearing aids.
'The ability of 3D-printed electronics to
manufacture different components using the
same equipment, and the associated decou-
pling of unit cost and volume, could also ena-
ble a transition to on-demand manufacturing
in which objects with electronic functionality
are manufactured in response to specific cus-
tomer requests,' says Dyson.
The challenges for fully 3D-printed elec-
tronics are that manufacturing is 'fundamen-
??
??
Let there be light
UK lighting brand Plumen has partnered with 3D-printing specialist Batch.works to de-
velop sustainable lampshades for its LED bulbs. The collection features five lampshades
printed 'on demand' at Batch.works' workshop in east London using plastic recycled from,
for example, water bottles and fridges. The lampshades are printed using layers of fila-
ment sourced from Amsterdam social enterprise Reflow, which recycles and repurposes
waste plastics.
'We believe that thinking more carefully about what materials are used and how things
are produced is key to combating short-termism,' states architect Julien Vaissieres, who
founded Batch.works in 2016. 'That's why this kind of collaboration is so promising. We
believe 3D printing can be scaled to a wider variety of products and become a practical
manufacturing method for the future, and that's what we want to achieve.'
24-25_3d.indd 24 09-09-20 09:37