Out now: Recycling Technology 2021!
Subscribe
Page 23 from: Out now: Recycling Technology 2021!
23 2021 On the horizon Veena Sahajwalla: 'We now have an incredible opportunity to solve numerous existential problems at once.' Photo: Anna Kucera manufacturing to help local, regional and rural locations. Adding value A key ch...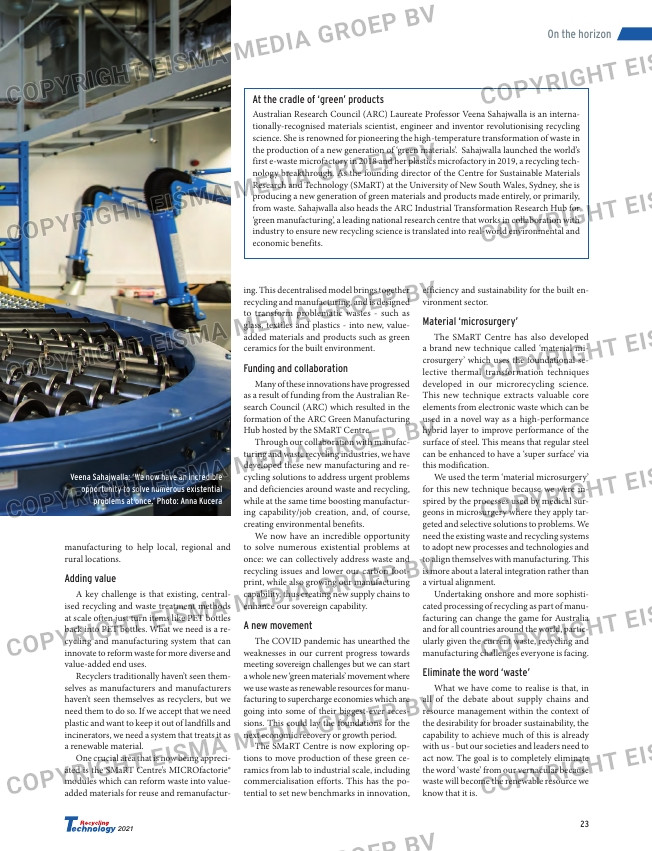 23
2021

On the horizon
Veena Sahajwalla: 'We now have an incredible
opportunity to solve numerous existential
problems at once.' Photo: Anna Kucera
manufacturing to help local, regional and
rural locations.
Adding value
A key challenge is that existing, central-
ised recycling and waste treatment methods
at scale often just turn items like PET bottles
back into PET bottles. What we need is a re-
cycling and manufacturing system that can
innovate to reform waste for more diverse and
value-added end uses.
Recyclers traditionally haven't seen them-
selves as manufacturers and manufacturers
haven't seen themselves as recyclers, but we
need them to do so. If we accept that we need
plastic and want to keep it out of landfills and
incinerators, we need a system that treats it as
a renewable material.
One crucial area that is now being appreci-
ated is the SMaRT Centre's MICROfactorie®
modules which can reform waste into value-
added materials for reuse and remanufactur-
ing. This decentralised model brings together
recycling and manufacturing, and is designed
to transform problematic wastes – such as
glass, textiles and plastics – into new, value-
added materials and products such as green
ceramics for the built environment.
Funding and collaboration
Many of these innovations have progressed
as a result of funding from the Australian Re-
search Council (ARC) which resulted in the
formation of the ARC Green Manufacturing
Hub hosted by the SMaRT Centre.
Through our collaboration with manufac-
turing and waste recycling industries, we have
developed these new manufacturing and re-
cycling solutions to address urgent problems
and deficiencies around waste and recycling,
while at the same time boosting manufactur-
ing capability/job creation, and, of course,
creating environmental benefits.
We now have an incredible opportunity
to solve numerous existential problems at
once: we can collectively address waste and
recycling issues and lower our carbon foot-
print, while also growing our manufacturing
capability, thus creating new supply chains to
enhance our sovereign capability.
A new movement
The COVID pandemic has unearthed the
weaknesses in our current progress towards
meeting sovereign challenges but we can start
a whole new 'green materials' movement where
we use waste as renewable resources for manu-
facturing to supercharge economies which are
going into some of their biggest-ever reces-
sions. This could lay the foundations for the
next economic recovery or growth period.
The SMaRT Centre is now exploring op-
tions to move production of these green ce-
ramics from lab to industrial scale, including
commercialisation efforts. This has the po-
tential to set new benchmarks in innovation,
efficiency and sustainability for the built en-
vironment sector.
Material 'microsurgery'
The SMaRT Centre has also developed
a brand new technique called 'material mi-
crosurgery' which uses the foundational se-
lective thermal transformation techniques
developed in our microrecycling science.
This new technique extracts valuable core
elements from electronic waste which can be
used in a novel way as a high-performance
hybrid layer to improve performance of the
surface of steel. This means that regular steel
can be enhanced to have a 'super surface' via
this modification.
We used the term 'material microsurgery'
for this new technique because we were in-
spired by the processes used by medical sur-
geons in microsurgery where they apply tar-
geted and selective solutions to problems. We
need the existing waste and recycling systems
to adopt new processes and technologies and
to align themselves with manufacturing. This
is more about a lateral integration rather than
a virtual alignment.
Undertaking onshore and more sophisti-
cated processing of recycling as part of manu-
facturing can change the game for Australia
and for all countries around the world, partic-
ularly given the current waste, recycling and
manufacturing challenges everyone is facing.
Eliminate the word 'waste'
What we have come to realise is that, in
all of the debate about supply chains and
resource management within the context of
the desirability for broader sustainability, the
capability to achieve much of this is already
with us – but our societies and leaders need to
act now. The goal is to completely eliminate
the word 'waste' from our vernacular because
waste will become the renewable resource we
know that it is.
At the cradle of 'green' products
Australian Research Council (ARC) Laureate Professor Veena Sahajwalla is an interna-
tionally-recognised materials scientist, engineer and inventor revolutionising recycling
science. She is renowned for pioneering the high-temperature transformation of waste in
the production of a new generation of 'green materials'. Sahajwalla launched the world's
first e-waste microfactory in 2018 and her plastics microfactory in 2019, a recycling tech-
nology breakthrough. As the founding director of the Centre for Sustainable Materials
Research and Technology (SMaRT) at the University of New South Wales, Sydney, she is
producing a new generation of green materials and products made entirely, or primarily,
from waste. Sahajwalla also heads the ARC Industrial Transformation Research Hub for
'green manufacturing', a leading national research centre that works in collaboration with
industry to ensure new recycling science is translated into real-world environmental and
economic benefits.
22-23_horizon-veena.indd 23 09-09-20 09:05