Out now: Recycling Technology 2021!
Subscribe
Page 21 from: Out now: Recycling Technology 2021!
21 2021 Technology heroes Marco Werth, RAMPF Eco Solutions' director of marketing & sales. Michael Kugler, RAMPF Eco Solutions' director of operations & laboratory. Waste materials from sister company RAMPF Tooling Solutio...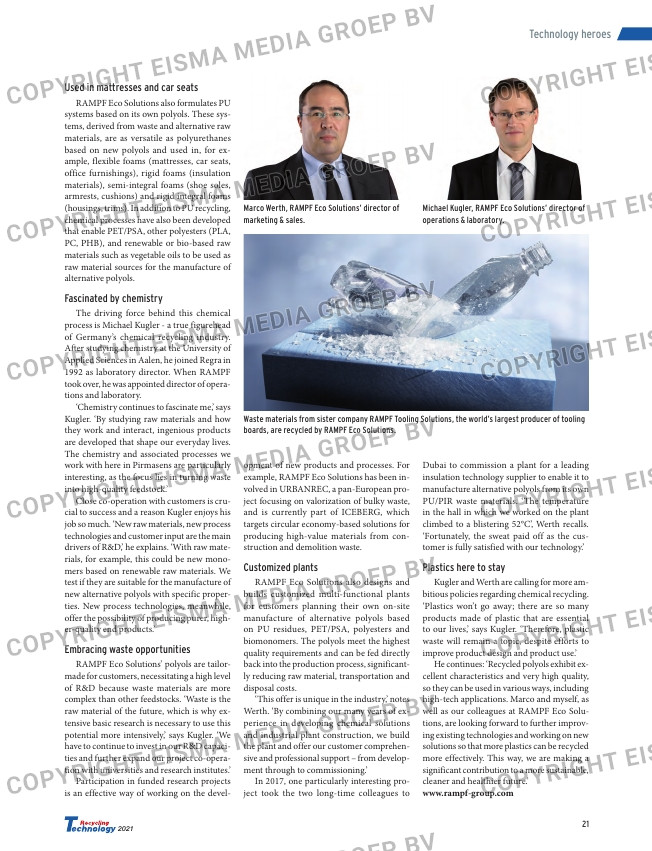 21
2021

Technology heroes
Marco Werth, RAMPF Eco Solutions' director of
marketing & sales.
Michael Kugler, RAMPF Eco Solutions' director of
operations & laboratory.
Waste materials from sister company RAMPF Tooling Solutions, the world's largest producer of tooling
boards, are recycled by RAMPF Eco Solutions.
Used in mattresses and car seats
RAMPF Eco Solutions also formulates PU
systems based on its own polyols. These sys-
tems, derived from waste and alternative raw
materials, are as versatile as polyurethanes
based on new polyols and used in, for ex-
ample, flexible foams (mattresses, car seats,
office furnishings), rigid foams (insulation
materials), semi-integral foams (shoe soles,
armrests, cushions) and rigid integral foams
(housings, trims). In addition to PU recycling,
chemical processes have also been developed
that enable PET/PSA, other polyesters (PLA,
PC, PHB), and renewable or bio-based raw
materials such as vegetable oils to be used as
raw material sources for the manufacture of
alternative polyols.
Fascinated by chemistry
The driving force behind this chemical
process is Michael Kugler – a true figurehead
of Germany's chemical recycling industry.
After studying chemistry at the University of
Applied Sciences in Aalen, he joined Regra in
1992 as laboratory director. When RAMPF
took over, he was appointed director of opera-
tions and laboratory.
'Chemistry continues to fascinate me,' says
Kugler. 'By studying raw materials and how
they work and interact, ingenious products
are developed that shape our everyday lives.
The chemistry and associated processes we
work with here in Pirmasens are particularly
interesting, as the focus lies in turning waste
into high-quality feedstock.'
Close co-operation with customers is cru-
cial to success and a reason Kugler enjoys his
job so much. 'New raw materials, new process
technologies and customer input are the main
drivers of R&D,' he explains. 'With raw mate-
rials, for example, this could be new mono-
mers based on renewable raw materials. We
test if they are suitable for the manufacture of
new alternative polyols with specific proper-
ties. New process technologies, meanwhile,
offer the possibility of producing purer, high-
er-quality end products.'
Embracing waste opportunities
RAMPF Eco Solutions' polyols are tailor-
made for customers, necessitating a high level
of R&D because waste materials are more
complex than other feedstocks. 'Waste is the
raw material of the future, which is why ex-
tensive basic research is necessary to use this
potential more intensively,' says Kugler. 'We
have to continue to invest in our R&D capaci-
ties and further expand our project co-opera-
tion with universities and research institutes.'
Participation in funded research projects
is an effective way of working on the devel-
opment of new products and processes. For
example, RAMPF Eco Solutions has been in-
volved in URBANREC, a pan-European pro-
ject focusing on valorization of bulky waste,
and is currently part of ICEBERG, which
targets circular economy-based solutions for
producing high-value materials from con-
struction and demolition waste.
Customized plants
RAMPF Eco Solutions also designs and
builds customized multi-functional plants
for customers planning their own on-site
manufacture of alternative polyols based
on PU residues, PET/PSA, polyesters and
biomonomers. The polyols meet the highest
quality requirements and can be fed directly
back into the production process, significant-
ly reducing raw material, transportation and
disposal costs.
'This offer is unique in the industry,' notes
Werth. 'By combining our many years of ex-
perience in developing chemical solutions
and industrial plant construction, we build
the plant and offer our customer comprehen-
sive and professional support – from develop-
ment through to commissioning.'
In 2017, one particularly interesting pro-
ject took the two long-time colleagues to
Dubai to commission a plant for a leading
insulation technology supplier to enable it to
manufacture alternative polyols from its own
PU/PIR waste materials. 'The temperature
in the hall in which we worked on the plant
climbed to a blistering 52°C', Werth recalls.
'Fortunately, the sweat paid off as the cus-
tomer is fully satisfied with our technology.'
Plastics here to stay
Kugler and Werth are calling for more am-
bitious policies regarding chemical recycling.
'Plastics won't go away; there are so many
products made of plastic that are essential
to our lives,' says Kugler. 'Therefore, plastic
waste will remain a topic, despite efforts to
improve product design and product use.'
He continues: 'Recycled polyols exhibit ex-
cellent characteristics and very high quality,
so they can be used in various ways, including
high-tech applications. Marco and myself, as
well as our colleagues at RAMPF Eco Solu-
tions, are looking forward to further improv-
ing existing technologies and working on new
solutions so that more plastics can be recycled
more effectively. This way, we are making a
significant contribution to a more sustainable,
cleaner and healthier future.'
www.rampf-group.com

20-21_rtheroes-rampf.indd 21 09-09-20 16:11