Out now: issue 5!
Subscribe
Page 9 from: Out now: issue 5!
TRENDS & UPDATES 9recyclinginternational.com | September/October | 2019 RepoRt 'shows council didn't expoRt plastic waste' A UK municipality says a detailed review of its recycling methods has shown it did not export plast...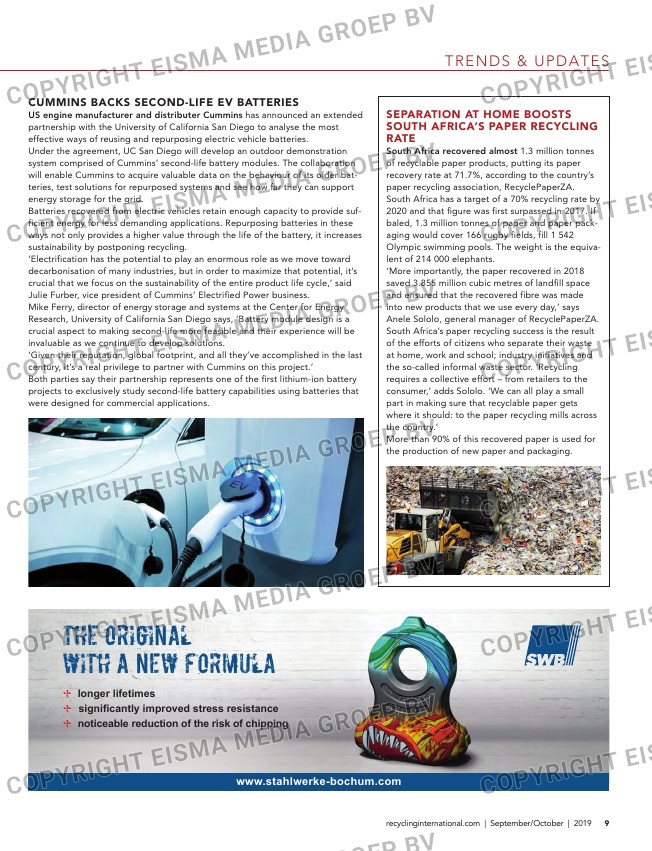 TRENDS & UPDATES
9recyclinginternational.com | September/October | 2019
RepoRt 'shows council didn't expoRt plastic
waste'
A UK municipality says a detailed review of its recycling methods has
shown it did not export plastic waste either intentionally or accidentally.
Milton Keynes Council (MKC) was stung by criticism when a BCC TV crew
and the celebrity chef Hugh Fearnley-Whittingstall visited a waste dump in
Malaysia which included some Milton Keynes recycling sacks. The local
authority commissioned an independent report into its recycling operations
which it says has cleared it of allegations over the export of plastics.
'That review found that no plastics are exported to Malaysia, intentionally or
by accident and it confirmed that MK's sacks are processed in the UK where
they're turned into fragments suitable for reuse,' says the council. 'The
review found no breach of legislation by the council or its contractors.'
Some possible reasons for leakage of such bags are identified and MKC
believes that some collection bags intended for households were used as
business waste and not processed by its regular contractors.
The report adds: 'MKC cannot determine where sacks end up if they do not
enter the MKC waste system (e.g. due to incorrect use) but the review rec-
ommends that MKC requests that Serco, who is responsible for the procure-
ment of the plastic sacks, seek assurances from the recycling sack supplier
regarding the production process and confirms what happens to any sacks
which are rejected during the production process.'
Emily Darlington, the MKC councillor Emily Darlington, responsible for the
recycling service says: 'The report looks in great detail into our supply chain
and into the actions of our contractors and confirms that we do not export
waste to Malaysia. We hope this independent report encourages people to
recycle. In MK our recycling is processed properly and even our non-recycla-
ble waste has a use, creating energy.'
sepaRation at home boosts
south afRica's papeR Recycling
Rate
South Africa recovered almost 1.3 million tonnes
of recyclable paper products, putting its paper
recovery rate at 71.7%, according to the country's
paper recycling association, RecyclePaperZA.
South Africa has a target of a 70% recycling rate by
2020 and that figure was first surpassed in 2017. If
baled, 1.3 million tonnes of paper and paper pack-
aging would cover 166 rugby fields, fill 1 542
Olympic swimming pools. The weight is the equiva-
lent of 214 000 elephants.
'More importantly, the paper recovered in 2018
saved 3.855 million cubic metres of landfill space
and ensured that the recovered fibre was made
into new products that we use every day,' says
Anele Sololo, general manager of RecyclePaperZA.
South Africa's paper recycling success is the result
of the efforts of citizens who separate their waste
at home, work and school; industry initiatives and
the so-called informal waste sector. 'Recycling
requires a collective effort – from retailers to the
consumer,' adds Sololo. 'We can all play a small
part in making sure that recyclable paper gets
where it should: to the paper recycling mills across
the country.'
More than 90% of this recovered paper is used for
the production of new paper and packaging.
www.stahlwerke-bochum.com

THE ORIGINAL
WITH A NEW FORMULA
+ longer lifetimes
+ significantly improved stress resistance
+ noticeable reduction of the risk of chipping

cummins backs second-life eV batteRies
US engine manufacturer and distributer Cummins has announced an extended
partnership with the University of California San Diego to analyse the most
effective ways of reusing and repurposing electric vehicle batteries.
Under the agreement, UC San Diego will develop an outdoor demonstration
system comprised of Cummins' second-life battery modules. The collaboration
will enable Cummins to acquire valuable data on the behaviour of its older bat-
teries, test solutions for repurposed systems and see how far they can support
energy storage for the grid.
Batteries recovered from electric vehicles retain enough capacity to provide suf-
ficient energy for less demanding applications. Repurposing batteries in these
ways not only provides a higher value through the life of the battery, it increases
sustainability by postponing recycling.
'Electrification has the potential to play an enormous role as we move toward
decarbonisation of many industries, but in order to maximize that potential, it's
crucial that we focus on the sustainability of the entire product life cycle,' said
Julie Furber, vice president of Cummins' Electrified Power business.
Mike Ferry, director of energy storage and systems at the Center for Energy
Research, University of California San Diego says, 'Battery module design is a
crucial aspect to making second-life more feasible and their experience will be
invaluable as we continue to develop solutions.
'Given their reputation, global footprint, and all they've accomplished in the last
century, it's a real privilege to partner with Cummins on this project.'
Both parties say their partnership represents one of the first lithium-ion battery
projects to exclusively study second-life battery capabilities using batteries that
were designed for commercial applications.
08-09-10-11-12-13_trendsupdates1.indd 9 01-10-19 08:28