Out now: issue 5!
Subscribe
Page 79 from: Out now: issue 5!
beck's Why money can be bad for you A definition of science is 'the state of knowing: knowledge as distinguished from ignorance or misunder- standing'. That may be so but science can also be fun and completely irreverent...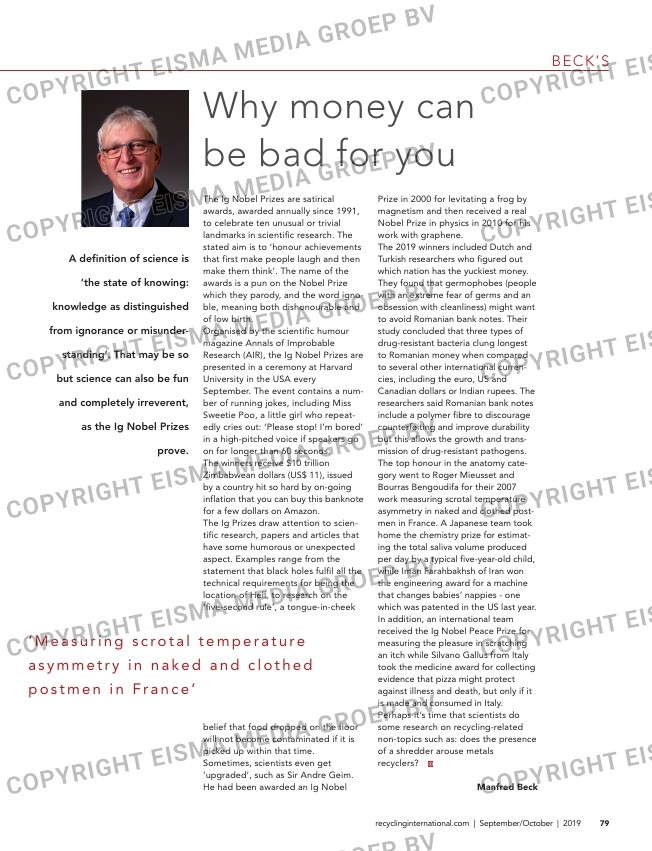 beck's
Why money can
be bad for you
A definition of science is
'the state of knowing:
knowledge as distinguished
from ignorance or misunder-
standing'. That may be so
but science can also be fun
and completely irreverent,
as the Ig Nobel Prizes
prove.
The Ig Nobel Prizes are satirical
awards, awarded annually since 1991,
to celebrate ten unusual or trivial
landmarks in scientific research. The
stated aim is to 'honour achievements
that first make people laugh and then
make them think'. The name of the
awards is a pun on the Nobel Prize
which they parody, and the word igno-
ble, meaning both dishonourable and
of low birth.
Organised by the scientific humour
magazine Annals of Improbable
Research (AIR), the Ig Nobel Prizes are
presented in a ceremony at Harvard
University in the USA every
September. The event contains a num-
ber of running jokes, including Miss
Sweetie Poo, a little girl who repeat-
edly cries out: 'Please stop! I'm bored'
in a high-pitched voice if speakers go
on for longer than 60 seconds.
The winners receive $10 trillion
Zimbabwean dollars (US$ 11), issued
by a country hit so hard by on-going
inflation that you can buy this banknote
for a few dollars on Amazon.
The Ig Prizes draw attention to scien-
tific research, papers and articles that
have some humorous or unexpected
aspect. Examples range from the
statement that black holes fulfil all the
technical requirements for being the
location of Hell, to research on the
'five-second rule', a tongue-in-cheek
belief that food dropped on the floor
will not become contaminated if it is
picked up within that time.
Sometimes, scientists even get
'upgraded', such as Sir Andre Geim.
He had been awarded an Ig Nobel
Prize in 2000 for levitating a frog by
magnetism and then received a real
Nobel Prize in physics in 2010 for his
work with graphene.
The 2019 winners included Dutch and
Turkish researchers who figured out
which nation has the yuckiest money.
They found that germophobes (people
with an extreme fear of germs and an
obsession with cleanliness) might want
to avoid Romanian bank notes. Their
study concluded that three types of
drug-resistant bacteria clung longest
to Romanian money when compared
to several other international curren-
cies, including the euro, US and
Canadian dollars or Indian rupees. The
researchers said Romanian bank notes
include a polymer fibre to discourage
counterfeiting and improve durability
but this allows the growth and trans-
mission of drug-resistant pathogens.
The top honour in the anatomy cate-
gory went to Roger Mieusset and
Bourras Bengoudifa for their 2007
work measuring scrotal temperature
asymmetry in naked and clothed post-
men in France. A Japanese team took
home the chemistry prize for estimat-
ing the total saliva volume produced
per day by a typical five-year-old child,
while Iman Farahbakhsh of Iran won
the engineering award for a machine
that changes babies' nappies – one
which was patented in the US last year.
In addition, an international team
received the Ig Nobel Peace Prize for
measuring the pleasure in scratching
an itch while Silvano Gallus from Italy
took the medicine award for collecting
evidence that pizza might protect
against illness and death, but only if it
is made and consumed in Italy.
Perhaps it's time that scientists do
some research on recycling-related
non-topics such as: does the presence
of a shredder arouse metals
recyclers?
Manfred Beck
' M e a s u r i n g s c ro t a l t e m p e r a t u re
a s y m m e t r y i n n a k e d a n d c l o t h e d
p o s t m e n i n F r a n c e '
79recyclinginternational.com | September/October | 2019
79_becks.indd 79 01-10-19 08:50