Out now: issue 5!
Subscribe
Page 73 from: Out now: issue 5!
teXtiles Despite reports that OCC inventories at recycling plants have fallen substan- tially over the summer, the consensus among buyers and sellers is that pric- es are likely to stay at present levels for the rest of the year barring...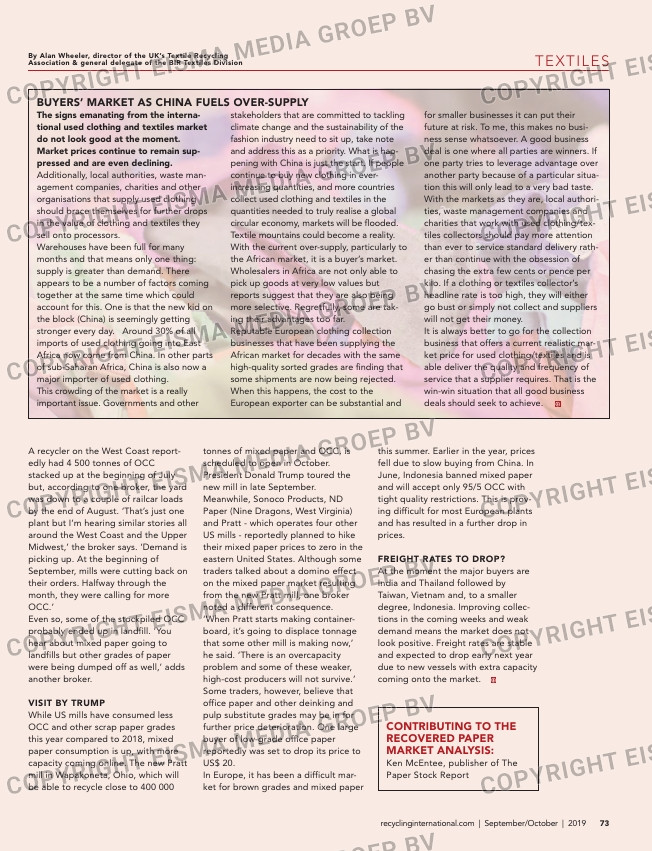 teXtiles
Despite reports that OCC inventories
at recycling plants have fallen substan-
tially over the summer, the consensus
among buyers and sellers is that pric-
es are likely to stay at present levels
for the rest of the year barring some
unexpected event. One major OCC
consumer, Grief Inc., told analysts it
expects to hold OCC prices at around
US$ 30 per tonne until the end of
October – the end of its fiscal year.
73recyclinginternational.com | September/October | 2019
CONTRIBUTING TO THE
RECOVERED pApER
mARKET ANALysIs:
Ken McEntee, publisher of The
Paper Stock Report
By Alan Wheeler, director of the UK's Textile Recycling
Association & general delegate of the BIR Textiles Division
BUyERs' mARKET As CHINA FUELs OVER-sUppLy
The signs emanating from the interna-
tional used clothing and textiles market
do not look good at the moment.
market prices continue to remain sup-
pressed and are even declining.
Additionally, local authorities, waste man-
agement companies, charities and other
organisations that supply used clothing
should brace themselves for further drops
in the value of clothing and textiles they
sell onto processors.
Warehouses have been full for many
months and that means only one thing:
supply is greater than demand. There
appears to be a number of factors coming
together at the same time which could
account for this. One is that the new kid on
the block (China) is seemingly getting
stronger every day. Around 30% of all
imports of used clothing going into East
Africa now come from China. In other parts
of sub-Saharan Africa, China is also now a
major importer of used clothing.
This crowding of the market is a really
important issue. Governments and other
stakeholders that are committed to tackling
climate change and the sustainability of the
fashion industry need to sit up, take note
and address this as a priority. What is hap-
pening with China is just the start. If people
continue to buy new clothing in ever-
increasing quantities, and more countries
collect used clothing and textiles in the
quantities needed to truly realise a global
circular economy, markets will be flooded.
Textile mountains could become a reality.
With the current over-supply, particularly to
the African market, it is a buyer's market.
Wholesalers in Africa are not only able to
pick up goods at very low values but
reports suggest that they are also being
more selective. Regretfully, some are tak-
ing their advantages too far.
Reputable European clothing collection
businesses that have been supplying the
African market for decades with the same
high-quality sorted grades are finding that
some shipments are now being rejected.
When this happens, the cost to the
European exporter can be substantial and
for smaller businesses it can put their
future at risk. To me, this makes no busi-
ness sense whatsoever. A good business
deal is one where all parties are winners. If
one party tries to leverage advantage over
another party because of a particular situa-
tion this will only lead to a very bad taste.
With the markets as they are, local authori-
ties, waste management companies and
charities that work with used clothing/tex-
tiles collectors should pay more attention
than ever to service standard delivery rath-
er than continue with the obsession of
chasing the extra few cents or pence per
kilo. If a clothing or textiles collector's
headline rate is too high, they will either
go bust or simply not collect and suppliers
will not get their money.
It is always better to go for the collection
business that offers a current realistic mar-
ket price for used clothing/textiles and is
able deliver the quality and frequency of
service that a supplier requires. That is the
win-win situation that all good business
deals should seek to achieve.
A recycler on the West Coast report-
edly had 4 500 tonnes of OCC
stacked up at the beginning of July
but, according to one broker, the yard
was down to a couple of railcar loads
by the end of August. 'That's just one
plant but I'm hearing similar stories all
around the West Coast and the Upper
Midwest,' the broker says. 'Demand is
picking up. At the beginning of
September, mills were cutting back on
their orders. Halfway through the
month, they were calling for more
OCC.'
Even so, some of the stockpiled OCC
probably ended up in landfill. 'You
hear about mixed paper going to
landfills but other grades of paper
were being dumped off as well,' adds
another broker.
VIsIT By TRUmp
While US mills have consumed less
OCC and other scrap paper grades
this year compared to 2018, mixed
paper consumption is up, with more
capacity coming online. The new Pratt
mill in Wapakoneta, Ohio, which will
be able to recycle close to 400 000
tonnes of mixed paper and OCC, is
scheduled to open in October.
President Donald Trump toured the
new mill in late September.
Meanwhile, Sonoco Products, ND
Paper (Nine Dragons, West Virginia)
and Pratt – which operates four other
US mills – reportedly planned to hike
their mixed paper prices to zero in the
eastern United States. Although some
traders talked about a domino effect
on the mixed paper market resulting
from the new Pratt mill, one broker
noted a different consequence.
'When Pratt starts making container-
board, it's going to displace tonnage
that some other mill is making now,'
he said. 'There is an overcapacity
problem and some of these weaker,
high-cost producers will not survive.'
Some traders, however, believe that
office paper and other deinking and
pulp substitute grades may be in for
further price deterioration. One large
buyer of low-grade office paper
reportedly was set to drop its price to
US$ 20.
In Europe, it has been a difficult mar-
ket for brown grades and mixed paper
this summer. Earlier in the year, prices
fell due to slow buying from China. In
June, Indonesia banned mixed paper
and will accept only 95/5 OCC with
tight quality restrictions. This is prov-
ing difficult for most European plants
and has resulted in a further drop in
prices.
FREIGHT RATEs TO DROp?
At the moment the major buyers are
India and Thailand followed by
Taiwan, Vietnam and, to a smaller
degree, Indonesia. Improving collec-
tions in the coming weeks and weak
demand means the market does not
look positive. Freight rates are stable
and expected to drop early next year
due to new vessels with extra capacity
coming onto the market.
72-73_mapapertextiles.indd 73 01-10-19 08:49