Out now: issue 5!
Subscribe
Page 68 from: Out now: issue 5!
market analysis Pressure eases as China-Us mood improves Prices generally ticked over in the late summer months as markets kept an eye on the tariff diplomacy. maintained it followed the laws of both China and those of importing cou...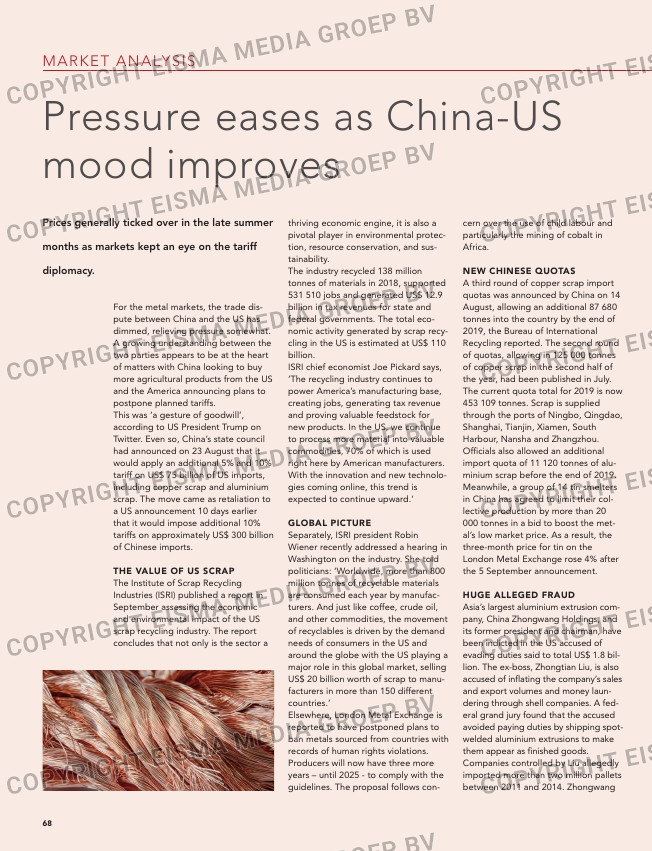 market analysis
Pressure eases as China-Us
mood improves
Prices generally ticked over in the late summer
months as markets kept an eye on the tariff
diplomacy.
maintained it followed the laws of both
China and those of importing coun-
tries.
NOVELIS HEADS FOR COURT
Novelis says it will fight efforts by US
regulators to prevent the acquisition of
Aleris Corporation. The deal is due to
be closed 21 January 2020 but the
Department of Justice (DOJ) has
issued a lawsuit challenging Novelis,
arguing that the only relevant competi-
tion among automotive body sheet
providers is that among manufacturers
such as Novelis and Aleris. Novelis dis-
putes this, claiming DOJ has not con-
sidered competition from manufactur-
68
For the metal markets, the trade dis-
pute between China and the US has
dimmed, relieving pressure somewhat.
A growing understanding between the
two parties appears to be at the heart
of matters with China looking to buy
more agricultural products from the US
and the America announcing plans to
postpone planned tariffs.
This was 'a gesture of goodwill',
according to US President Trump on
Twitter. Even so, China's state council
had announced on 23 August that it
would apply an additional 5% and 10%
tariff on US$ 75 billion of US imports,
including copper scrap and aluminium
scrap. The move came as retaliation to
a US announcement 10 days earlier
that it would impose additional 10%
tariffs on approximately US$ 300 billion
of Chinese imports.
THE VALUE OF US SCRAP
The Institute of Scrap Recycling
Industries (ISRI) published a report in
September assessing the economic
and environmental impact of the US
scrap recycling industry. The report
concludes that not only is the sector a
thriving economic engine, it is also a
pivotal player in environmental protec-
tion, resource conservation, and sus-
tainability.
The industry recycled 138 million
tonnes of materials in 2018, supported
531 510 jobs and generated US$ 12.9
billion in tax revenues for state and
federal governments. The total eco-
nomic activity generated by scrap recy-
cling in the US is estimated at US$ 110
billion.
ISRI chief economist Joe Pickard says,
'The recycling industry continues to
power America's manufacturing base,
creating jobs, generating tax revenue
and proving valuable feedstock for
new products. In the US, we continue
to process more material into valuable
commodities, 70% of which is used
right here by American manufacturers.
With the innovation and new technolo-
gies coming online, this trend is
expected to continue upward.'
GLOBAL PICTURE
Separately, ISRI president Robin
Wiener recently addressed a hearing in
Washington on the industry. She told
politicians: 'Worldwide, more than 800
million tonnes of recyclable materials
are consumed each year by manufac-
turers. And just like coffee, crude oil,
and other commodities, the movement
of recyclables is driven by the demand
needs of consumers in the US and
around the globe with the US playing a
major role in this global market, selling
US$ 20 billion worth of scrap to manu-
facturers in more than 150 different
countries.'
Elsewhere, London Metal Exchange is
reported to have postponed plans to
ban metals sourced from countries with
records of human rights violations.
Producers will now have three more
years – until 2025 – to comply with the
guidelines. The proposal follows con-
cern over the use of child labour and
particularly the mining of cobalt in
Africa.
NEW CHINESE QUOTAS
A third round of copper scrap import
quotas was announced by China on 14
August, allowing an additional 87 680
tonnes into the country by the end of
2019, the Bureau of International
Recycling reported. The second round
of quotas, allowing in 125 000 tonnes
of copper scrap in the second half of
the year, had been published in July.
The current quota total for 2019 is now
453 109 tonnes. Scrap is supplied
through the ports of Ningbo, Qingdao,
Shanghai, Tianjin, Xiamen, South
Harbour, Nansha and Zhangzhou.
Officials also allowed an additional
import quota of 11 120 tonnes of alu-
minium scrap before the end of 2019.
Meanwhile, a group of 14 tin smelters
in China has agreed to limit their col-
lective production by more than 20
000 tonnes in a bid to boost the met-
al's low market price. As a result, the
three-month price for tin on the
London Metal Exchange rose 4% after
the 5 September announcement.
HUGE ALLEGED FRAUD
Asia's largest aluminium extrusion com-
pany, China Zhongwang Holdings, and
its former president and chairman, have
been indicted in the US accused of
evading duties said to total US$ 1.8 bil-
lion. The ex-boss, Zhongtian Liu, is also
accused of inflating the company's sales
and export volumes and money laun-
dering through shell companies. A fed-
eral grand jury found that the accused
avoided paying duties by shipping spot-
welded aluminium extrusions to make
them appear as finished goods.
Companies controlled by Liu allegedly
imported more than two million pallets
between 2011 and 2014. Zhongwang
S O N D J F M A M J J A S
2051 2000 1944 1939 1868 1870 1872 1811 1761 1773 1777 1713 1744
1051 1050 1100 1200 1301 1280 1221 1250 1200 1150 1100 910 910
1000
1500
2000
2500
3000
3500
1000
2000
3000
4000
5000
6000
S O N D J F M A M J J A S
S O N D J F M A M J J A S
2061 2000 1907 1911 2013 2050 2092 1894 1782 1913 2002 2038 2117
119 115 130 170 185 115 76 74 76 78 82 70 70
0
500
1000
1500
2000
2500
0
70
140
210
280
350
S O N D J F M A M J J A S
68-69-70_manon-ferrous14adv.indd 68 01-10-19 08:48