Out now: issue 5!
Subscribe
Page 66 from: Out now: issue 5!
MARKET ANALYSIS Uncertainty for global industry despite nickel price rise Brexit, the contracting German economy and US-China trade dispute are just some of the factors causing concerns globally. BIR World Mirror on Stainless Steel...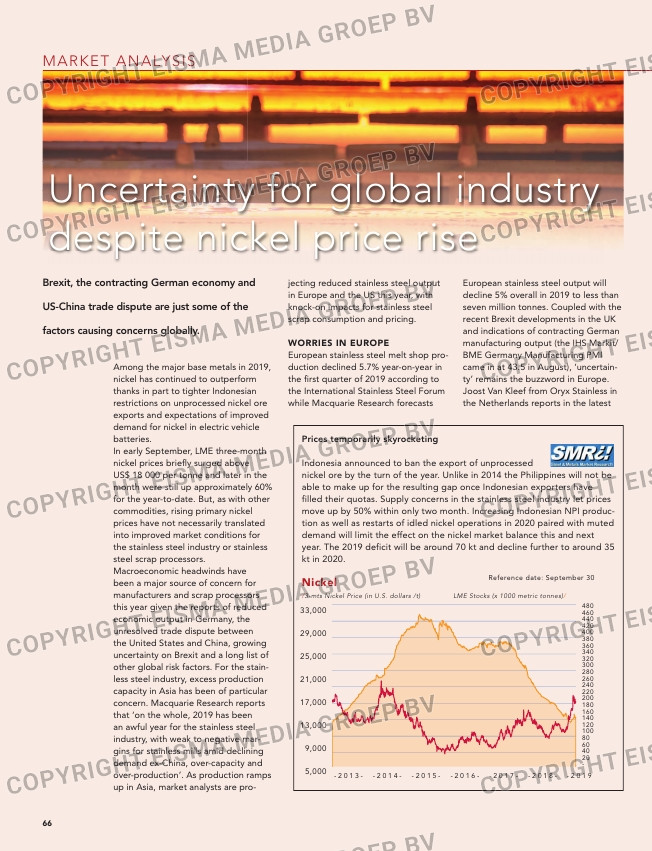 MARKET ANALYSIS
Uncertainty for global industry
despite nickel price rise
Brexit, the contracting German economy and
US-China trade dispute are just some of the
factors causing concerns globally.
BIR World Mirror on Stainless Steel &
Special Alloys that import competition
is another challenging factor in Europe,
as 'penetration of finished stainless
goods into the EU is at a record high of
more than 30%'. He added: 'Not only
the import volumes but also the price
levels offered remain a threat.' Weaker
auto production in Europe, along with
falling ferrous and chrome prices,
have also presented challenges. As a
result, according to Uwe Dierkes of
Siegfried Jacob Metallwerke, European
market conditions are not expected
to improve before the first quarter of
2020.
CHALLENGING US CONDITIONS
Stainless steel scrap prices in the
United States have not kept pace
with the rise of exchange-trade nickel
prices. In the Eastern US, published
prices for 304 solids and clips recently
advanced to more than US$ 1 275
per gross tonne delivered to the mill
but that was still eclipsed by the gains
in primary nickel prices. Diminished
export demand for US stainless steel
scrap has only complicated matters.
According to official US trade statistics,
stainless steel scrap exports during the
first half of 2019 declined 30% when
compared to the first half of 2018 to
230 521 tonnes as shipments to China
shrank 98% lower, alongside weaker
demand from Canada, Pakistan,
Vietnam and South Korea.
Although trade flows improved with
Taiwan, India, Mexico and others,
these gains were insufficient to offset
the losses to other markets. As trade
with China has abruptly declined, stain-
less steel trade flows between the US,
Canada, and Mexico have become
increasing important. According to the
International Stainless Steel Forum,
European stainless steel output will
decline 5% overall in 2019 to less than
seven million tonnes. Coupled with the
recent Brexit developments in the UK
and indications of contracting German
manufacturing output (the IHS Markit/
BME Germany Manufacturing PMI
came in at 43.5 in August), 'uncertain-
ty' remains the buzzword in Europe.
Joost Van Kleef from Oryx Stainless in
the Netherlands reports in the latest
66
Among the major base metals in 2019,
nickel has continued to outperform
thanks in part to tighter Indonesian
restrictions on unprocessed nickel ore
exports and expectations of improved
demand for nickel in electric vehicle
batteries.
In early September, LME three-month
nickel prices briefly surged above
US$ 18 000 per tonne and later in the
month were still up approximately 60%
for the year-to-date. But, as with other
commodities, rising primary nickel
prices have not necessarily translated
into improved market conditions for
the stainless steel industry or stainless
steel scrap processors.
Macroeconomic headwinds have
been a major source of concern for
manufacturers and scrap processors
this year given the reports of reduced
economic output in Germany, the
unresolved trade dispute between
the United States and China, growing
uncertainty on Brexit and a long list of
other global risk factors. For the stain-
less steel industry, excess production
capacity in Asia has been of particular
concern. Macquarie Research reports
that 'on the whole, 2019 has been
an awful year for the stainless steel
industry, with weak to negative mar-
gins for stainless mills amid declining
demand ex-China, over-capacity and
over-production'. As production ramps
up in Asia, market analysts are pro-
Prices temporarily skyrocketing
Indonesia announced to ban the export of unprocessed
nickel ore by the turn of the year. Unlike in 2014 the Philippines will not be
able to make up for the resulting gap once Indonesian exporters have
filled their quotas. Supply concerns in the stainless steel industry let prices
move up by 50% within only two month. Increasing Indonesian NPI produc-
tion as well as restarts of idled nickel operations in 2020 paired with muted
demand will limit the effect on the nickel market balance this and next
year. The 2019 deficit will be around 70 kt and decline further to around 35
kt in 2020.
Nickel
/3-mts Nickel Price (in U.S. dollars /t) LME Stocks (x 1000 metric tonnes)/

– 2 0 1 3 – – 2 0 1 4 – – 2 0 1 5 – – 2 0 1 6 – – 2 0 1 7 – – 2 0 1 8 – – 2 0 1 9
Reference date: September 30
480
460
440
420
400
380
360
340
320
300
280
260
240
220
200
180
160
140
120
100
80
60
40
20
–
33,000
29,000
25,000
21,000
17,000
13,000
9,000
5,000
jecting reduced stainless steel output
in Europe and the US this year, with
knock-on impacts for stainless steel
scrap consumption and pricing.
WORRIES IN EUROPE
European stainless steel melt shop pro-
duction declined 5.7% year-on-year in
the first quarter of 2019 according to
the International Stainless Steel Forum
while Macquarie Research forecasts
66-67_manickelstainlessadvhksu.indd 66 01-10-19 08:38