Out now: issue 5!
Subscribe
Page 61 from: Out now: issue 5!
TRENDS & UPDATES 61recyclinginternational.com | September/October | 2019 colomBiaN recycler traNsforms lives iN ivory coast Colombian enterprise Conceptos Plasticos has joined forces with Unicef to build a factory that can creat...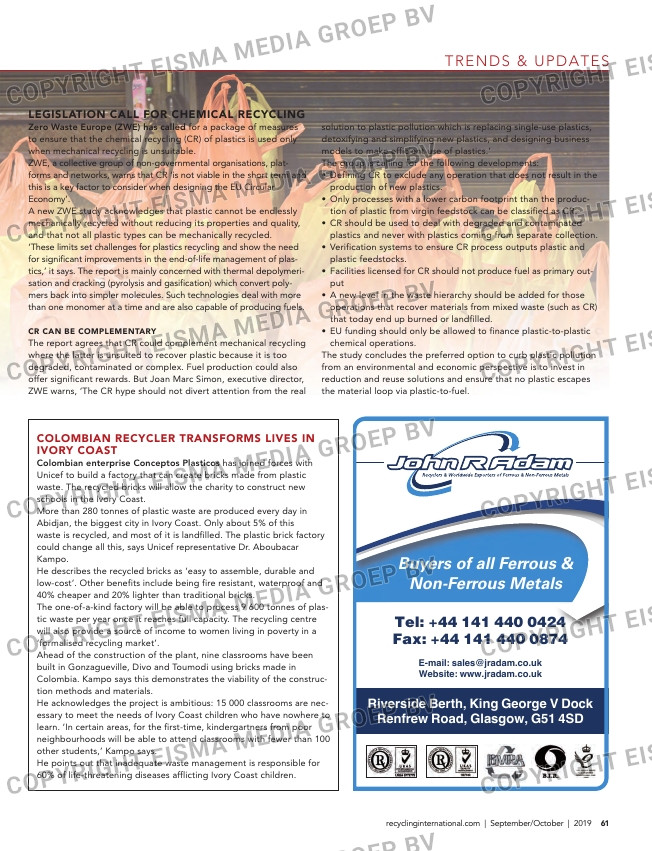 TRENDS & UPDATES
61recyclinginternational.com | September/October | 2019
colomBiaN recycler traNsforms lives iN
ivory coast
Colombian enterprise Conceptos Plasticos has joined forces with
Unicef to build a factory that can create bricks made from plastic
waste. The recycled bricks will allow the charity to construct new
schools in the Ivory Coast.
More than 280 tonnes of plastic waste are produced every day in
Abidjan, the biggest city in Ivory Coast. Only about 5% of this
waste is recycled, and most of it is landfilled. The plastic brick factory
could change all this, says Unicef representative Dr. Aboubacar
Kampo.
He describes the recycled bricks as 'easy to assemble, durable and
low-cost'. Other benefits include being fire resistant, waterproof and
40% cheaper and 20% lighter than traditional bricks.
The one-of-a-kind factory will be able to process 9 600 tonnes of plas-
tic waste per year once it reaches full capacity. The recycling centre
will also provide a source of income to women living in poverty in a
'formalised recycling market'.
Ahead of the construction of the plant, nine classrooms have been
built in Gonzagueville, Divo and Toumodi using bricks made in
Colombia. Kampo says this demonstrates the viability of the construc-
tion methods and materials.
He acknowledges the project is ambitious: 15 000 classrooms are nec-
essary to meet the needs of Ivory Coast children who have nowhere to
learn. 'In certain areas, for the first-time, kindergartners from poor
neighbourhoods will be able to attend classrooms with fewer than 100
other students,' Kampo says.
He points out that inadequate waste management is responsible for
60% of life-threatening diseases afflicting Ivory Coast children.
myscraPmachiNe Proves that recycliNg
solutioNs age well
If you're in the business of recycling, chances are you are keeping an eye
out for new equipment and recycling solutions. However, the word 'new' is
relative. Machines in the recycling sector are known to be robust and 'built
to last'. Online platform MyScrapMachine, estbablished this year, is there-
fore providing a digital marketplace for secondhand machinery. Not just for
the recycling sector – also for the demolition industry.
The platform went live in June and is already welcoming 25 000 visitors each
month. Around 500 machines are currently up for sale, and almost 30 have
been sold says MyScrapMachine manager Julien Jean. 'Posting ads is totally
free,' he adds. 'We are targeting 4 major categories of equipment: shearing
presses, shredders, excavators and handling equipment. There are of course
other categories such as paper presses, waste, wheel loaders etc.'
The platform serves to connect buyers and sellers worldwide, Jean notes. 'In
order to obtain a contact, the prospective buyer must create an account. This
is a way for us to verify his identity.' The entrepreneur points out that the plat-
form is still evolving and so for the time being it will remain free to use. 'Once
we gain more notoriety, sellers will have to pay for the ads they post online,'
Jean explains. Either via a monthly subscription for professional sellers or via a
one time payment for those only selling machines occasionally.
www.myscrapmachine.com
Buyers of all Ferrous,
Non-Ferrous Metals &

End of Life I.T. Equipment

Tel: +44 141 440 0424
Fax: +44 141 440 0874
E-mail: [email protected]
Website: www.jradam.co.uk

Riverside Berth, King George V Dock
Renfrew Road, Glasgow, G51 4SD

Buyers of all Ferrous &
N n-Ferrous Metals

legislatioN call for chemical recycliNg
Zero Waste Europe (ZWE) has called for a package of measures
to ensure that the chemical recycling (CR) of plastics is used only
when mechanical recycling is unsuitable.
ZWE, a collective group of non-governmental organisations, plat-
forms and networks, warns that CR 'is not viable in the short term and
this is a key factor to consider when designing the EU Circular
Economy'.
A new ZWE study acknowledges that plastic cannot be endlessly
mechanically recycled without reducing its properties and quality,
and that not all plastic types can be mechanically recycled.
'These limits set challenges for plastics recycling and show the need
for significant improvements in the end-of-life management of plas-
tics,' it says. The report is mainly concerned with thermal depolymeri-
sation and cracking (pyrolysis and gasification) which convert poly-
mers back into simpler molecules. Such technologies deal with more
than one monomer at a time and are also capable of producing fuels.
cr caN Be comPlemeNtary
The report agrees that CR could complement mechanical recycling
where the latter is unsuited to recover plastic because it is too
degraded, contaminated or complex. Fuel production could also
offer significant rewards. But Joan Marc Simon, executive director,
ZWE warns, 'The CR hype should not divert attention from the real
solution to plastic pollution which is replacing single-use plastics,
detoxifying and simplifying new plastics, and designing business
models to make efficient use of plastics.'
The group is calling for the following developments:
• Defining CR to exclude any operation that does not result in the
production of new plastics.
• Only processes with a lower carbon footprint than the produc-
tion of plastic from virgin feedstock can be classified as CR.
• CR should be used to deal with degraded and contaminated
plastics and never with plastics coming from separate collection.
• Verification systems to ensure CR process outputs plastic and
plastic feedstocks.
• Facilities licensed for CR should not produce fuel as primary out-
put
• A new level in the waste hierarchy should be added for those
operations that recover materials from mixed waste (such as CR)
that today end up burned or landfilled.
• EU funding should only be allowed to finance plastic-to-plastic
chemical operations.
The study concludes the preferred option to curb plastic pollution
from an environmental and economic perspective is to invest in
reduction and reuse solutions and ensure that no plastic escapes
the material loop via plastic-to-fuel.
58-59-60-61_trendsupdates2.indd 61 01-10-19 09:16