Out now: issue 5!
Subscribe
Page 58 from: Out now: issue 5!
58 New Pratt mill gets trumP seal of aPProval President Donald Trump has formally opened a large new containerboard mill in Ohio that is due to start production in October. The new Pratt Industries mill in Wapakoneta is expecte...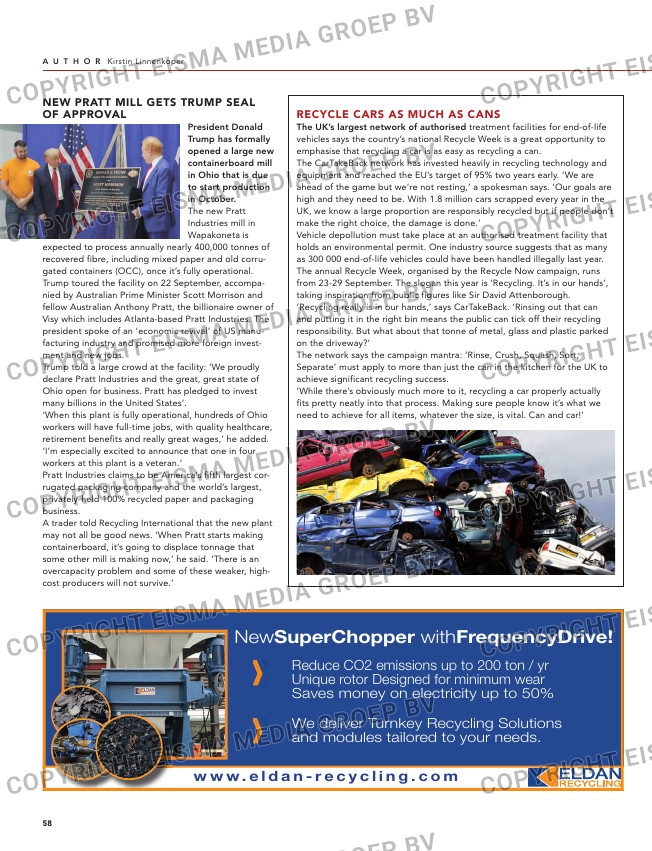 58
New Pratt mill gets trumP seal
of aPProval
President Donald
Trump has formally
opened a large new
containerboard mill
in Ohio that is due
to start production
in October.
The new Pratt
Industries mill in
Wapakoneta is
expected to process annually nearly 400,000 tonnes of
recovered fibre, including mixed paper and old corru-
gated containers (OCC), once it's fully operational.
Trump toured the facility on 22 September, accompa-
nied by Australian Prime Minister Scott Morrison and
fellow Australian Anthony Pratt, the billionaire owner of
Visy which includes Atlanta-based Pratt Industries. The
president spoke of an 'economic revival' of US manu-
facturing industry and promised more foreign invest-
ment and new jobs.
Trump told a large crowd at the facility: 'We proudly
declare Pratt Industries and the great, great state of
Ohio open for business. Pratt has pledged to invest
many billions in the United States'.
'When this plant is fully operational, hundreds of Ohio
workers will have full-time jobs, with quality healthcare,
retirement benefits and really great wages,' he added.
'I'm especially excited to announce that one in four
workers at this plant is a veteran.'
Pratt Industries claims to be America's fifth largest cor-
rugated packaging company and the world's largest,
privately-held 100% recycled paper and packaging
business.
A trader told Recycling International that the new plant
may not all be good news. 'When Pratt starts making
containerboard, it's going to displace tonnage that
some other mill is making now,' he said. 'There is an
overcapacity problem and some of these weaker, high-
cost producers will not survive.'
recycle cars as much as caNs
The UK's largest network of authorised treatment facilities for end-of-life
vehicles says the country's national Recycle Week is a great opportunity to
emphasise that recycling a car is as easy as recycling a can.
The CarTakeBack network has invested heavily in recycling technology and
equipment and reached the EU's target of 95% two years early. 'We are
ahead of the game but we're not resting,' a spokesman says. 'Our goals are
high and they need to be. With 1.8 million cars scrapped every year in the
UK, we know a large proportion are responsibly recycled but if people don't
make the right choice, the damage is done.'
Vehicle depollution must take place at an authorised treatment facility that
holds an environmental permit. One industry source suggests that as many
as 300 000 end-of-life vehicles could have been handled illegally last year.
The annual Recycle Week, organised by the Recycle Now campaign, runs
from 23-29 September. The slogan this year is 'Recycling. It's in our hands',
taking inspiration from public figures like Sir David Attenborough.
'Recycling really is in our hands,' says CarTakeBack. 'Rinsing out that can
and putting it in the right bin means the public can tick off their recycling
responsibility. But what about that tonne of metal, glass and plastic parked
on the driveway?'
The network says the campaign mantra: 'Rinse, Crush, Squash, Sort,
Separate' must apply to more than just the can in the kitchen for the UK to
achieve significant recycling success.
'While there's obviously much more to it, recycling a car properly actually
fits pretty neatly into that process. Making sure people know it's what we
need to achieve for all items, whatever the size, is vital. Can and car!'
a U T h O r Kirstin Linnenkoper
recology recovers dumPed life
saviNgs
Crew members at the recology sorting facility in Humboldt
County, California made an unusual discovery when they found
an old shoe box with US$ 23 000 (EUR 20 000) in cash inside.
It turns out the money came from a man living in Oregon who
accidentally threw out the wrong box, realising only hours later
that it contained his life savings. By then, the waste manage-
ment truck had already emptied his bin.
He desperately called his local Recology recycling centre to ask
whether any cash had turned up. As luck would have it, the
truck was still en-route to Recology's sorting centre in the
neighbouring state. Remarkably most of the notes stayed in the
shoebox during the 200-mile trip.
Brian Sollum, operations manager at the California site, got a
call about the missing money and told his crew to look out for a
Vans shoe Box. They located the lost treasure – only three US$
20 notes were missing – and the money was returned to the
owner.
Sollum says this is a rare incident as, although valuable objects
and money regularly get discarded with the trash, only a small
portion is ever recovered.
The US currently boasts a 65% recycling rate for paper and
paperboard. This represents almost 68 million tonnes of materi-
al recycled per year.
We deliver Turnkey Recycling Solutions
and modules tailored to your needs.
w w w . e l d a n – r e c y c l i n g . c o m
Reduce CO2 emissions up to 200 ton / yr
Unique rotor Designed for minimum wear
Saves money on electricity up to 50%
NewSuperChopper withFrequencyDrive!
58-59-60-61_trendsupdates2.indd 58 01-10-19 09:16