Out now: issue 5!
Subscribe
Page 51 from: Out now: issue 5!
BUSINESS 51recyclinginternational.com | September/October | 2019 l l lconsumer bagstextile packaging recycling RI_10_19_RSC_Filter_Pfade_Druck.indd 1 24.09.2019 09:37:52 Making waveS: global recycling Day Who hasn't heard of...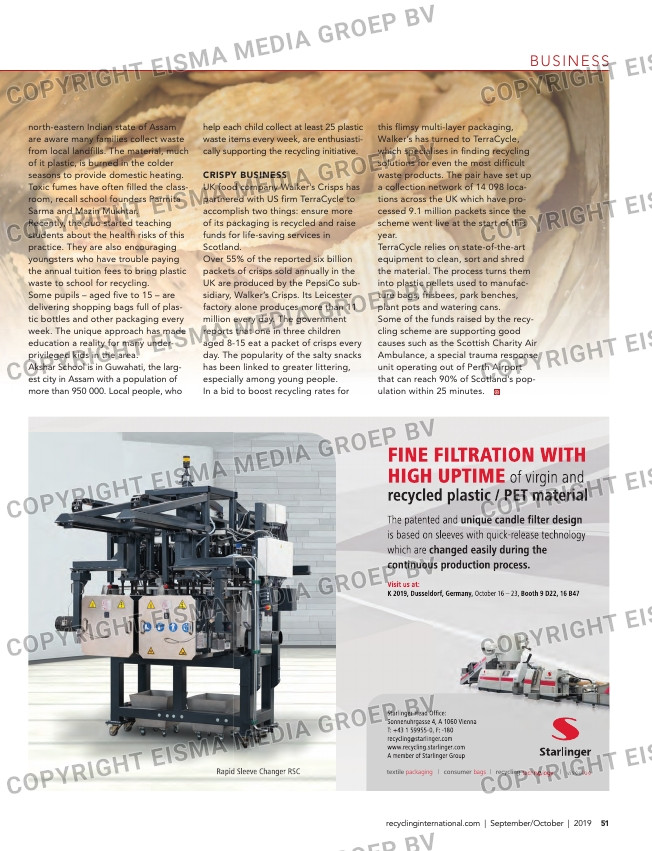 BUSINESS
51recyclinginternational.com | September/October | 2019
l l lconsumer bagstextile packaging recycling
RI_10_19_RSC_Filter_Pfade_Druck.indd 1 24.09.2019 09:37:52
Making waveS: global
recycling Day
Who hasn't heard of Global Recycling
Day, the worldwide day dedicated to
recycling? The event, established in
2018 and held on 18 March every
year, has attracted youngsters, design-
ers and industry stakeholders alike.
The 'mermaid trash dress' embodies
that. Worn by Australian model Laura
Wells, the piece is made of more than
60 plastic drink bottles, 190 cans and
90 bottle caps. Recycling tech suppli-
er Tomra commissioned the unique
costume to mark the event.
pay for School with plaStic
A school in India has found a way to
allow more children to enrol in its
classes: youngsters from struggling
families can now bring recyclables to
school instead of paying tuition fees.
Staff at the Akshar School in the
north-eastern Indian state of Assam
are aware many families collect waste
from local landfills. The material, much
of it plastic, is burned in the colder
seasons to provide domestic heating.
Toxic fumes have often filled the class-
room, recall school founders Parmita
Sarma and Mazin Mukhtar.
Recently, the duo started teaching
students about the health risks of this
practice. They are also encouraging
youngsters who have trouble paying
the annual tuition fees to bring plastic
waste to school for recycling.
Some pupils – aged five to 15 – are
delivering shopping bags full of plas-
tic bottles and other packaging every
week. The unique approach has made
education a reality for many under-
privileged kids in the area.
Akshar School is in Guwahati, the larg-
est city in Assam with a population of
more than 950 000. Local people, who
help each child collect at least 25 plastic
waste items every week, are enthusiasti-
cally supporting the recycling initiative.
criSpy buSineSS
UK food company Walker's Crisps has
partnered with US firm TerraCycle to
accomplish two things: ensure more
of its packaging is recycled and raise
funds for life-saving services in
Scotland.
Over 55% of the reported six billion
packets of crisps sold annually in the
UK are produced by the PepsiCo sub-
sidiary, Walker's Crisps. Its Leicester
factory alone produces more than 11
million every day. The government
reports that one in three children
aged 8-15 eat a packet of crisps every
day. The popularity of the salty snacks
has been linked to greater littering,
especially among young people.
In a bid to boost recycling rates for
this flimsy multi-layer packaging,
Walker's has turned to TerraCycle,
which specialises in finding recycling
solutions for even the most difficult
waste products. The pair have set up
a collection network of 14 098 loca-
tions across the UK which have pro-
cessed 9.1 million packets since the
scheme went live at the start of this
year.
TerraCycle relies on state-of-the-art
equipment to clean, sort and shred
the material. The process turns them
into plastic pellets used to manufac-
ture bags, frisbees, park benches,
plant pots and watering cans.
Some of the funds raised by the recy-
cling scheme are supporting good
causes such as the Scottish Charity Air
Ambulance, a special trauma response
unit operating out of Perth Airport
that can reach 90% of Scotland's pop-
ulation within 25 minutes.
44-45-46-48-49-50-51_kidsareok.indd 51 30-09-19 16:58