Out now: issue 5!
Subscribe
Page 46 from: Out now: issue 5!
46 BUSINESS produced globally this year alone), makes them foldable and converts them into e-bikes you can easily to take with you on the train/tram to make your commute to work healthier and more comfortable,' the group says. • ...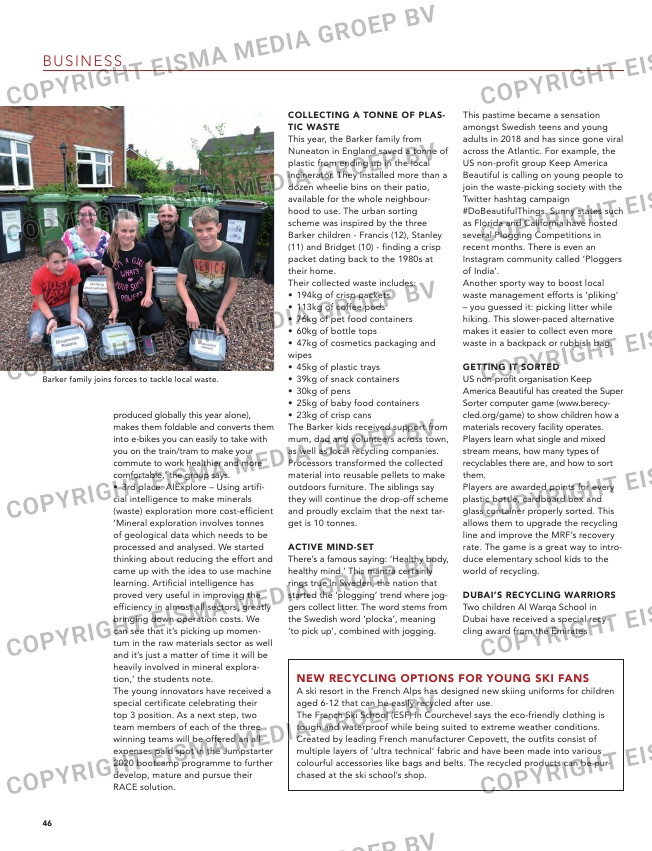 46
BUSINESS
produced globally this year alone),
makes them foldable and converts them
into e-bikes you can easily to take with
you on the train/tram to make your
commute to work healthier and more
comfortable,' the group says.
• 3rd place: AIExplore – Using artifi-
cial intelligence to make minerals
(waste) exploration more cost-efficient
'Mineral exploration involves tonnes
of geological data which needs to be
processed and analysed. We started
thinking about reducing the effort and
came up with the idea to use machine
learning. Artificial intelligence has
proved very useful in improving the
efficiency in almost all sectors, greatly
bringing down operation costs. We
can see that it's picking up momen-
tum in the raw materials sector as well
and it's just a matter of time it will be
heavily involved in mineral explora-
tion,' the students note.
The young innovators have received a
special certificate celebrating their
top 3 position. As a next step, two
team members of each of the three
winning teams will be offered an all-
expenses paid spot in the Jumpstarter
2020 bootcamp programme to further
develop, mature and pursue their
RACE solution.
collectinG a tonne of plaS-
tic waSte
This year, the Barker family from
Nuneaton in England saved a tonne of
plastic from ending up in the local
incinerator. They installed more than a
dozen wheelie bins on their patio,
available for the whole neighbour-
hood to use. The urban sorting
scheme was inspired by the three
Barker children – Francis (12), Stanley
(11) and Bridget (10) – finding a crisp
packet dating back to the 1980s at
their home.
Their collected waste includes:
• 194kg of crisp packets
• 113kg of coffee pods
• 76kg of pet food containers
• 60kg of bottle tops
• 47kg of cosmetics packaging and
wipes
• 45kg of plastic trays
• 39kg of snack containers
• 30kg of pens
• 25kg of baby food containers
• 23kg of crisp cans
The Barker kids received support from
mum, dad and volunteers across town,
as well as local recycling companies.
Processors transformed the collected
material into reusable pellets to make
outdoors furniture. The siblings say
they will continue the drop-off scheme
and proudly exclaim that the next tar-
get is 10 tonnes.
active mind-Set
There's a famous saying: 'Healthy body,
healthy mind.' This mantra certainly
rings true in Sweden, the nation that
started the 'plogging' trend where jog-
gers collect litter. The word stems from
the Swedish word 'plocka', meaning
'to pick up', combined with jogging.
This pastime became a sensation
amongst Swedish teens and young
adults in 2018 and has since gone viral
across the Atlantic. For example, the
US non-profit group Keep America
Beautiful is calling on young people to
join the waste-picking society with the
Twitter hashtag campaign
#DoBeautifulThings. Sunny states such
as Florida and California have hosted
several Plogging Competitions in
recent months. There is even an
Instagram community called 'Ploggers
of India'.
Another sporty way to boost local
waste management efforts is 'pliking'
– you guessed it: picking litter while
hiking. This slower-paced alternative
makes it easier to collect even more
waste in a backpack or rubbish bag.
GettinG it Sorted
US non-profit organisation Keep
America Beautiful has created the Super
Sorter computer game (www.berecy-
cled.org/game) to show children how a
materials recovery facility operates.
Players learn what single and mixed
stream means, how many types of
recyclables there are, and how to sort
them.
Players are awarded points for every
plastic bottle, cardboard box and
glass container properly sorted. This
allows them to upgrade the recycling
line and improve the MRF's recovery
rate. The game is a great way to intro-
duce elementary school kids to the
world of recycling.
dubai'S recyclinG warriorS
Two children Al Warqa School in
Dubai have received a special recy-
cling award from the Emirates
new recyclinG optionS for younG Ski fanS
A ski resort in the French Alps has designed new skiing uniforms for children
aged 6-12 that can be easily recycled after use.
The French Ski School (ESF) in Courchevel says the eco-friendly clothing is
tough and waterproof while being suited to extreme weather conditions.
Created by leading French manufacturer Cepovett, the outfits consist of
multiple layers of 'ultra technical' fabric and have been made into various
colourful accessories like bags and belts. The recycled products can be pur-
chased at the ski school's shop.
Barker family joins forces to tackle local waste.
44-45-46-48-49-50-51_kidsareok.indd 46 30-09-19 16:58