Out now: issue 5!
Subscribe
Page 45 from: Out now: issue 5!
BUSINESS 45recyclinginternational.com | September/October | 2019 Seventy masters students from lead- ing universities across 27 different European countries participated in the Raw & Circular Economy Expedition this August. Dur...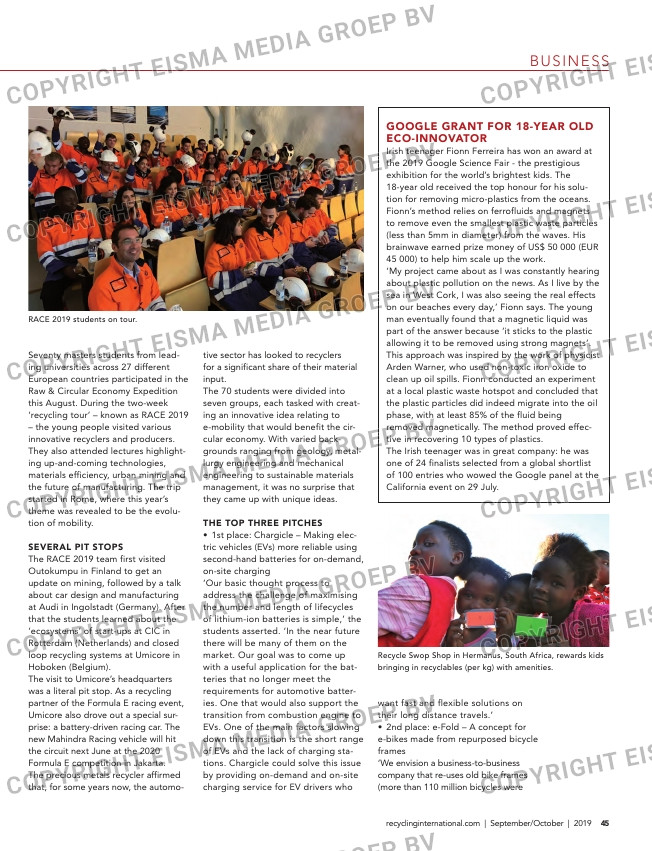 BUSINESS
45recyclinginternational.com | September/October | 2019
Seventy masters students from lead-
ing universities across 27 different
European countries participated in the
Raw & Circular Economy Expedition
this August. During the two-week
'recycling tour' – known as RACE 2019
– the young people visited various
innovative recyclers and producers.
They also attended lectures highlight-
ing up-and-coming technologies,
materials efficiency, urban mining and
the future of manufacturing. The trip
started in Rome, where this year's
theme was revealed to be the evolu-
tion of mobility.
Several pit StopS
The RACE 2019 team first visited
Outokumpu in Finland to get an
update on mining, followed by a talk
about car design and manufacturing
at Audi in Ingolstadt (Germany). After
that the students learned about the
'ecosystems' of start-ups at CIC in
Rotterdam (Netherlands) and closed
loop recycling systems at Umicore in
Hoboken (Belgium).
The visit to Umicore's headquarters
was a literal pit stop. As a recycling
partner of the Formula E racing event,
Umicore also drove out a special sur-
prise: a battery-driven racing car. The
new Mahindra Racing vehicle will hit
the circuit next June at the 2020
Formula E competition in Jakarta.
The precious metals recycler affirmed
that, for some years now, the automo-
tive sector has looked to recyclers
for a significant share of their material
input.
The 70 students were divided into
seven groups, each tasked with creat-
ing an innovative idea relating to
e-mobility that would benefit the cir-
cular economy. With varied back-
grounds ranging from geology, metal-
lurgy engineering and mechanical
engineering to sustainable materials
management, it was no surprise that
they came up with unique ideas.
the top three pitcheS
• 1st place: Chargicle – Making elec-
tric vehicles (EVs) more reliable using
second-hand batteries for on-demand,
on-site charging
'Our basic thought process to
address the challenge of maximising
the number and length of lifecycles
of lithium-ion batteries is simple,' the
students asserted. 'In the near future
there will be many of them on the
market. Our goal was to come up
with a useful application for the bat-
teries that no longer meet the
requirements for automotive batter-
ies. One that would also support the
transition from combustion engine to
EVs. One of the main factors slowing
down this transition is the short range
of EVs and the lack of charging sta-
tions. Chargicle could solve this issue
by providing on-demand and on-site
charging service for EV drivers who
want fast and flexible solutions on
their long distance travels.'
• 2nd place: e-Fold – A concept for
e-bikes made from repurposed bicycle
frames
'We envision a business-to-business
company that re-uses old bike frames
(more than 110 million bicycles were
GooGle Grant for 18-year old
eco-innovator
Irish teenager Fionn Ferreira has won an award at
the 2019 Google Science Fair – the prestigious
exhibition for the world's brightest kids. The
18-year old received the top honour for his solu-
tion for removing micro-plastics from the oceans.
Fionn's method relies on ferrofluids and magnets
to remove even the smallest plastic waste particles
(less than 5mm in diameter) from the waves. His
brainwave earned prize money of US$ 50 000 (EUR
45 000) to help him scale up the work.
'My project came about as I was constantly hearing
about plastic pollution on the news. As I live by the
sea in West Cork, I was also seeing the real effects
on our beaches every day,' Fionn says. The young
man eventually found that a magnetic liquid was
part of the answer because 'it sticks to the plastic
allowing it to be removed using strong magnets'.
This approach was inspired by the work of physicist
Arden Warner, who used non-toxic iron oxide to
clean up oil spills. Fionn conducted an experiment
at a local plastic waste hotspot and concluded that
the plastic particles did indeed migrate into the oil
phase, with at least 85% of the fluid being
removed magnetically. The method proved effec-
tive in recovering 10 types of plastics.
The Irish teenager was in great company: he was
one of 24 finalists selected from a global shortlist
of 100 entries who wowed the Google panel at the
California event on 29 July.
Recycle Swop Shop in Hermanus, South Africa, rewards kids
bringing in recyclables (per kg) with amenities.
RACE 2019 students on tour.
44-45-46-48-49-50-51_kidsareok.indd 45 30-09-19 16:58