Out now: issue 5!
Subscribe
Page 43 from: Out now: issue 5!
BUSINESS 43recyclinginternational.com | September/October | 2019 In 2014, Jacomij opened a 10 000 m2 warehouse consisting of seven bunkers, each with the capacity to store 2 000 tonnes of e-scrap. Materials are accurately separated....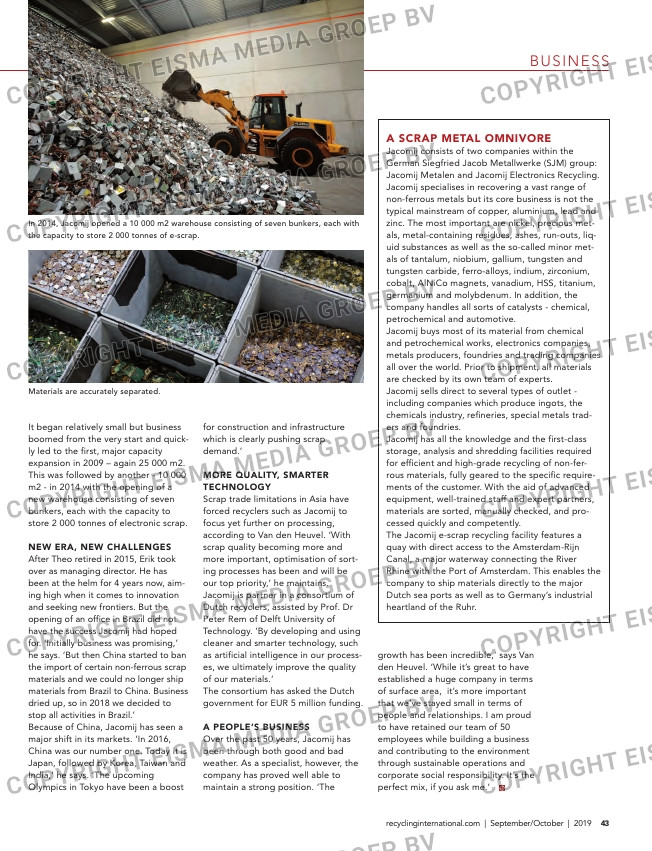 BUSINESS
43recyclinginternational.com | September/October | 2019
In 2014, Jacomij opened a 10 000 m2 warehouse consisting of seven bunkers, each with
the capacity to store 2 000 tonnes of e-scrap.
Materials are accurately separated.
SUPPLIES FROM THE EAST
Less than two years later, in 1989, the
drawing down of the Iron Curtain and
the subsequent emergence of free
trade with Eastern Europe gave the
business at Jacomij an enormous
boost. In the five years after the fall of
communism, almost 60% of materials
received by Jacomij came from
Eastern Europe.
'It was a chaotic time,' recalls Erik van
den Heuvel. 'Russian trucks were
queuing up at our facility and had to
wait for days to go back home.
Drivers were killing time with barbe-
cues in our parking area.'
An impressive, one-metre-high,
bronze bust of Russian revolutionary
Lenin still keeps an eye on proceed-
ings at the Jacomij head office, a sou-
venir of an exciting period in both
world and company history.
The proportion of scrap intake from
Eastern Europe has since dropped off
dramatically, partly due to Russia's
export ban on metal scrap. Even so, it
was a major catalyst for the next stag-
es of growth. One of these was yet
another expansion – this time of 30
000 m2 – and the opening of an office
building in the mid 90s.
E-SCRAP WAVE ROLLING IN
It was the time of fast growing elec-
tronic scrap volumes. 'With the millen-
nium coming closer, streams of dis-
carded computers and materials from
telecommunication centres were get-
ting bigger and bigger. On top of
that, there was the introduction of the
Euro. Banks had to get rid of national
currencies. Recyclers like Jacomij were
among the first to offer their recycling
services. Van den Heuvel: 'Coins con-
tain high quality copper, nickel and
zinc making them wonderful pieces of
scrap wanted by the smelters.'
Meanwhile, yet more e-scrap was
flowing in. Minor metals gave Jacomij
the reputation of being a specialist
but it was as an all-round electronics
recycler that the company really grew.
Since the launch of its e-scrap division
in 2007, Jacomij Electronics Recycling,
located not far from the headoffice
has seen year-on-year growth.
It began relatively small but business
boomed from the very start and quick-
ly led to the first, major capacity
expansion in 2009 – again 25 000 m2.
This was followed by another – 10 000
m2 – in 2014 with the opening of a
new warehouse consisting of seven
bunkers, each with the capacity to
store 2 000 tonnes of electronic scrap.
NEW ERA, NEW CHALLENGES
After Theo retired in 2015, Erik took
over as managing director. He has
been at the helm for 4 years now, aim-
ing high when it comes to innovation
and seeking new frontiers. But the
opening of an office in Brazil did not
have the success Jacomij had hoped
for. 'Initially business was promising,'
he says. 'But then China started to ban
the import of certain non-ferrous scrap
materials and we could no longer ship
materials from Brazil to China. Business
dried up, so in 2018 we decided to
stop all activities in Brazil.'
Because of China, Jacomij has seen a
major shift in its markets. 'In 2016,
China was our number one. Today it is
Japan, followed by Korea, Taiwan and
India,' he says. 'The upcoming
Olympics in Tokyo have been a boost
for construction and infrastructure
which is clearly pushing scrap
demand.'
MORE QUALITY, SMARTER
TECHNOLOGY
Scrap trade limitations in Asia have
forced recyclers such as Jacomij to
focus yet further on processing,
according to Van den Heuvel. 'With
scrap quality becoming more and
more important, optimisation of sort-
ing processes has been and will be
our top priority,' he maintains.
Jacomij is partner in a consortium of
Dutch recyclers, assisted by Prof. Dr
Peter Rem of Delft University of
Technology. 'By developing and using
cleaner and smarter technology, such
as artificial intelligence in our process-
es, we ultimately improve the quality
of our materials.'
The consortium has asked the Dutch
government for EUR 5 million funding.
A PEOPLE'S BUSINESS
Over the past 50 years, Jacomij has
been through both good and bad
weather. As a specialist, however, the
company has proved well able to
maintain a strong position. 'The
growth has been incredible,' says Van
den Heuvel. 'While it's great to have
established a huge company in terms
of surface area, it's more important
that we've stayed small in terms of
people and relationships. I am proud
to have retained our team of 50
employees while building a business
and contributing to the environment
through sustainable operations and
corporate social responsibility. It's the
perfect mix, if you ask me.'
A SCRAP METAL OMNIVORE
Jacomij consists of two companies within the
German Siegfried Jacob Metallwerke (SJM) group:
Jacomij Metalen and Jacomij Electronics Recycling.
Jacomij specialises in recovering a vast range of
non-ferrous metals but its core business is not the
typical mainstream of copper, aluminium, lead and
zinc. The most important are nickel, precious met-
als, metal-containing residues, ashes, run-outs, liq-
uid substances as well as the so-called minor met-
als of tantalum, niobium, gallium, tungsten and
tungsten carbide, ferro-alloys, indium, zirconium,
cobalt, AlNiCo magnets, vanadium, HSS, titanium,
germanium and molybdenum. In addition, the
company handles all sorts of catalysts – chemical,
petrochemical and automotive.
Jacomij buys most of its material from chemical
and petrochemical works, electronics companies,
metals producers, foundries and trading companies
all over the world. Prior to shipment, all materials
are checked by its own team of experts.
Jacomij sells direct to several types of outlet –
including companies which produce ingots, the
chemicals industry, refineries, special metals trad-
ers and foundries.
Jacomij has all the knowledge and the first-class
storage, analysis and shredding facilities required
for efficient and high-grade recycling of non-fer-
rous materials, fully geared to the specific require-
ments of the customer. With the aid of advanced
equipment, well-trained staff and expert partners,
materials are sorted, manually checked, and pro-
cessed quickly and competently.
The Jacomij e-scrap recycling facility features a
quay with direct access to the Amsterdam-Rijn
Canal, a major waterway connecting the River
Rhine with the Port of Amsterdam. This enables the
company to ship materials directly to the major
Dutch sea ports as well as to Germany's industrial
heartland of the Ruhr.
40-41-42-43_jacomijjaar.indd 43 30-09-19 16:58