Out now: issue 5!
Subscribe
Page 35 from: Out now: issue 5!
BATTERIES 35recyclinginternational.com | September/October | 2019 um-ion energy storage solutions (ESS). 'The fact is, there are so many ambi- tious renewable energy projects. The downside is that a lot of energy is lost at big w...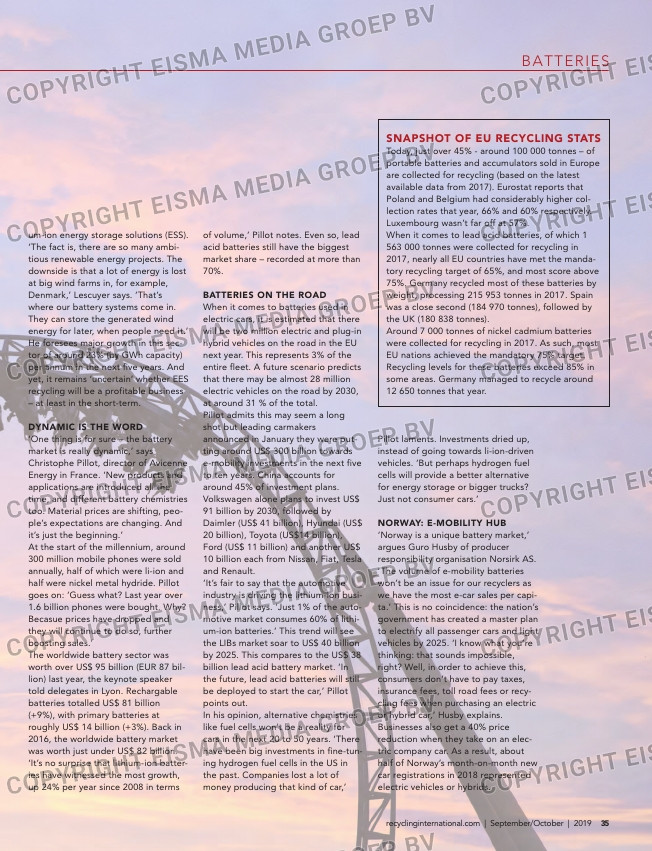 BATTERIES
35recyclinginternational.com | September/October | 2019
um-ion energy storage solutions (ESS).
'The fact is, there are so many ambi-
tious renewable energy projects. The
downside is that a lot of energy is lost
at big wind farms in, for example,
Denmark,' Lescuyer says. 'That's
where our battery systems come in.
They can store the generated wind
energy for later, when people need it.'
He foresees major growth in this sec-
tor of around 23% (by GWh capacity)
per annum in the next five years. And
yet, it remains 'uncertain' whether EES
recycling will be a profitable business
– at least in the short-term.
dynaMiC is the Word
'One thing is for sure – the battery
market is really dynamic,' says
Christophe Pillot, director of Avicenne
Energy in France. 'New products and
applications are introduced all the
time, and different battery chemistries
too. Material prices are shifting, peo-
ple's expectations are changing. And
it's just the beginning.'
At the start of the millennium, around
300 million mobile phones were sold
annually, half of which were li-ion and
half were nickel metal hydride. Pillot
goes on: 'Guess what? Last year over
1.6 billion phones were bought. Why?
Becasue prices have dropped and
they will continue to do so, further
boosting sales.'
The worldwide battery sector was
worth over US$ 95 billion (EUR 87 bil-
lion) last year, the keynote speaker
told delegates in Lyon. Rechargable
batteries totalled US$ 81 billion
(+9%), with primary batteries at
roughly US$ 14 billion (+3%). Back in
2016, the worldwide battery market
was worth just under US$ 82 billion.
'It's no surprise that lithium-ion batter-
ies have witnessed the most growth,
up 24% per year since 2008 in terms
of volume,' Pillot notes. Even so, lead
acid batteries still have the biggest
market share – recorded at more than
70%.
batteries on the road
When it comes to batteries used in
electric cars, it is estimated that there
will be two million electric and plug-in
hybrid vehicles on the road in the EU
next year. This represents 3% of the
entire fleet. A future scenario predicts
that there may be almost 28 million
electric vehicles on the road by 2030,
at around 31 % of the total.
Pillot admits this may seem a long
shot but leading carmakers
announced in January they were put-
ting around US$ 300 billion towards
e-mobility investments in the next five
to ten years. China accounts for
around 45% of investment plans.
Volkswagen alone plans to invest US$
91 billion by 2030, followed by
Daimler (US$ 41 billion), Hyundai (US$
20 billion), Toyota (US$14 billion),
Ford (US$ 11 billion) and another US$
10 billion each from Nissan, Fiat, Tesla
and Renault.
'It's fair to say that the automotive
industry is driving the lithium-ion busi-
ness,' Pillot says. 'Just 1% of the auto-
motive market consumes 60% of lithi-
um-ion batteries.' This trend will see
the LIBs market soar to US$ 40 billion
by 2025. This compares to the US$ 38
billion lead acid battery market. 'In
the future, lead acid batteries will still
be deployed to start the car,' Pillot
points out.
In his opinion, alternative chemistries
like fuel cells won't be a reality for
cars in the next 20 to 50 years. 'There
have been big investments in fine-tun-
ing hydrogen fuel cells in the US in
the past. Companies lost a lot of
money producing that kind of car,'
Pillot laments. Investments dried up,
instead of going towards li-ion-driven
vehicles. 'But perhaps hydrogen fuel
cells will provide a better alternative
for energy storage or bigger trucks?
Just not consumer cars.'
norWay: e-Mobility hub
'Norway is a unique battery market,'
argues Guro Husby of producer
responsibility organisation Norsirk AS.
'The volume of e-mobility batteries
won't be an issue for our recyclers as
we have the most e-car sales per capi-
ta.' This is no coincidence: the nation's
government has created a master plan
to electrify all passenger cars and light
vehicles by 2025. 'I know what you're
thinking: that sounds impossible,
right? Well, in order to achieve this,
consumers don't have to pay taxes,
insurance fees, toll road fees or recy-
cling fees when purchasing an electric
or hybrid car,' Husby explains.
Businesses also get a 40% price
reduction when they take on an elec-
tric company car. As a result, about
half of Norway's month-on-month new
car registrations in 2018 represented
electric vehicles or hybrids.
snapshot oF eu reCyCling stats
Today, just over 45% – around 100 000 tonnes – of
portable batteries and accumulators sold in Europe
are collected for recycling (based on the latest
available data from 2017). Eurostat reports that
Poland and Belgium had considerably higher col-
lection rates that year, 66% and 60% respectively.
Luxembourg wasn't far off at 57%.
When it comes to lead acid batteries, of which 1
563 000 tonnes were collected for recycling in
2017, nearly all EU countries have met the manda-
tory recycling target of 65%, and most score above
75%. Germany recycled most of these batteries by
weight, processing 215 953 tonnes in 2017. Spain
was a close second (184 970 tonnes), followed by
the UK (180 838 tonnes).
Around 7 000 tonnes of nickel cadmium batteries
were collected for recycling in 2017. As such, most
EU nations achieved the mandatory 75% target.
Recycling levels for these batteries exceed 85% in
some areas. Germany managed to recycle around
12 650 tonnes that year.
34-35-36-37-38-39_batteryreport.indd 35 30-09-19 16:57