Out now: issue 5!
Subscribe
Page 34 from: Out now: issue 5!
A U T H O R Kirstin Linnenkoper 34 Battery sector a rollercoaster with more highs than lows With so many modern products including a battery, it means more business for recyclers. But it's becoming more urgent for them to update the...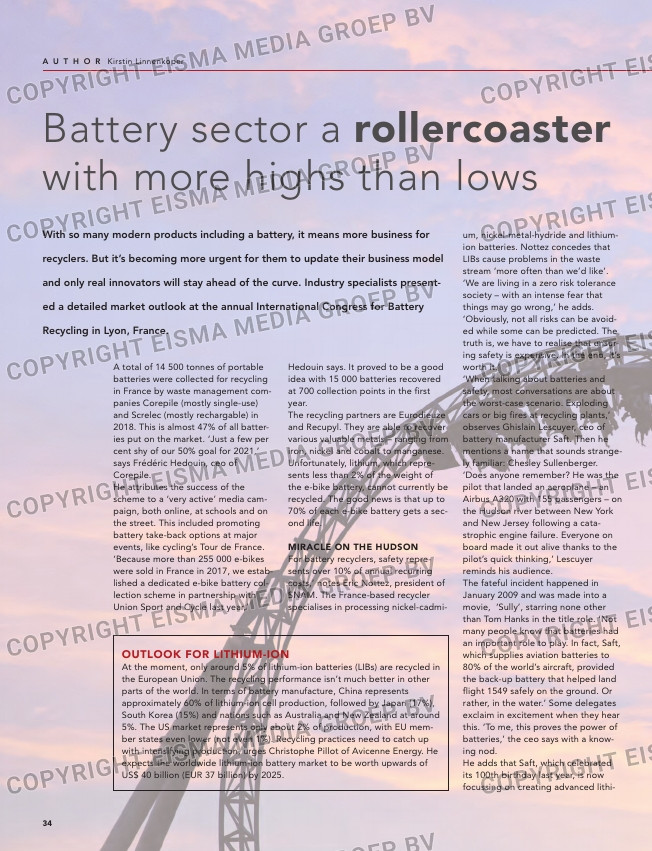 A U T H O R Kirstin Linnenkoper
34
Battery sector a rollercoaster
with more highs than lows
With so many modern products including a battery, it means more business for
recyclers. But it's becoming more urgent for them to update their business model
and only real innovators will stay ahead of the curve. Industry specialists present-
ed a detailed market outlook at the annual International Congress for Battery
Recycling in Lyon, France.
um-ion energy storage solutions (ESS).
'The fact is, there are so many ambi-
tious renewable energy projects. The
downside is that a lot of energy is lost
at big wind farms in, for example,
Denmark,' Lescuyer says. 'That's
where our battery systems come in.
They can store the generated wind
energy for later, when people need it.'
He foresees major growth in this sec-
tor of around 23% (by GWh capacity)
per annum in the next five years. And
yet, it remains 'uncertain' whether EES
recycling will be a profitable business
– at least in the short-term.
dynaMiC is the Word
'One thing is for sure – the battery
market is really dynamic,' says
Christophe Pillot, director of Avicenne
Energy in France. 'New products and
applications are introduced all the
time, and different battery chemistries
too. Material prices are shifting, peo-
ple's expectations are changing. And
it's just the beginning.'
At the start of the millennium, around
300 million mobile phones were sold
annually, half of which were li-ion and
half were nickel metal hydride. Pillot
goes on: 'Guess what? Last year over
1.6 billion phones were bought. Why?
Becasue prices have dropped and
they will continue to do so, further
boosting sales.'
The worldwide battery sector was
worth over US$ 95 billion (EUR 87 bil-
lion) last year, the keynote speaker
told delegates in Lyon. Rechargable
batteries totalled US$ 81 billion
(+9%), with primary batteries at
roughly US$ 14 billion (+3%). Back in
2016, the worldwide battery market
was worth just under US$ 82 billion.
'It's no surprise that lithium-ion batter-
ies have witnessed the most growth,
up 24% per year since 2008 in terms
A total of 14 500 tonnes of portable
batteries were collected for recycling
in France by waste management com-
panies Corepile (mostly single-use)
and Screlec (mostly rechargable) in
2018. This is almost 47% of all batter-
ies put on the market. 'Just a few per
cent shy of our 50% goal for 2021,'
says Frédéric Hedouin, ceo of
Corepile.
He attributes the success of the
scheme to a 'very active' media cam-
paign, both online, at schools and on
the street. This included promoting
battery take-back options at major
events, like cycling's Tour de France.
'Because more than 255 000 e-bikes
were sold in France in 2017, we estab-
lished a dedicated e-bike battery col-
lection scheme in partnership with
Union Sport and Cycle last year,'
Hedouin says. It proved to be a good
idea with 15 000 batteries recovered
at 700 collection points in the first
year.
The recycling partners are Eurodieuze
and Recupyl. They are able to recover
various valuable metals – ranging from
iron, nickel and cobalt to manganese.
Unfortunately, lithium, which repre-
sents less than 2% of the weight of
the e-bike battery, cannot currently be
recycled. The good news is that up to
70% of each e-bike battery gets a sec-
ond life.
MiraCle on the hudson
For battery recyclers, safety repre-
sents over 10% of annual recurring
costs,' notes Eric Nottez, president of
SNAM. The France-based recycler
specialises in processing nickel-cadmi-
um, nickel-metal-hydride and lithium-
ion batteries. Nottez concedes that
LIBs cause problems in the waste
stream 'more often than we'd like'.
'We are living in a zero risk tolerance
society – with an intense fear that
things may go wrong,' he adds.
'Obviously, not all risks can be avoid-
ed while some can be predicted. The
truth is, we have to realise that ensur-
ing safety is expensive. In the end, it's
worth it.'
'When talking about batteries and
safety, most conversations are about
the worst-case scenario. Exploding
cars or big fires at recycling plants,'
observes Ghislain Lescuyer, ceo of
battery manufacturer Saft. Then he
mentions a name that sounds strange-
ly familiar: Chesley Sullenberger.
'Does anyone remember? He was the
pilot that landed an aeroplane – an
Airbus A320 with 155 passengers – on
the Hudson river between New York
and New Jersey following a cata-
strophic engine failure. Everyone on
board made it out alive thanks to the
pilot's quick thinking,' Lescuyer
reminds his audience.
The fateful incident happened in
January 2009 and was made into a
movie, 'Sully', starring none other
than Tom Hanks in the title role. 'Not
many people know that batteries had
an important role to play. In fact, Saft,
which supplies aviation batteries to
80% of the world's aircraft, provided
the back-up battery that helped land
flight 1549 safely on the ground. Or
rather, in the water.' Some delegates
exclaim in excitement when they hear
this. 'To me, this proves the power of
batteries,' the ceo says with a know-
ing nod.
He adds that Saft, which celebrated
its 100th birthday last year, is now
focussing on creating advanced lithi-
outlooK For lithiuM-ion
At the moment, only around 5% of lithium-ion batteries (LIBs) are recycled in
the European Union. The recycling performance isn't much better in other
parts of the world. In terms of battery manufacture, China represents
approximately 60% of lithium-ion cell production, followed by Japan (17%),
South Korea (15%) and nations such as Australia and New Zealand at around
5%. The US market represents only about 2% of production, with EU mem-
ber states even lower (not even 1%). Recycling practices need to catch up
with intensifying production, urges Christophe Pillot of Avicenne Energy. He
expects the worldwide lithium-ion battery market to be worth upwards of
US$ 40 billion (EUR 37 billion) by 2025.
34-35-36-37-38-39_batteryreport.indd 34 30-09-19 16:57