Out now: issue 5!
Subscribe
Page 32 from: Out now: issue 5!
Untha: a pioneer and international specialist in shredding technology Untha Shredding Technology develops and produces tailor- made and reliable shredding systems. The range of applications extends from the recovery of valuable ma...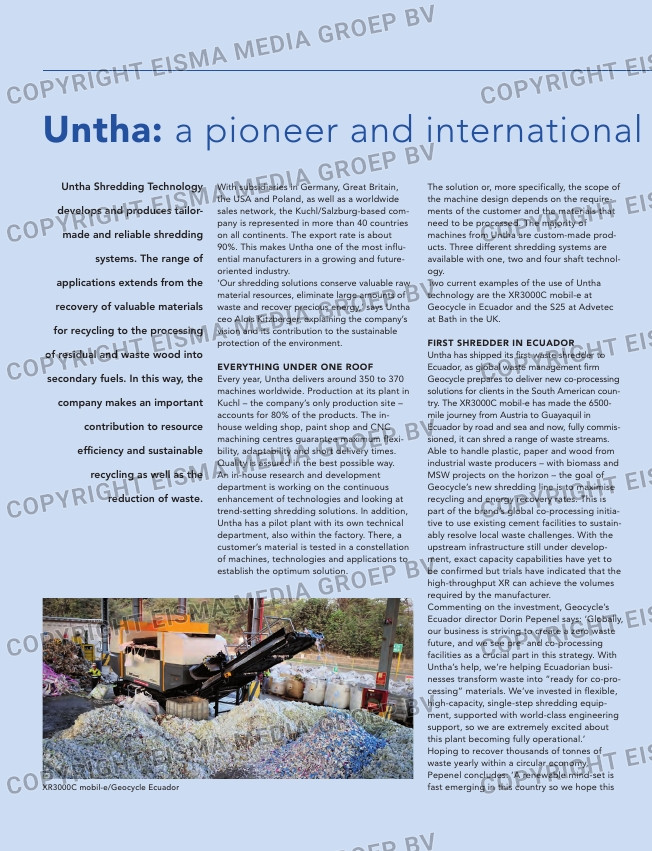 Untha: a pioneer and international specialist in shredding technology
Untha Shredding Technology
develops and produces tailor-
made and reliable shredding
systems. The range of
applications extends from the
recovery of valuable materials
for recycling to the processing
of residual and waste wood into
secondary fuels. In this way, the
company makes an important
contribution to resource
efficiency and sustainable
recycling as well as the
reduction of waste.
With subsidiaries in Germany, Great Britain,
the USA and Poland, as well as a worldwide
sales network, the Kuchl/Salzburg-based com-
pany is represented in more than 40 countries
on all continents. The export rate is about
90%. This makes Untha one of the most influ-
ential manufacturers in a growing and future-
oriented industry.
'Our shredding solutions conserve valuable raw
material resources, eliminate large amounts of
waste and recover precious energy,' says Untha
ceo Alois Kitzberger, explaining the company's
vision and its contribution to the sustainable
protection of the environment.
EvErything UndEr onE roof
Every year, Untha delivers around 350 to 370
machines worldwide. Production at its plant in
Kuchl – the company's only production site –
accounts for 80% of the products. The in-
house welding shop, paint shop and CNC
machining centres guarantee maximum flexi-
bility, adaptability and short delivery times.
Quality is assured in the best possible way.
An in-house research and development
department is working on the continuous
enhancement of technologies and looking at
trend-setting shredding solutions. In addition,
Untha has a pilot plant with its own technical
department, also within the factory. There, a
customer's material is tested in a constellation
of machines, technologies and applications to
establish the optimum solution.
The solution or, more specifically, the scope of
the machine design depends on the require-
ments of the customer and the materials that
need to be processed. The majority of
machines from Untha are custom-made prod-
ucts. Three different shredding systems are
available with one, two and four shaft technol-
ogy.
Two current examples of the use of Untha
technology are the XR3000C mobil-e at
Geocycle in Ecuador and the S25 at Advetec
at Bath in the UK.
first shrEddEr in EcUador
Untha has shipped its first waste shredder to
Ecuador, as global waste management firm
Geocycle prepares to deliver new co-processing
solutions for clients in the South American coun-
try. The XR3000C mobil-e has made the 6500-
mile journey from Austria to Guayaquil in
Ecuador by road and sea and now, fully commis-
sioned, it can shred a range of waste streams.
Able to handle plastic, paper and wood from
industrial waste producers – with biomass and
MSW projects on the horizon – the goal of
Geocycle's new shredding line is to maximise
recycling and energy recovery rates. This is
part of the brand's global co-processing initia-
tive to use existing cement facilities to sustain-
ably resolve local waste challenges. With the
upstream infrastructure still under develop-
ment, exact capacity capabilities have yet to
be confirmed but trials have indicated that the
high-throughput XR can achieve the volumes
required by the manufacturer.
Commenting on the investment, Geocycle's
Ecuador director Dorin Pepenel says: 'Globally,
our business is striving to create a zero waste
future, and we see pre- and co-processing
facilities as a crucial part in this strategy. With
Untha's help, we're helping Ecuadorian busi-
nesses transform waste into "ready for co-pro-
cessing" materials. We've invested in flexible,
high-capacity, single-step shredding equip-
ment, supported with world-class engineering
support, so we are extremely excited about
this plant becoming fully operational.'
Hoping to recover thousands of tonnes of
waste yearly within a circular economy,
Pepenel concludes: 'A renewable mind-set is
fast emerging in this country so we hope this
waste processing facility will prove the catalyst
to further progress.'
This is not Untha's first shredding project with
Geocycle. Machines have also been supplied
to plants in Bulgaria, Vietnam, Spain, Mexico
and Argentina – to name just a few. More than
9000 UNTHA shredders are now in operation
worldwide.
sophisticatEd aErobic digEstion
projEcts
An engineering company specialising in the
scientific bio-degradation of waste has formed
a partnership with Untha to roll out a sophisti-
cated aerobic digestion solution for a selection
of mixed waste streams. Bath-headquartered
Advetec has treated a variety of waste and
effluent since it was established in 2000. Now
keen to develop a more homogenous product
for optimal digestion rates, the business
reached out to Untha to explore the capabili-
ties of its four-shaft shredding system.
Municipal waste shredding trials led Advetec
to invest in two Untha RS30s, which were
Two-shaft cutting unit S25/Advetec
XR3000C mobil-e/Geocycle Ecuador
32-33_unthashredding.indd 32 30-09-19 16:57