Out now: issue 5!
Subscribe
Page 28 from: Out now: issue 5!
a u t h o r Kirstin Linnenkoper 28 Silver lining for lithium and cobalt? Global demand for cobalt and lithium carbonate between 2017 and 2025 is expect- ed to increase by more than 60% and 300% respectively, new market data sug- gests...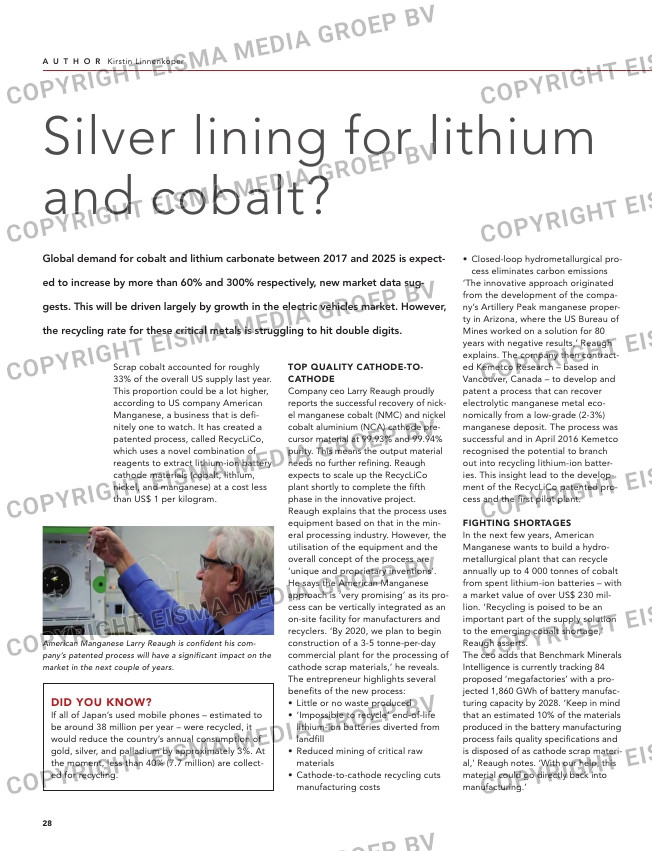 a u t h o r Kirstin Linnenkoper
28
Silver lining for lithium
and cobalt?
Global demand for cobalt and lithium carbonate between 2017 and 2025 is expect-
ed to increase by more than 60% and 300% respectively, new market data sug-
gests. this will be driven largely by growth in the electric vehicles market. however,
the recycling rate for these critical metals is struggling to hit double digits.
Precious metals recycler Umicore has
struck a multi-year strategic supply
agreement with battery producer LG
Chem. The deal means Umicore will
provide NMC cathode materials to LG
Chem, sourced from its recycling
plants in Poland, South Korea and
China.
The supply agreement takes effect in
2020 and covers a total volume of 125
000 tonnes to be delivered over sev-
eral years. The companies are also
entering a technology licensing
arrangement covering fundamental IP
rights.
This partnership will help LG Chem
meet the growing demand for
rechargeable lithium-ion batteries.
More battery materials will be needed
as car manufacturers have started
producing longer-range electric vehi-
cles.
Umicore also recently acquired
Freeport Cobalt's cobalt refining and
Scrap cobalt accounted for roughly
33% of the overall US supply last year.
This proportion could be a lot higher,
according to US company American
Manganese, a business that is defi-
nitely one to watch. It has created a
patented process, called RecycLiCo,
which uses a novel combination of
reagents to extract lithium-ion battery
cathode materials (cobalt, lithium,
nickel, and manganese) at a cost less
than US$ 1 per kilogram.
Top qualiTy caThode-To-
caThode
Company ceo Larry Reaugh proudly
reports the successful recovery of nick-
el manganese cobalt (NMC) and nickel
cobalt aluminium (NCA) cathode pre-
cursor material at 99.93% and 99.94%
purity. This means the output material
needs no further refining. Reaugh
expects to scale up the RecycLiCo
plant shortly to complete the fifth
phase in the innovative project.
Reaugh explains that the process uses
equipment based on that in the min-
eral processing industry. However, the
utilisation of the equipment and the
overall concept of the process are
'unique and proprietary inventions'.
He says the American Manganese
approach is 'very promising' as its pro-
cess can be vertically integrated as an
on-site facility for manufacturers and
recyclers. 'By 2020, we plan to begin
construction of a 3-5 tonne-per-day
commercial plant for the processing of
cathode scrap materials,' he reveals.
The entrepreneur highlights several
benefits of the new process:
• Little or no waste produced
• 'Impossible to recycle' end-of-life
lithium-ion batteries diverted from
landfill
• Reduced mining of critical raw
materials
• Cathode-to-cathode recycling cuts
manufacturing costs
• Closed-loop hydrometallurgical pro-
cess eliminates carbon emissions
'The innovative approach originated
from the development of the compa-
ny's Artillery Peak manganese proper-
ty in Arizona, where the US Bureau of
Mines worked on a solution for 80
years with negative results,' Reaugh
explains. The company then contract-
ed Kemetco Research – based in
Vancouver, Canada – to develop and
patent a process that can recover
electrolytic manganese metal eco-
nomically from a low-grade (2-3%)
manganese deposit. The process was
successful and in April 2016 Kemetco
recognised the potential to branch
out into recycling lithium-ion batter-
ies. This insight lead to the develop-
ment of the RecycLiCo patented pro-
cess and the first pilot plant.
FighTing shorTages
In the next few years, American
Manganese wants to build a hydro-
metallurgical plant that can recycle
annually up to 4 000 tonnes of cobalt
from spent lithium-ion batteries – with
a market value of over US$ 230 mil-
lion. 'Recycling is poised to be an
important part of the supply solution
to the emerging cobalt shortage,'
Reaugh asserts.
The ceo adds that Benchmark Minerals
Intelligence is currently tracking 84
proposed 'megafactories' with a pro-
jected 1,860 GWh of battery manufac-
turing capacity by 2028. 'Keep in mind
that an estimated 10% of the materials
produced in the battery manufacturing
process fails quality specifications and
is disposed of as cathode scrap materi-
al,' Reaugh notes. 'With our help, this
material could go directly back into
manufacturing.'
American Manganese Larry Reaugh is confident his com-
pany's patented process will have a significant impact on the
market in the next couple of years.

did you know?
If all of Japan's used mobile phones – estimated to
be around 38 million per year – were recycled, it
would reduce the country's annual consumption of
gold, silver, and palladium by approximately 3%. At
the moment, less than 40% (7.7 million) are collect-
ed for recycling.
28-29-30-31_preciousmetals.indd 28 30-09-19 16:56