Out now: issue 5!
Subscribe
Page 13 from: Out now: issue 5!
TRENDS & UPDATES 13recyclinginternational.com | September/October | 2019 tRafficking conspiRacy shakes uk Recycling sectoR A former senior police officer who helped smash a criminal gang making millions from modern slavery at rec...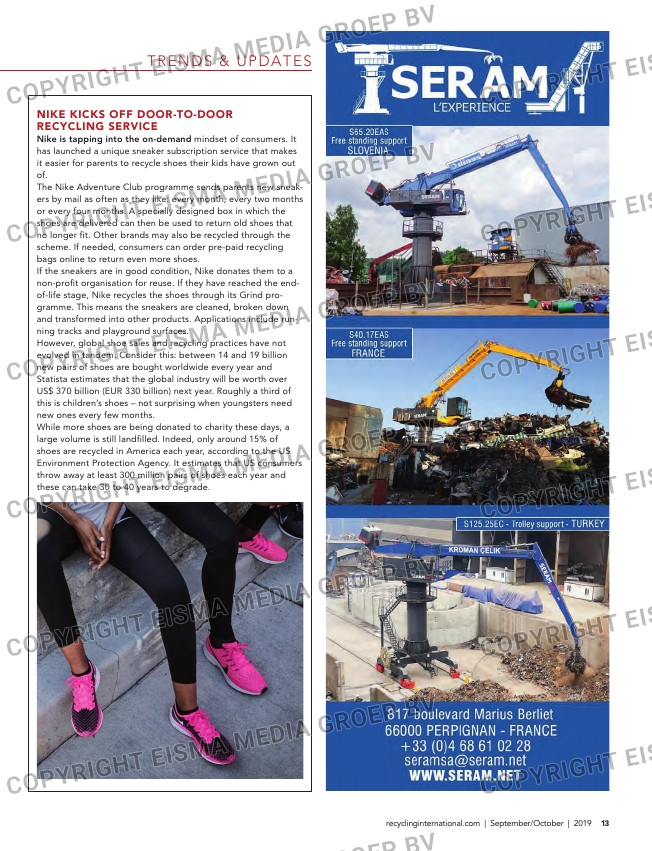 TRENDS & UPDATES
13recyclinginternational.com | September/October | 2019
tRafficking conspiRacy shakes uk Recycling sectoR
A former senior police officer who helped smash a criminal gang making millions from
modern slavery at recycling facilities in the UK has warned the problem is getting big-
ger.
Gary Booth, once with West Midlands Police, is now the regional head of Hope for
Justice, a charity that helps expose criminal gangs. He was a guest speaker at the first
RWM exhibition in Birmingham since the jailing in the summer of eight Polish nationals
for up to 11 years. Their trafficking conspiracy is said to be the 'most ambitious, exten-
sive and prolific' network of modern day slavery seen in the UK.
Nearly 100 victims were identified but Booth said that was probably only a quarter of
the people forced to work for very little money as manual workers, typically contracted
through recruitment agencies for recycling facilities.
'The hard truth is that the practice still continues, here and in plain sight,' said Booth.
'When we started, the business sector was blissfully ignorant. They weren't stupid or
complicit, just ignorant.'
The number people identified in the UK as being victims of slave labour has gone up by
one-third in each of the last two years. They are typically vulnerable people, typically
from eastern Europe, who are forced to work for a pittance and are often fearful of
their lives.
The criminals control their lives through managed, poor-quality, accommodation and
taking cash from the victims' bank accounts. Charities estimate that two-thirds worked
in a recycling or waste facility at some time during their exploitation.
Companies are establishing a code of conduct and best practice to spot the early signs
of modern slavery and inform the authorities. A year ago, Biffa was the first of the
major waste managers to sign up to the Slave-Free Alliance. The company's divisional
HR director, Melanie Frogdell, said they had been proactive with contractors.
'We told all existing suppliers they had to comply with our strategy and potential sup-
pliers were told they had to have measures in place before they could work with us. In
the end, contracts with five suppliers were discontinued and 12 others were not taken
on.'
Biffa is supporting an industry-wide campaign in the UK called 'Root it out' which has
been set up by the UK-based trade journal Materials Recycling World.
nike kicks off dooR-to-dooR
Recycling seRVice
Nike is tapping into the on-demand mindset of consumers. It
has launched a unique sneaker subscription service that makes
it easier for parents to recycle shoes their kids have grown out
of.
The Nike Adventure Club programme sends parents new sneak-
ers by mail as often as they like: every month, every two months
or every four months. A specially designed box in which the
shoes are delivered can then be used to return old shoes that
no longer fit. Other brands may also be recycled through the
scheme. If needed, consumers can order pre-paid recycling
bags online to return even more shoes.
If the sneakers are in good condition, Nike donates them to a
non-profit organisation for reuse. If they have reached the end-
of-life stage, Nike recycles the shoes through its Grind pro-
gramme. This means the sneakers are cleaned, broken down
and transformed into other products. Applications include run-
ning tracks and playground surfaces.
However, global shoe sales and recycling practices have not
evolved in tandem. Consider this: between 14 and 19 billion
new pairs of shoes are bought worldwide every year and
Statista estimates that the global industry will be worth over
US$ 370 billion (EUR 330 billion) next year. Roughly a third of
this is children's shoes – not surprising when youngsters need
new ones every few months.
While more shoes are being donated to charity these days, a
large volume is still landfilled. Indeed, only around 15% of
shoes are recycled in America each year, according to the US
Environment Protection Agency. It estimates that US consumers
throw away at least 300 million pairs of shoes each year and
these can take 30 to 40 years to degrade.
08-09-10-11-12-13_trendsupdates1.indd 13 01-10-19 08:29