Out now: issue 5!
Subscribe
Page 11 from: Out now: issue 5!
TRENDS & UPDATES 11recyclinginternational.com | September/October | 2019 eastman makes big stRides in chemical Recycling of plastics Us chemical company Eastman has developed two circular produc- tion processes. Eastman is build...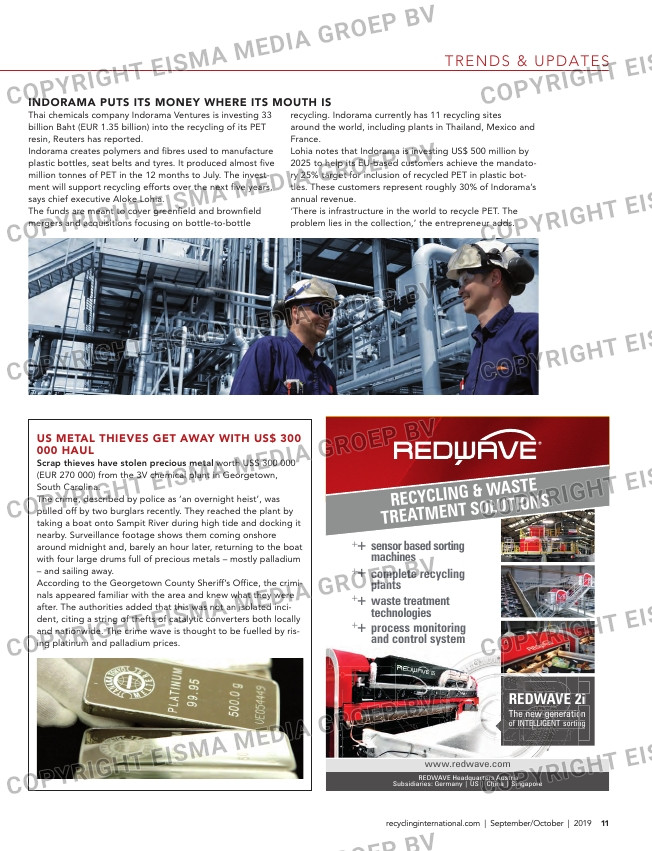 TRENDS & UPDATES
11recyclinginternational.com | September/October | 2019
eastman makes big stRides in chemical
Recycling of plastics
Us chemical company Eastman has developed two circular produc-
tion processes.
Eastman is building a new facility expected to be completed in 24 to
36 months. The site will perform chemical recycling on a broadly
mixed stream of polyester-family polymers using a process called
methanolysis. The input stream will include polyester plastics as well
as coloured, coated and contaminated polyethylene, says Holli
Alexander, strategic initiatives manager for global sustainability at
Eastman.
The company, which witnessed a revenue of US$ 10 billion last year,
says its innovative process can break down the plastic scrap into the
two base monomers; dimethyl terephthalate and ethylene glycol,
from which virgin polyester is made. 'Our intention then is to use
those monomers as intermediates, for our co-polyester production,
in-house,' Alexander explains. That would include the company's
Tritan plastic, used primarily for consumer housewares; Eastar for
packaging; and the Glass Polymer for cosmetic packaging.
The second recycling process is based on gasification. Eastman calls
this the Carbon Renewal Technology. It is described as the 'circulari-
sation of an existing production process'. Only now the approach will
take in a much broader stream of mixed plastics, not limited to poly-
ester, and break them down into the basic chemical constituents of
carbon monoxide and hydrogen. Those two chemicals, when com-
bined, become syngas.
This isn't the first time Eastman is taking steps to advance plastics
recycling. Back in the 90s, Eastman invested in a commercial line of
PET materials that used 50% chemically recycled content. The ambi-
tious project was discontinued because demand for recycled materi-
als was not high enough at the time. It's safe to say this has changed
in recent years.
'Eastman has a strong history in polymer science and has experience
with commercialising advanced circular recycling, known in scientific
terms as methanolysis,' the company writes in its latest sustainability
report. 'We know this is a technology that works and a methanolysis
facility can be developed at a scale to meet the demands of our
copolyester markets. We believe this is a technology that will help
close a gap in current recycling capabilities.'
www.redwave.com
REDWAVE Headquarters Austria
Subsidiaries: Germany | US | China | Singapore
++

++

++

++

sensor based sorting
machines
complete recycling
plants
waste treatment
technologies
process monitoring
and control system

RECYCLING &
WASTE

TREATMENT S
OLUTIONS

REDWAVE 2i
The new generation
of INTELLIGENT sorting
+49 221–4984–153 www.steinertglobal.com/waste-recycling
Your technology partner for NIR sensor-based sorting
combined with magnet and eddy current separator
SORTED

COMMERCIAL AND
PACKAGING WASTE

indoRama puts its money wheRe its mouth is
Thai chemicals company Indorama Ventures is investing 33
billion Baht (EUR 1.35 billion) into the recycling of its PET
resin, Reuters has reported.
Indorama creates polymers and fibres used to manufacture
plastic bottles, seat belts and tyres. It produced almost five
million tonnes of PET in the 12 months to July. The invest-
ment will support recycling efforts over the next five years,
says chief executive Aloke Lohia.
The funds are meant to cover greenfield and brownfield
mergers and acquisitions focusing on bottle-to-bottle
recycling. Indorama currently has 11 recycling sites
around the world, including plants in Thailand, Mexico and
France.
Lohia notes that Indorama is investing US$ 500 million by
2025 to help its EU-based customers achieve the mandato-
ry 25% target for inclusion of recycled PET in plastic bot-
tles. These customers represent roughly 30% of Indorama's
annual revenue.
'There is infrastructure in the world to recycle PET. The
problem lies in the collection,' the entrepreneur adds.
us metal thieVes get away with us$ 300
000 haul
Scrap thieves have stolen precious metal worth US$ 300 000
(EUR 270 000) from the 3V chemical plant in Georgetown,
South Carolina.
The crime, described by police as 'an overnight heist', was
pulled off by two burglars recently. They reached the plant by
taking a boat onto Sampit River during high tide and docking it
nearby. Surveillance footage shows them coming onshore
around midnight and, barely an hour later, returning to the boat
with four large drums full of precious metals – mostly palladium
– and sailing away.
According to the Georgetown County Sheriff's Office, the crimi-
nals appeared familiar with the area and knew what they were
after. The authorities added that this was not an isolated inci-
dent, citing a string of thefts of catalytic converters both locally
and nationwide. The crime wave is thought to be fuelled by ris-
ing platinum and palladium prices.
08-09-10-11-12-13_trendsupdates1.indd 11 01-10-19 08:28