OUT NOW: Autumn issue!
Subscribe
Page 71 from: OUT NOW: Autumn issue!
beck's 71recyclinginternational.com | September/October | 2021 Fotobijschrift KaderKop ?? Greenwashing humbug In our hyper-consumption based societies, it's always smart to raise a sceptical eyebrow when you hear organisa...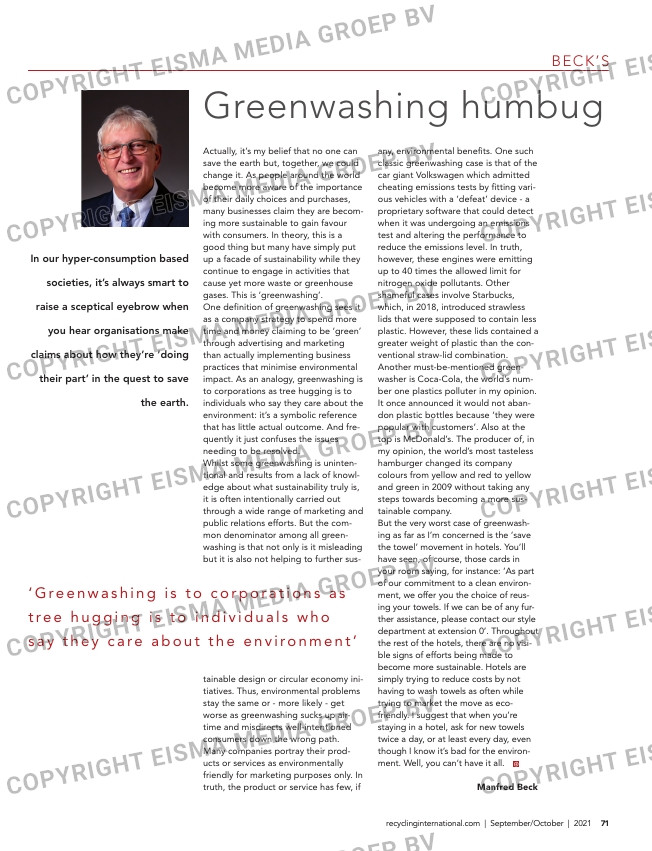 beck's
71recyclinginternational.com | September/October | 2021
Fotobijschrift
KaderKop
??
Greenwashing humbug
In our hyper-consumption based
societies, it's always smart to
raise a sceptical eyebrow when
you hear organisations make
claims about how they're 'doing
their part' in the quest to save
the earth.
Actually, it's my belief that no one can
save the earth but, together, we could
change it. As people around the world
become more aware of the importance
of their daily choices and purchases,
many businesses claim they are becom-
ing more sustainable to gain favour
with consumers. In theory, this is a
good thing but many have simply put
up a facade of sustainability while they
continue to engage in activities that
cause yet more waste or greenhouse
gases. This is 'greenwashing'.
One definition of greenwashing sees it
as a company strategy to spend more
time and money claiming to be 'green'
through advertising and marketing
than actually implementing business
practices that minimise environmental
impact. As an analogy, greenwashing is
to corporations as tree hugging is to
individuals who say they care about the
environment: it's a symbolic reference
that has little actual outcome. And fre-
quently it just confuses the issues
needing to be resolved.
Whilst some greenwashing is uninten-
tional and results from a lack of knowl-
edge about what sustainability truly is,
it is often intentionally carried out
through a wide range of marketing and
public relations efforts. But the com-
mon denominator among all green-
washing is that not only is it misleading
but it is also not helping to further sus-
tainable design or circular economy ini-
tiatives. Thus, environmental problems
stay the same or – more likely – get
worse as greenwashing sucks up air-
time and misdirects well-intentioned
consumers down the wrong path.
Many companies portray their prod-
ucts or services as environmentally
friendly for marketing purposes only. In
truth, the product or service has few, if
any, environmental benefits. One such
classic greenwashing case is that of the
car giant Volkswagen which admitted
cheating emissions tests by fitting vari-
ous vehicles with a 'defeat' device – a
proprietary software that could detect
when it was undergoing an emissions
test and altering the performance to
reduce the emissions level. In truth,
however, these engines were emitting
up to 40 times the allowed limit for
nitrogen oxide pollutants. Other
shameful cases involve Starbucks,
which, in 2018, introduced strawless
lids that were supposed to contain less
plastic. However, these lids contained a
greater weight of plastic than the con-
ventional straw-lid combination.
Another must-be-mentioned green-
washer is Coca-Cola, the world's num-
ber one plastics polluter in my opinion.
It once announced it would not aban-
don plastic bottles because 'they were
popular with customers'. Also at the
top is McDonald's. The producer of, in
my opinion, the world's most tasteless
hamburger changed its company
colours from yellow and red to yellow
and green in 2009 without taking any
steps towards becoming a more sus-
tainable company.
But the very worst case of greenwash-
ing as far as I'm concerned is the 'save
the towel' movement in hotels. You'll
have seen, of course, those cards in
your room saying, for instance: 'As part
of our commitment to a clean environ-
ment, we offer you the choice of reus-
ing your towels. If we can be of any fur-
ther assistance, please contact our style
department at extension 0'. Throughout
the rest of the hotels, there are no visi-
ble signs of efforts being made to
become more sustainable. Hotels are
simply trying to reduce costs by not
having to wash towels as often while
trying to market the move as eco-
friendly. I suggest that when you're
staying in a hotel, ask for new towels
twice a day, or at least every day, even
though I know it's bad for the environ-
ment. Well, you can't have it all.
Manfred Beck
' G re e n w a s h i n g i s t o c o r p o r a t i o n s a s
t re e h u g g i n g i s t o i n d i v i d u a l s w h o
s a y t h e y c a re a b o u t t h e e n v i ro n m e n t '
71_becks.indd 71 15-09-21 11:55