OUT NOW: Autumn issue!
Subscribe
Page 68 from: OUT NOW: Autumn issue!
68 PLASTICSMARKET ANALYSIS Wait goes on for Basel shipping reg changes High logistics costs continue to dog global trade while EU traders await the new rules over exports to non-OECD countries. Plastic scrap trade from the European ...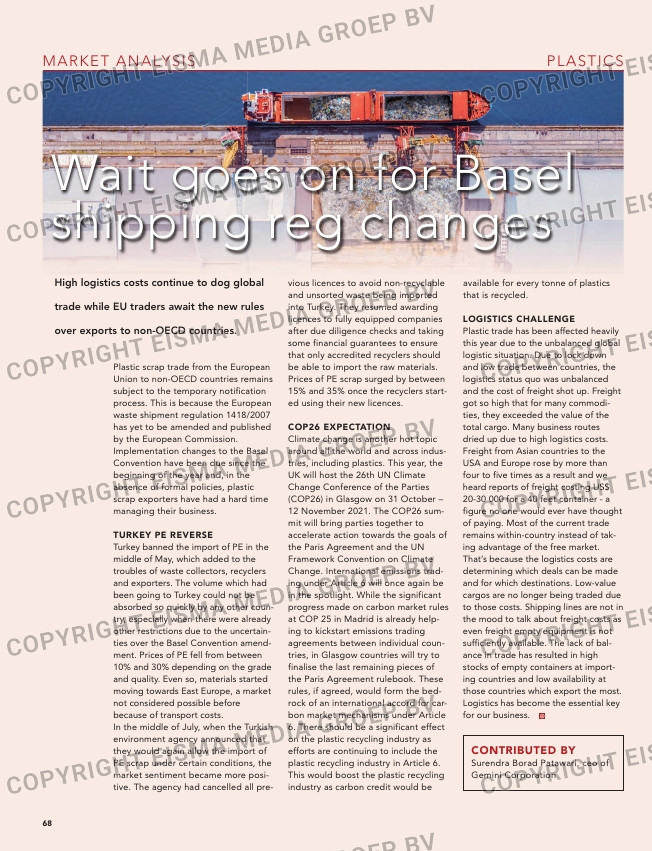 68
PLASTICSMARKET ANALYSIS
Wait goes on for Basel
shipping reg changes
High logistics costs continue to dog global
trade while EU traders await the new rules
over exports to non-OECD countries.
Plastic scrap trade from the European
Union to non-OECD countries remains
subject to the temporary notification
process. This is because the European
waste shipment regulation 1418/2007
has yet to be amended and published
by the European Commission.
Implementation changes to the Basel
Convention have been due since the
beginning of the year and, in the
absence of formal policies, plastic
scrap exporters have had a hard time
managing their business.
TURKEY PE REVERSE
Turkey banned the import of PE in the
middle of May, which added to the
troubles of waste collectors, recyclers
and exporters. The volume which had
been going to Turkey could not be
absorbed so quickly by any other coun-
try, especially when there were already
other restrictions due to the uncertain-
ties over the Basel Convention amend-
ment. Prices of PE fell from between
10% and 30% depending on the grade
and quality. Even so, materials started
moving towards East Europe, a market
not considered possible before
because of transport costs.
In the middle of July, when the Turkish
environment agency announced that
they would again allow the import of
PE scrap under certain conditions, the
market sentiment became more posi-
tive. The agency had cancelled all pre-
CONTRIBUTED BY
Surendra Borad Patawari, ceo of
Gemini Corporation
vious licences to avoid non-recyclable
and unsorted waste being imported
into Turkey. They resumed awarding
licences to fully equipped companies
after due diligence checks and taking
some financial guarantees to ensure
that only accredited recyclers should
be able to import the raw materials.
Prices of PE scrap surged by between
15% and 35% once the recyclers start-
ed using their new licences.
COP26 EXPECTATION
Climate change is another hot topic
around all the world and across indus-
tries, including plastics. This year, the
UK will host the 26th UN Climate
Change Conference of the Parties
(COP26) in Glasgow on 31 October –
12 November 2021. The COP26 sum-
mit will bring parties together to
accelerate action towards the goals of
the Paris Agreement and the UN
Framework Convention on Climate
Change. International emissions trad-
ing under Article 6 will once again be
in the spotlight. While the significant
progress made on carbon market rules
at COP 25 in Madrid is already help-
ing to kickstart emissions trading
agreements between individual coun-
tries, in Glasgow countries will try to
finalise the last remaining pieces of
the Paris Agreement rulebook. These
rules, if agreed, would form the bed-
rock of an international accord for car-
bon market mechanisms under Article
6. There should be a significant effect
on the plastic recycling industry as
efforts are continuing to include the
plastic recycling industry in Article 6.
This would boost the plastic recycling
industry as carbon credit would be
available for every tonne of plastics
that is recycled.
LOGISTICS CHALLENGE
Plastic trade has been affected heavily
this year due to the unbalanced global
logistic situation. Due to lock down
and low trade between countries, the
logistics status quo was unbalanced
and the cost of freight shot up. Freight
got so high that for many commodi-
ties, they exceeded the value of the
total cargo. Many business routes
dried up due to high logistics costs.
Freight from Asian countries to the
USA and Europe rose by more than
four to five times as a result and we
heard reports of freight costing US$
20-30 000 for a 40 feet container – a
figure no one would ever have thought
of paying. Most of the current trade
remains within-country instead of tak-
ing advantage of the free market.
That's because the logistics costs are
determining which deals can be made
and for which destinations. Low-value
cargos are no longer being traded due
to those costs. Shipping lines are not in
the mood to talk about freight costs as
even freight empty equipment is not
sufficiently available. The lack of bal-
ance in trade has resulted in high
stocks of empty containers at import-
ing countries and low availability at
those countries which export the most.
Logistics has become the essential key
for our business.
68_maplastics.indd 68 15-09-21 11:54