OUT NOW: Autumn issue!
Subscribe
Page 67 from: OUT NOW: Autumn issue!
TEXTILESMARKET ANALYSIS Seasonal business trends return Trading patterns edge back to pre-Covid times as the supply side appears to be picking up. 67recyclinginternational.com | September/October | 2021 Alan Wheeler is director...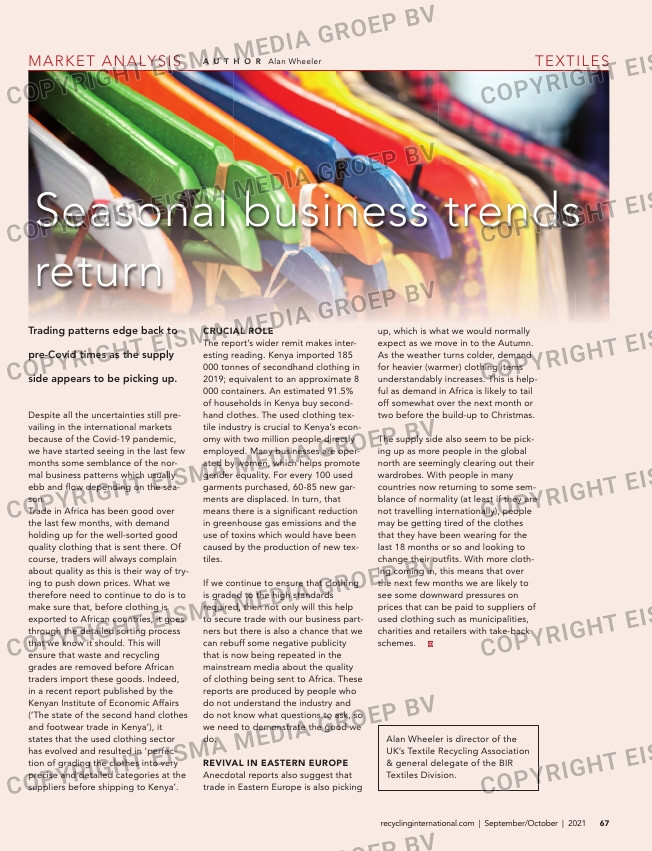 TEXTILESMARKET ANALYSIS
Seasonal business trends
return
Trading patterns edge back to
pre-Covid times as the supply
side appears to be picking up.
67recyclinginternational.com | September/October | 2021
Alan Wheeler is director of the
UK's Textile Recycling Association
& general delegate of the BIR
Textiles Division.
Despite all the uncertainties still pre-
vailing in the international markets
because of the Covid-19 pandemic,
we have started seeing in the last few
months some semblance of the nor-
mal business patterns which usually
ebb and flow depending on the sea-
son.
Trade in Africa has been good over
the last few months, with demand
holding up for the well-sorted good
quality clothing that is sent there. Of
course, traders will always complain
about quality as this is their way of try-
ing to push down prices. What we
therefore need to continue to do is to
make sure that, before clothing is
exported to African countries, it goes
through the detailed sorting process
that we know it should. This will
ensure that waste and recycling
grades are removed before African
traders import these goods. Indeed,
in a recent report published by the
Kenyan Institute of Economic Affairs
('The state of the second hand clothes
and footwear trade in Kenya'), it
states that the used clothing sector
has evolved and resulted in 'perfec-
tion of grading the clothes into very
precise and detailed categories at the
suppliers before shipping to Kenya'.
CRUCIAL ROLE
The report's wider remit makes inter-
esting reading. Kenya imported 185
000 tonnes of secondhand clothing in
2019; equivalent to an approximate 8
000 containers. An estimated 91.5%
of households in Kenya buy second-
hand clothes. The used clothing tex-
tile industry is crucial to Kenya's econ-
omy with two million people directly
employed. Many businesses are oper-
ated by women, which helps promote
gender equality. For every 100 used
garments purchased, 60-85 new gar-
ments are displaced. In turn, that
means there is a significant reduction
in greenhouse gas emissions and the
use of toxins which would have been
caused by the production of new tex-
tiles.
If we continue to ensure that clothing
is graded to the high standards
required, then not only will this help
to secure trade with our business part-
ners but there is also a chance that we
can rebuff some negative publicity
that is now being repeated in the
mainstream media about the quality
of clothing being sent to Africa. These
reports are produced by people who
do not understand the industry and
do not know what questions to ask, so
we need to demonstrate the good we
do.
REVIVAL IN EASTERN EUROPE
Anecdotal reports also suggest that
trade in Eastern Europe is also picking
up, which is what we would normally
expect as we move in to the Autumn.
As the weather turns colder, demand
for heavier (warmer) clothing items
understandably increases. This is help-
ful as demand in Africa is likely to tail
off somewhat over the next month or
two before the build-up to Christmas.
The supply side also seem to be pick-
ing up as more people in the global
north are seemingly clearing out their
wardrobes. With people in many
countries now returning to some sem-
blance of normality (at least if they are
not travelling internationally), people
may be getting tired of the clothes
that they have been wearing for the
last 18 months or so and looking to
change their outfits. With more cloth-
ing coming in, this means that over
the next few months we are likely to
see some downward pressures on
prices that can be paid to suppliers of
used clothing such as municipalities,
charities and retailers with take-back
schemes.
A U T H O R Alan Wheeler
67_matextiles.indd 67 15-09-21 11:54