OUT NOW: Autumn issue!
Subscribe
Page 60 from: OUT NOW: Autumn issue!
market analysis rosy trading picture persists - despite challenges Strong prices have been sustained as markets adjust to more normal trading arrangements as pandemic restrictions ease. CAPACITY BOOST Meanwhile, Novelis has complete...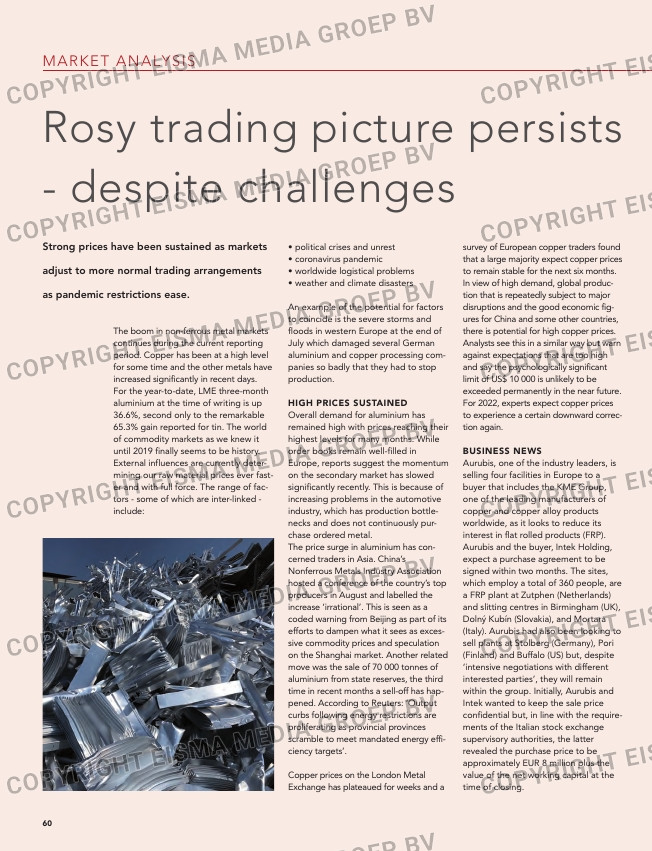 market analysis
rosy trading picture persists
– despite challenges
Strong prices have been sustained as markets
adjust to more normal trading arrangements
as pandemic restrictions ease.
CAPACITY BOOST
Meanwhile, Novelis has completed the
US$ 150 million (EUR 127 million) devel-
opment of rolling and recycling capacity
at its plant in Pindamonhangaba, Brazil,
the largest in South America. The
increase of approximately 680 000
tonnes for aluminium sheet and 490 000
tonnes for recycling is part of the com-
pany's ambition to reduce its carbon
footprint by 30% by 2026 and to be net
carbon neutral by 2050. The investment
includes an additional reliable water
source for the plant and a new railway
terminal. 'Recycling and increasing the
use of recycled content in our products
is the cornerstone of Novelis' sustain-
ability journey,' says Steve Fisher,
Novelis president and ceo. 'We will con-
tinue to identify and invest in projects
like this expansion in Brazil that will
move Novelis toward being a fully circu-
lar business.'
60
• political crises and unrest
• coronavirus pandemic
• worldwide logistical problems
• weather and climate disasters
An example of the potential for factors
to coincide is the severe storms and
floods in western Europe at the end of
July which damaged several German
aluminium and copper processing com-
panies so badly that they had to stop
production.
HIGH PRICES SUSTAINED
Overall demand for aluminium has
remained high with prices reaching their
highest levels for many months. While
order books remain well-filled in
Europe, reports suggest the momentum
on the secondary market has slowed
significantly recently. This is because of
increasing problems in the automotive
industry, which has production bottle-
necks and does not continuously pur-
chase ordered metal.
The price surge in aluminium has con-
cerned traders in Asia. China's
Nonferrous Metals Industry Association
hosted a conference of the country's top
producers in August and labelled the
increase 'irrational'. This is seen as a
coded warning from Beijing as part of its
efforts to dampen what it sees as exces-
sive commodity prices and speculation
on the Shanghai market. Another related
move was the sale of 70 000 tonnes of
aluminium from state reserves, the third
time in recent months a sell-off has hap-
pened. According to Reuters: 'Output
curbs following energy restrictions are
proliferating as provincial provinces
scramble to meet mandated energy effi-
ciency targets'.
Copper prices on the London Metal
Exchange has plateaued for weeks and a
survey of European copper traders found
that a large majority expect copper prices
to remain stable for the next six months.
In view of high demand, global produc-
tion that is repeatedly subject to major
disruptions and the good economic fig-
ures for China and some other countries,
there is potential for high copper prices.
Analysts see this in a similar way but warn
against expectations that are too high
and say the psychologically significant
limit of US$ 10 000 is unlikely to be
exceeded permanently in the near future.
For 2022, experts expect copper prices
to experience a certain downward correc-
tion again.
BUSINESS NEWS
Aurubis, one of the industry leaders, is
selling four facilities in Europe to a
buyer that includes the KME Group,
one of the leading manufacturers of
copper and copper alloy products
worldwide, as it looks to reduce its
interest in flat rolled products (FRP).
Aurubis and the buyer, Intek Holding,
expect a purchase agreement to be
signed within two months. The sites,
which employ a total of 360 people, are
a FRP plant at Zutphen (Netherlands)
and slitting centres in Birmingham (UK),
Dolný Kubín (Slovakia), and Mortara
(Italy). Aurubis had also been looking to
sell plants at Stolberg (Germany), Pori
(Finland) and Buffalo (US) but, despite
'intensive negotiations with different
interested parties', they will remain
within the group. Initially, Aurubis and
Intek wanted to keep the sale price
confidential but, in line with the require-
ments of the Italian stock exchange
supervisory authorities, the latter
revealed the purchase price to be
approximately EUR 8 million plus the
value of the net working capital at the
time of closing.
The boom in non-ferrous metal markets
continues during the current reporting
period. Copper has been at a high level
for some time and the other metals have
increased significantly in recent days.
For the year-to-date, LME three-month
aluminium at the time of writing is up
36.6%, second only to the remarkable
65.3% gain reported for tin. The world
of commodity markets as we knew it
until 2019 finally seems to be history.
External influences are currently deter-
mining our raw material prices ever fast-
er and with full force. The range of fac-
tors – some of which are inter-linked –
include:
60-61-62-63_manon-ferrous.indd 60 15-09-21 11:53