OUT NOW: Autumn issue!
Subscribe
Page 58 from: OUT NOW: Autumn issue!
market analysis rising demand despite supply chain disruptions Strong demand and higher prices for nickel underpin growth in the sector but logistics continue to be a challenge. plate and coil in July 2019. Of note, import duties on...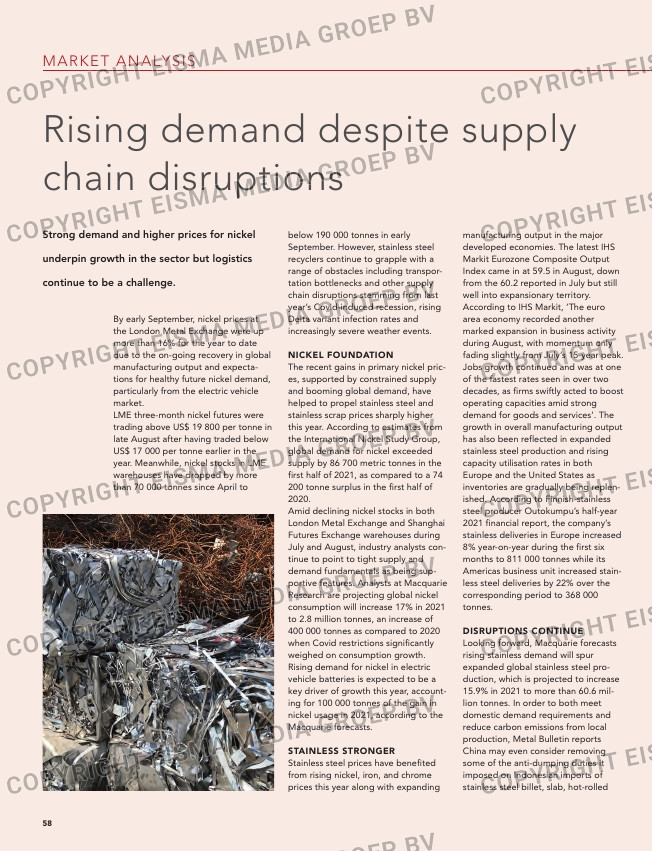 market analysis
rising demand despite supply
chain disruptions
Strong demand and higher prices for nickel
underpin growth in the sector but logistics
continue to be a challenge.
plate and coil in July 2019. Of note,
import duties on stainless steel imports
from the European Union, Japan, and
South Korea are expected to remain in
place for the foreseeable future.
For stainless steel scrap exporters,
challenging shipping and container
market conditions continue to pose
significant challenges. As one example,
US stainless steel scrap exports during
the first half of 2021 were down 17%
compared to the same period in 2020
to less than 130 000 tonnes, despite
improved scrap demand from India. US
recyclers and manufacturers face a
potentially larger challenge from sup-
ply chain disruptions as major auto
producers GM and Ford announced
significant production cuts in early
September due to the shortage of
semiconductors.
manufacturing output in the major
developed economies. The latest IHS
Markit Eurozone Composite Output
Index came in at 59.5 in August, down
from the 60.2 reported in July but still
well into expansionary territory.
According to IHS Markit, 'The euro
area economy recorded another
marked expansion in business activity
during August, with momentum only
fading slightly from July's 15-year peak.
Jobs growth continued and was at one
of the fastest rates seen in over two
decades, as firms swiftly acted to boost
operating capacities amid strong
demand for goods and services'. The
growth in overall manufacturing output
has also been reflected in expanded
stainless steel production and rising
capacity utilisation rates in both
Europe and the United States as
inventories are gradually being replen-
ished. According to Finnish-stainless
steel producer Outokumpu's half-year
2021 financial report, the company's
stainless deliveries in Europe increased
8% year-on-year during the first six
months to 811 000 tonnes while its
Americas business unit increased stain-
less steel deliveries by 22% over the
corresponding period to 368 000
tonnes.
DISRUPTIONS CONTINUE
Looking forward, Macquarie forecasts
rising stainless demand will spur
expanded global stainless steel pro-
duction, which is projected to increase
15.9% in 2021 to more than 60.6 mil-
lion tonnes. In order to both meet
domestic demand requirements and
reduce carbon emissions from local
production, Metal Bulletin reports
China may even consider removing
some of the anti-dumping duties it
imposed on Indonesian imports of
stainless steel billet, slab, hot-rolled
58
By early September, nickel prices at
the London Metal Exchange were up
more than 16% for the year to date
due to the on-going recovery in global
manufacturing output and expecta-
tions for healthy future nickel demand,
particularly from the electric vehicle
market.
LME three-month nickel futures were
trading above US$ 19 800 per tonne in
late August after having traded below
US$ 17 000 per tonne earlier in the
year. Meanwhile, nickel stocks in LME
warehouses have dropped by more
than 70 000 tonnes since April to
below 190 000 tonnes in early
September. However, stainless steel
recyclers continue to grapple with a
range of obstacles including transpor-
tation bottlenecks and other supply
chain disruptions stemming from last
year's Covid-induced recession, rising
Delta variant infection rates and
increasingly severe weather events.
NICKEL FOUNDATION
The recent gains in primary nickel pric-
es, supported by constrained supply
and booming global demand, have
helped to propel stainless steel and
stainless scrap prices sharply higher
this year. According to estimates from
the International Nickel Study Group,
global demand for nickel exceeded
supply by 86 700 metric tonnes in the
first half of 2021, as compared to a 74
200 tonne surplus in the first half of
2020.
Amid declining nickel stocks in both
London Metal Exchange and Shanghai
Futures Exchange warehouses during
July and August, industry analysts con-
tinue to point to tight supply and
demand fundamentals as being sup-
portive features. Analysts at Macquarie
Research are projecting global nickel
consumption will increase 17% in 2021
to 2.8 million tonnes, an increase of
400 000 tonnes as compared to 2020
when Covid restrictions significantly
weighed on consumption growth.
Rising demand for nickel in electric
vehicle batteries is expected to be a
key driver of growth this year, account-
ing for 100 000 tonnes of the gain in
nickel usage in 2021, according to the
Macquarie forecasts.
STAINLESS STRONGER
Stainless steel prices have benefited
from rising nickel, iron, and chrome
prices this year along with expanding
Will nickel break US$ 20 000 per tonne?
The recent nickel rally has been driven by strong demand
after the 2020 slump resulted in reduced supply, espe-
cially for Class I Ni. This prompted a hefty drop in LME and SHFE stocks as
shown in the graph. Demand will remain strong in the next six months but
the supply outlook has significantly improved with Vale and Norilsk due to
return to normal production levels in October. Although technical analysis
indicates that the US$ 20 000 per tonne mark will be broken soon, we
would be cautious as the current level could be close to the peak for this
year. The key will once again be in China, where nickel is being sold at sig-
nificant premiums to the LME. According to Chinese industry sources, the
government wants to curtail stainless steel production in the second half of
the year to that reported over the same period last year.
20,000
17,000
14,000
11,000
8,000
5,000
58-59_manickelstainless.indd 58 15-09-21 11:53