OUT NOW: Autumn issue!
Subscribe
Page 54 from: OUT NOW: Autumn issue!
market analysis logistics costs hamper recovering markets With shipping rates at an 11-year high rate, US and EU scrap exporters struggle to match competitor prices. 54 a U t h o r Robin Latchem estimates of steel imports: 'Thr...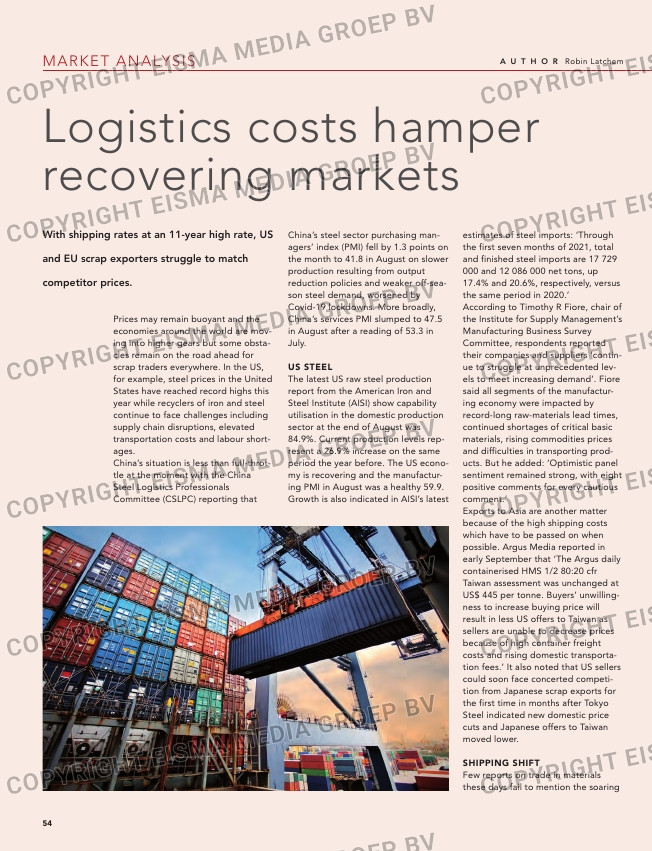 market analysis
logistics costs hamper
recovering markets
With shipping rates at an 11-year high rate, US
and EU scrap exporters struggle to match
competitor prices.
54
a U t h o r Robin Latchem
estimates of steel imports: 'Through
the first seven months of 2021, total
and finished steel imports are 17 729
000 and 12 086 000 net tons, up
17.4% and 20.6%, respectively, versus
the same period in 2020.'
According to Timothy R Fiore, chair of
the Institute for Supply Management's
Manufacturing Business Survey
Committee, respondents reported
their companies and suppliers 'contin-
ue to struggle at unprecedented lev-
els to meet increasing demand'. Fiore
said all segments of the manufactur-
ing economy were impacted by
record-long raw-materials lead times,
continued shortages of critical basic
materials, rising commodities prices
and difficulties in transporting prod-
ucts. But he added: 'Optimistic panel
sentiment remained strong, with eight
positive comments for every cautious
comment.'
Exports to Asia are another matter
because of the high shipping costs
which have to be passed on when
possible. Argus Media reported in
early September that 'The Argus daily
containerised HMS 1/2 80:20 cfr
Taiwan assessment was unchanged at
US$ 445 per tonne. Buyers' unwilling-
ness to increase buying price will
result in less US offers to Taiwan as
sellers are unable to decrease prices
because of high container freight
costs and rising domestic transporta-
tion fees.' It also noted that US sellers
could soon face concerted competi-
tion from Japanese scrap exports for
the first time in months after Tokyo
Steel indicated new domestic price
cuts and Japanese offers to Taiwan
moved lower.
SHIPPING SHIFT
Few reports on trade in materials
these days fail to mention the soaring
Prices may remain buoyant and the
economies around the world are mov-
ing into higher gears but some obsta-
cles remain on the road ahead for
scrap traders everywhere. In the US,
for example, steel prices in the United
States have reached record highs this
year while recyclers of iron and steel
continue to face challenges including
supply chain disruptions, elevated
transportation costs and labour short-
ages.
China's situation is less than full-throt-
tle at the moment with the China
Steel Logistics Professionals
Committee (CSLPC) reporting that
China's steel sector purchasing man-
agers' index (PMI) fell by 1.3 points on
the month to 41.8 in August on slower
production resulting from output
reduction policies and weaker off-sea-
son steel demand, worsened by
Covid-19 lockdowns. More broadly,
China's services PMI slumped to 47.5
in August after a reading of 53.3 in
July.
US STEEL
The latest US raw steel production
report from the American Iron and
Steel Institute (AISI) show capability
utilisation in the domestic production
sector at the end of August was
84.9%. Current production levels rep-
resent a 26.9% increase on the same
period the year before. The US econo-
my is recovering and the manufactur-
ing PMI in August was a healthy 59.9.
Growth is also indicated in AISI's latest
54-55-56-57_maferrous.indd 54 15-09-21 11:53