OUT NOW: Autumn issue!
Subscribe
Page 53 from: OUT NOW: Autumn issue!
trends & updates 53recyclinginternational.com | September/October | 2021 toMrA WelcoMes first feMAle ceo And President tove Andersen has joined tomra sorting as president and ceo. she replaces stefan ranstrand, who held the ...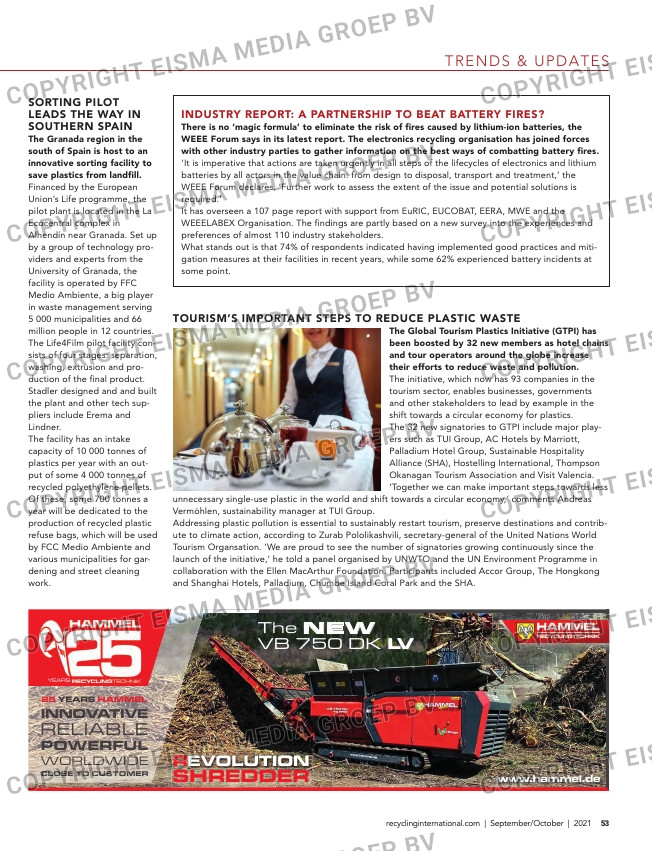 trends & updates
53recyclinginternational.com | September/October | 2021
toMrA WelcoMes first feMAle ceo And
President
tove Andersen has joined
tomra sorting as president
and ceo. she replaces
stefan ranstrand, who held
the position for the past 12
years, and is the first
female president and ceo
since the company was
founded in 1972.
'Andersen is a proven leader with a distinguished track record,
broad expertise and a passion for sustainability,' says Jan
Svensson, chairman of the Tomra board. 'She is a people- and
customer-centred person which we believe ideally suits the
company in its present development stage. I am personally very
pleased that we have been able to attract someone of her cali-
bre, track record and potential.'
Andersen previously worked for global fertiliser company YARA
International, headquartered in Norway, as executive vice presi-
dent for Europe. Commenting on her new role, she says: 'With
the increased focus worldwide on sustainability and in particular
the circular economy, Tomra is more relevant than ever before.'
industry rePort: A PArtnershiP to beAt bAttery fires?
there is no 'magic formula' to eliminate the risk of fires caused by lithium-ion batteries, the
Weee forum says in its latest report. the electronics recycling organisation has joined forces
with other industry parties to gather information on the best ways of combatting battery fires.
'It is imperative that actions are taken urgently in all steps of the lifecycles of electronics and lithium
batteries by all actors in the value chain: from design to disposal, transport and treatment,' the
WEEE Forum declares. 'Further work to assess the extent of the issue and potential solutions is
required.'
It has overseen a 107 page report with support from EuRIC, EUCOBAT, EERA, MWE and the
WEEELABEX Organisation. The findings are partly based on a new survey into the experiences and
preferences of almost 110 industry stakeholders.
What stands out is that 74% of respondents indicated having implemented good practices and miti-
gation measures at their facilities in recent years, while some 62% experienced battery incidents at
some point.
tourisM's iMPortAnt stePs to reduce PlAstic WAste
the global tourism Plastics initiative (gtPi) has
been boosted by 32 new members as hotel chains
and tour operators around the globe increase
their efforts to reduce waste and pollution.
The initiative, which now has 93 companies in the
tourism sector, enables businesses, governments
and other stakeholders to lead by example in the
shift towards a circular economy for plastics.
The 32 new signatories to GTPI include major play-
ers such as TUI Group, AC Hotels by Marriott,
Palladium Hotel Group, Sustainable Hospitality
Alliance (SHA), Hostelling International, Thompson
Okanagan Tourism Association and Visit Valencia.
'Together we can make important steps towards less
unnecessary single-use plastic in the world and shift towards a circular economy,' comments Andreas
Vermöhlen, sustainability manager at TUI Group.
Addressing plastic pollution is essential to sustainably restart tourism, preserve destinations and contrib-
ute to climate action, according to Zurab Pololikashvili, secretary-general of the United Nations World
Tourism Organsation. 'We are proud to see the number of signatories growing continuously since the
launch of the initiative,' he told a panel organised by UNWTO and the UN Environment Programme in
collaboration with the Ellen MacArthur Foundation. Participants included Accor Group, The Hongkong
and Shanghai Hotels, Palladium, Chumbe Island Coral Park and the SHA.
sorting Pilot
leAds the WAy in
southern sPAin
the granada region in the
south of spain is host to an
innovative sorting facility to
save plastics from landfill.
Financed by the European
Union's Life programme, the
pilot plant is located in the La
Ecocentral complex in
Alhendín near Granada. Set up
by a group of technology pro-
viders and experts from the
University of Granada, the
facility is operated by FFC
Medio Ambiente, a big player
in waste management serving
5 000 municipalities and 66
million people in 12 countries.
The Life4Film pilot facility con-
sists of four stages: separation,
washing, extrusion and pro-
duction of the final product.
Stadler designed and and built
the plant and other tech sup-
pliers include Erema and
Lindner.
The facility has an intake
capacity of 10 000 tonnes of
plastics per year with an out-
put of some 4 000 tonnes of
recycled polyethylene pellets.
Of these, some 700 tonnes a
year will be dedicated to the
production of recycled plastic
refuse bags, which will be used
by FCC Medio Ambiente and
various municipalities for gar-
dening and street cleaning
work.
25 YEARS HAMMEL

YEARS
EVOLUTIONR
SHREDDER www.hammel.de

The NEW
VB 750 DK LV

INNOVATIVE
RELIABLE
POWERFUL
WORLDWIDE
CLOSE TO CUSTOMER

50-51-52-53_trendsupdates.indd 53 15-09-21 11:53