OUT NOW: Autumn issue!
Subscribe
Page 51 from: OUT NOW: Autumn issue!
trends & updates 51recyclinginternational.com | September/October | 2021 Fotobijschrift AustrAliA And nZ drive circulAr tyre solutions rubber recycler revyre is raising funds to boost tyre recycling in Australia and new Zeala...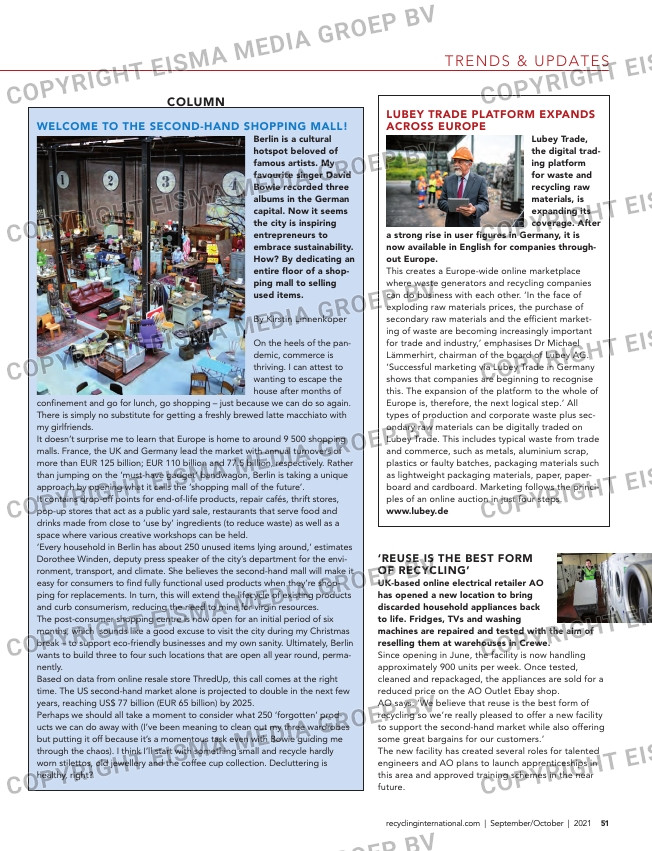 trends & updates
51recyclinginternational.com | September/October | 2021
Fotobijschrift
AustrAliA And nZ drive
circulAr tyre solutions
rubber recycler revyre is raising funds to
boost tyre recycling in Australia and new
Zealand and has teamed up with infraco,
energy estate and Project Portfolio
Management to accelerate its growth strat-
egy.
Revyre launched its first tyre recycling facilities
in the region last year during the pandemic. Its
recent business partnerships have won support
from feedstock providers and, as a next step,
the company wants to construct several more
plants across Australia and New Zealand. The
company is currently in discussions with inter-
ested parties and is hoping to achieve financial
close for the first sites within the next 12
months.
The recycler explains its solution 're-purposes
100% of tyre constituents by implementing a
highly efficient circular process with near zero
emissions, no by-products and no toxic chemi-
cals'. The technology disintegrates most tyres
and recovers the rubber compound and scrap
steel for re-use. Revyre will focus initially on
truck-bus-radial and off-road tyres that yield a
rubber compound that can be used to manu-
facture new tyres as well as general black rub-
ber goods.
'Revyre has entered the market at the right
time to provide a global best practice solution
to mining companies who continue to argue
that burying or dumping tyres is the only via-
ble option for them,' says company ceo Shaun
Zukor. 'We now know our re-processing solu-
tion is economically viable, environmentally
sustainable and helps tyre manufacturers keep
their costs in check as natural rubber demand
and risks rise.'
WelcoMe to the second-hAnd shoPPing MAll!
berlin is a cultural
hotspot beloved of
famous artists. My
favourite singer david
bowie recorded three
albums in the german
capital. now it seems
the city is inspiring
entrepreneurs to
embrace sustainability.
how? by dedicating an
entire floor of a shop-
ping mall to selling
used items.
By Kirstin Linnenkoper
On the heels of the pan-
demic, commerce is
thriving. I can attest to
wanting to escape the
house after months of
confinement and go for lunch, go shopping – just because we can do so again.
There is simply no substitute for getting a freshly brewed latte macchiato with
my girlfriends.
It doesn't surprise me to learn that Europe is home to around 9 500 shopping
malls. France, the UK and Germany lead the market with annual turnovers of
more than EUR 125 billion; EUR 110 billion and 77.5 billion, respectively. Rather
than jumping on the 'must-have gadget' bandwagon, Berlin is taking a unique
approach by opening what it calls the 'shopping mall of the future'.
It contains drop-off points for end-of-life products, repair cafés, thrift stores,
pop-up stores that act as a public yard sale, restaurants that serve food and
drinks made from close to 'use by' ingredients (to reduce waste) as well as a
space where various creative workshops can be held.
'Every household in Berlin has about 250 unused items lying around,' estimates
Dorothee Winden, deputy press speaker of the city's department for the envi-
ronment, transport, and climate. She believes the second-hand mall will make it
easy for consumers to find fully functional used products when they're shop-
ping for replacements. In turn, this will extend the lifecycle of existing products
and curb consumerism, reducing the need to mine for virgin resources.
The post-consumer shopping centre is now open for an initial period of six
months, which sounds like a good excuse to visit the city during my Christmas
break – to support eco-friendly businesses and my own sanity. Ultimately, Berlin
wants to build three to four such locations that are open all year round, perma-
nently.
Based on data from online resale store ThredUp, this call comes at the right
time. The US second-hand market alone is projected to double in the next few
years, reaching US$ 77 billion (EUR 65 billion) by 2025.
Perhaps we should all take a moment to consider what 250 'forgotten' prod-
ucts we can do away with (I've been meaning to clean out my three wardrobes
but putting it off because it's a momentous task even with Bowie guiding me
through the chaos). I think I'll start with something small and recycle hardly
worn stilettos, old jewellery and the coffee cup collection. Decluttering is
healthy, right?
coluMn
lubey trAde PlAtforM exPAnds
Across euroPe
lubey trade,
the digital trad-
ing platform
for waste and
recycling raw
materials, is
expanding its
coverage. After
a strong rise in user figures in germany, it is
now available in english for companies through-
out europe.
This creates a Europe-wide online marketplace
where waste generators and recycling companies
can do business with each other. 'In the face of
exploding raw materials prices, the purchase of
secondary raw materials and the efficient market-
ing of waste are becoming increasingly important
for trade and industry,' emphasises Dr Michael
Lämmerhirt, chairman of the board of Lubey AG.
'Successful marketing via Lubey Trade in Germany
shows that companies are beginning to recognise
this. The expansion of the platform to the whole of
Europe is, therefore, the next logical step.' All
types of production and corporate waste plus sec-
ondary raw materials can be digitally traded on
Lubey Trade. This includes typical waste from trade
and commerce, such as metals, aluminium scrap,
plastics or faulty batches, packaging materials such
as lightweight packaging materials, paper, paper-
board and cardboard. Marketing follows the princi-
ples of an online auction in just four steps.
www.lubey.de
'reuse is the best forM
of recycling'
uk-based online electrical retailer Ao
has opened a new location to bring
discarded household appliances back
to life. fridges, tvs and washing
machines are repaired and tested with the aim of
reselling them at warehouses in crewe.
Since opening in June, the facility is now handling
approximately 900 units per week. Once tested,
cleaned and repackaged, the appliances are sold for a
reduced price on the AO Outlet Ebay shop.
AO says: 'We believe that reuse is the best form of
recycling so we're really pleased to offer a new facility
to support the second-hand market while also offering
some great bargains for our customers.'
The new facility has created several roles for talented
engineers and AO plans to launch apprenticeships in
this area and approved training schemes in the near
future.
TECHNOLOGIES
THAT GENERATE VALUE
FOR THE SEPARATION INDUSTRY
www.sgmmagnetics.com
MAGNETISM – GRAVITY – SENSORS – X RAY – COLOR – BALLISTIC
50-51-52-53_trendsupdates.indd 51 15-09-21 11:53