OUT NOW: Autumn issue!
Subscribe
Page 46 from: OUT NOW: Autumn issue!
Breathing new life into catalytic converters Recycling of catalytic converters is a fast-growing industry that is both economically profitable and environmentally sustainable. However, accurate and reliable analysis of the p...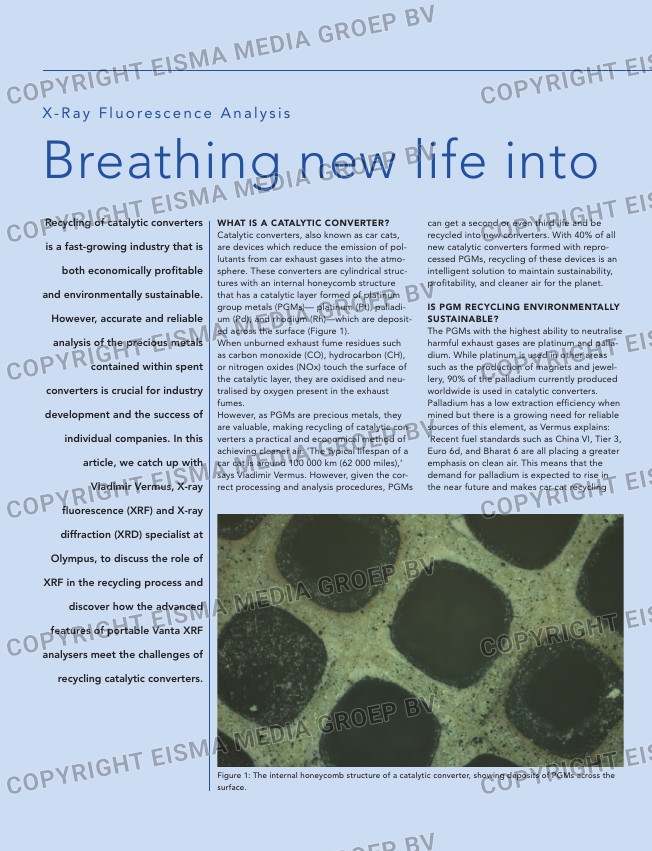 Breathing new life into catalytic converters
Recycling of catalytic converters
is a fast-growing industry that is
both economically profitable
and environmentally sustainable.
However, accurate and reliable
analysis of the precious metals
contained within spent
converters is crucial for industry
development and the success of
individual companies. In this
article, we catch up with
Vladimir Vermus, X-ray
fluorescence (XRF) and X-ray
diffraction (XRD) specialist at
Olympus, to discuss the role of
XRF in the recycling process and
discover how the advanced
features of portable Vanta XRF
analysers meet the challenges of
recycling catalytic converters.
What is a catalytic converter?
Catalytic converters, also known as car cats,
are devices which reduce the emission of pol-
lutants from car exhaust gases into the atmo-
sphere. These converters are cylindrical struc-
tures with an internal honeycomb structure
that has a catalytic layer formed of platinum
group metals (PGMs)— platinum (Pt), palladi-
um (Pd), and rhodium (Rh)—which are deposit-
ed across the surface (Figure 1).
When unburned exhaust fume residues such
as carbon monoxide (CO), hydrocarbon (CH),
or nitrogen oxides (NOx) touch the surface of
the catalytic layer, they are oxidised and neu-
tralised by oxygen present in the exhaust
fumes.
However, as PGMs are precious metals, they
are valuable, making recycling of catalytic con-
verters a practical and economical method of
achieving cleaner air. 'The typical lifespan of a
car cat is around 100 000 km (62 000 miles),'
says Vladimir Vermus. However, given the cor-
rect processing and analysis procedures, PGMs
can get a second or even third life and be
recycled into new converters. With 40% of all
new catalytic converters formed with repro-
cessed PGMs, recycling of these devices is an
intelligent solution to maintain sustainability,
profitability, and cleaner air for the planet.
is PGM recyclinG environMentally
sustainable?
The PGMs with the highest ability to neutralise
harmful exhaust gases are platinum and palla-
dium. While platinum is used in other areas
such as the production of magnets and jewel-
lery, 90% of the palladium currently produced
worldwide is used in catalytic converters.
Palladium has a low extraction efficiency when
mined but there is a growing need for reliable
sources of this element, as Vermus explains:
'Recent fuel standards such as China VI, Tier 3,
Euro 6d, and Bharat 6 are all placing a greater
emphasis on clean air. This means that the
demand for palladium is expected to rise in
the near future and makes car cat recycling
crucial to meet the needs of manufacturers
around the world.'
Recycling PGMs is, of course, more environ-
mentally-friendly than mining them – the differ-
ence in the carbon footprint alone is tremen-
dous. With sustainability pushed by many
countries, PGM recycling offers an excellent
long-term solution for catalytic converter pro-
duction that minimises the environmental dam-
age associated with mining.
hoW is XrF used For catalytic
converter recyclinG?
XRF analysers can perform rapid elemental
analysis, enabling users to accurately identify
the concentration of Pt, Pd, and Rh in a spent
catalyst in a matter of seconds. XRF devices
such as Vanta analysers are also portable,
which enables users to easily manage the
diverse array of car cat materials that arrive for
processing (Figure 3).
Having extensive experience working with
companies that use portable XRF devices for
Figure 1: The internal honeycomb structure of a catalytic converter, showing deposits of PGMs across the
surface.
X – R a y F l u o re s c e n c e A n a l y s i s
Figure 2: Rough sorting of catalytic converters.
46-47-48-49_olympus.indd 46 15-09-21 11:52