OUT NOW: Autumn issue!
Subscribe
Page 42 from: OUT NOW: Autumn issue!
42 It's why we enforced strict rules early on during the pandemic to keep our crew safe.' And he adds: 'I'm grateful I don't get knocked down easily.' a bold, new standaRd Onovwigun's family couldn't have guessed tha...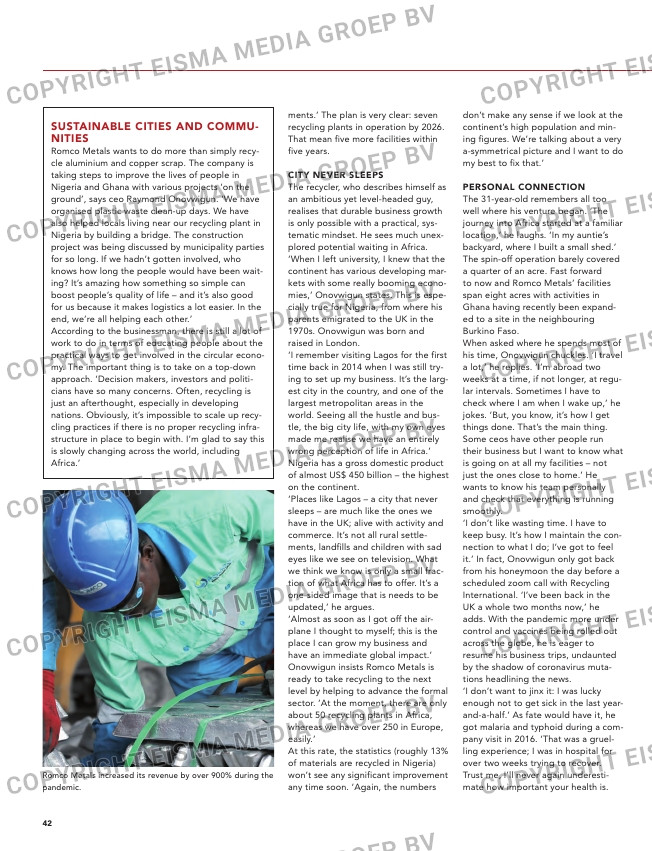 42
It's why we enforced strict rules early
on during the pandemic to keep
our crew safe.' And he adds: 'I'm
grateful I don't get knocked down
easily.'
a bold, new standaRd
Onovwigun's family couldn't have
guessed that the enterprise would
pick up speed so quickly. 'We're aim-
ing at getting a revenue of close to
US$ 30 million this year. Perhaps 50
million. By next year, I'm hoping to
realise a revenue between US$ 80 mil-
lion and US$ 100 million. All in all, I'd
say we've become a reasonably-sized
player in Africa and in the general
recycling market.'
Meanwhile, the strong demand for
both recycled copper and aluminium
in the electronics and automotive mar-
ket is sure to cement future growth.
'Modern vehicles are getting more
lightweight, so aluminium is becoming
more important. And e-mobility has
been notably pushing new car sales.'
Based on these trends, the role of
recyclers will be more prominent –
especially with increased awareness
about resource scarcity and pollution
due to mining/producing parts made
from virgin materials. 'Our industry
can really make a difference,'
Onovwigun states.
It's clear his confidence is based on his
passion for the industry and seeing
the bigger picture. 'I want Romco to
be at the forefront of recycling in
Africa, showing other players how it's
done.' Hopefully, more recyclers will
join the game and thus collectively
raise the standard of waste manage-
ment. That way, the circular economy
may become the new standard.
ments.' The plan is very clear: seven
recycling plants in operation by 2026.
That mean five more facilities within
five years.
city neveR sleeps
The recycler, who describes himself as
an ambitious yet level-headed guy,
realises that durable business growth
is only possible with a practical, sys-
tematic mindset. He sees much unex-
plored potential waiting in Africa.
'When I left university, I knew that the
continent has various developing mar-
kets with some really booming econo-
mies,' Onovwigun states. This is espe-
cially true for Nigeria, from where his
parents emigrated to the UK in the
1970s. Onovwigun was born and
raised in London.
'I remember visiting Lagos for the first
time back in 2014 when I was still try-
ing to set up my business. It's the larg-
est city in the country, and one of the
largest metropolitan areas in the
world. Seeing all the hustle and bus-
tle, the big city life, with my own eyes
made me realise we have an entirely
wrong perception of life in Africa.'
Nigeria has a gross domestic product
of almost US$ 450 billion – the highest
on the continent.
'Places like Lagos – a city that never
sleeps – are much like the ones we
have in the UK; alive with activity and
commerce. It's not all rural settle-
ments, landfills and children with sad
eyes like we see on television. What
we think we know is only a small frac-
tion of what Africa has to offer. It's a
one-sided image that is needs to be
updated,' he argues.
'Almost as soon as I got off the air-
plane I thought to myself; this is the
place I can grow my business and
have an immediate global impact.'
Onovwigun insists Romco Metals is
ready to take recycling to the next
level by helping to advance the formal
sector. 'At the moment, there are only
about 50 recycling plants in Africa,
whereas we have over 250 in Europe,
easily.'
At this rate, the statistics (roughly 13%
of materials are recycled in Nigeria)
won't see any significant improvement
any time soon. 'Again, the numbers
don't make any sense if we look at the
continent's high population and min-
ing figures. We're talking about a very
a-symmetrical picture and I want to do
my best to fix that.'
peRsonal connection
The 31-year-old remembers all too
well where his venture began. 'The
journey into Africa started at a familiar
location,' he laughs. 'In my auntie's
backyard, where I built a small shed.'
The spin-off operation barely covered
a quarter of an acre. Fast forward
to now and Romco Metals' facilities
span eight acres with activities in
Ghana having recently been expand-
ed to a site in the neighbouring
Burkino Faso.
When asked where he spends most of
his time, Onovwigun chuckles. 'I travel
a lot,' he replies. 'I'm abroad two
weeks at a time, if not longer, at regu-
lar intervals. Sometimes I have to
check where I am when I wake up,' he
jokes. 'But, you know, it's how I get
things done. That's the main thing.
Some ceos have other people run
their business but I want to know what
is going on at all my facilities – not
just the ones close to home.' He
wants to know his team personally
and check that everything is running
smoothly.
'I don't like wasting time. I have to
keep busy. It's how I maintain the con-
nection to what I do; I've got to feel
it.' In fact, Onovwigun only got back
from his honeymoon the day before a
scheduled zoom call with Recycling
International. 'I've been back in the
UK a whole two months now,' he
adds. With the pandemic more under
control and vaccines being rolled out
across the globe, he is eager to
resume his business trips, undaunted
by the shadow of coronavirus muta-
tions headlining the news.
'I don't want to jinx it: I was lucky
enough not to get sick in the last year-
and-a-half.' As fate would have it, he
got malaria and typhoid during a com-
pany visit in 2016. 'That was a gruel-
ling experience; I was in hospital for
over two weeks trying to recover.
Trust me, I'll never again underesti-
mate how important your health is.
sustainable cities and commu-
nities
Romco Metals wants to do more than simply recy-
cle aluminium and copper scrap. The company is
taking steps to improve the lives of people in
Nigeria and Ghana with various projects 'on the
ground', says ceo Raymond Onovwigun. 'We have
organised plastic waste clean-up days. We have
also helped locals living near our recycling plant in
Nigeria by building a bridge. The construction
project was being discussed by municipality parties
for so long. If we hadn't gotten involved, who
knows how long the people would have been wait-
ing? It's amazing how something so simple can
boost people's quality of life – and it's also good
for us because it makes logistics a lot easier. In the
end, we're all helping each other.'
According to the businessman, there is still a lot of
work to do in terms of educating people about the
practical ways to get involved in the circular econo-
my. The important thing is to take on a top-down
approach. 'Decision makers, investors and politi-
cians have so many concerns. Often, recycling is
just an afterthought, especially in developing
nations. Obviously, it's impossible to scale up recy-
cling practices if there is no proper recycling infra-
structure in place to begin with. I'm glad to say this
is slowly changing across the world, including
Africa.'
Romco Metals increased its revenue by over 900% during the
pandemic.
40-41-42-43_romco.indd 42 16-09-21 09:17