OUT NOW: Autumn issue!
Subscribe
Page 38 from: OUT NOW: Autumn issue!
38 Mapping the latest battery trends: a future-proof industry? Batteries power a multitude of consumer products and heavy-duty industrial equipment. With more battery chemistries being explored and market demand steadily increasing, ...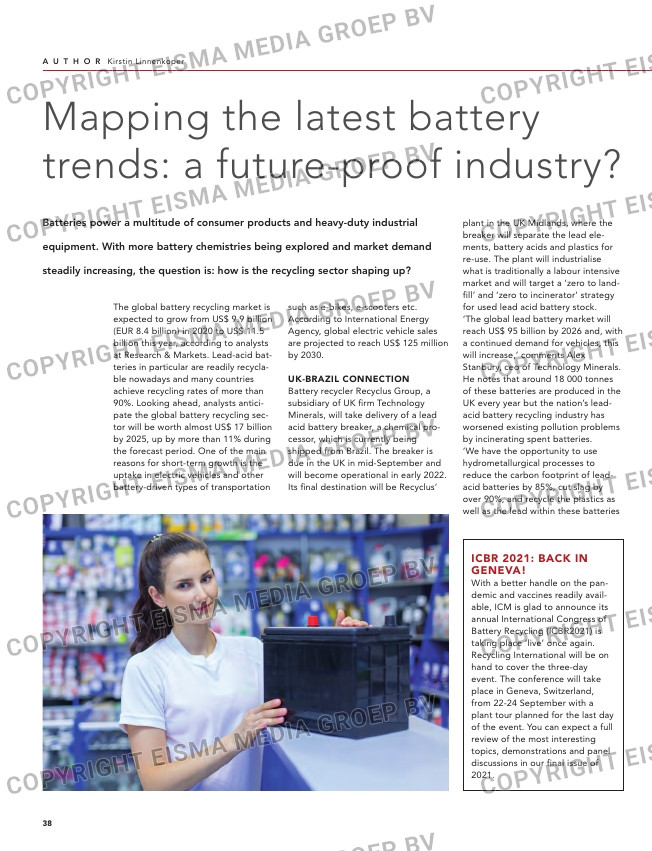 38
Mapping the latest battery
trends: a future-proof industry?
Batteries power a multitude of consumer products and heavy-duty industrial
equipment. With more battery chemistries being explored and market demand
steadily increasing, the question is: how is the recycling sector shaping up?
to help meet increased demand,'
Stanbury says. 'Our new plant on
order from Brazil will help us to
achieve those targets, and we look
forward to having it fully operational
by the first quarter of the new year.'
E-cars in Finland
Valmet Automotive and Fortum have
joined forces to advance car battery
recycling. The new collaboration is
meant to ensure safe and sustainable
recycling of all non-compliant battery
materials from the battery plants
Valmet Automotive operates in Salo
and Uusikaupunki, Finland. Finnish
contract manufacturer Valmet assem-
bles battery modules and systems
from purchased cells. Battery systems
are then either delivered to the cus-
tomer or, if the customer has vehicles
made to order by Valmet, installed
directly in the vehicles.
Battery assembly is already underway
at the Salo plant and is scheduled to
start in Uusikaupunki in the second
half of 2021. Valmet has already
received three major orders for prod-
ucts from this plant alone.
According to Tero Holländer, head of
Fortum's batteries business line, it
offers a 'unique and low-CO2 process'
to recycle up to 95% of the metals in
the black mass. Materials in the black
mass, such as lithium, cobalt, manga-
nese and nickel, will serve the produc-
tion of new batteries.
Currently, the recycling agreement is
limited to the two companies' home
market. However, they are exploring
the possibility of expanding their
cooperation to Valmet's sites in
Germany to be closer to the major car
manufacturers in the fast-developing
EV sector.
china wants 'smooth'
supply
The Chinese government plans to fur-
ther strengthen its supply guarantees
for lithium, cobalt, nickel and other
key materials to support rapid devel-
opments in the country's e-mobility
industry.
'The cost of new energy vehicles is
still high and the safety, reliability and
convenience of use need to be further
The global battery recycling market is
expected to grow from US$ 9.9 billion
(EUR 8.4 billion) in 2020 to US$ 11.5
billion this year, according to analysts
at Research & Markets. Lead-acid bat-
teries in particular are readily recycla-
ble nowadays and many countries
achieve recycling rates of more than
90%. Looking ahead, analysts antici-
pate the global battery recycling sec-
tor will be worth almost US$ 17 billion
by 2025, up by more than 11% during
the forecast period. One of the main
reasons for short-term growth is the
uptake in electric vehicles and other
battery-driven types of transportation
such as e-bikes, e-scooters etc.
According to International Energy
Agency, global electric vehicle sales
are projected to reach US$ 125 million
by 2030.
uK-Brazil connEction
Battery recycler Recyclus Group, a
subsidiary of UK firm Technology
Minerals, will take delivery of a lead
acid battery breaker, a chemical pro-
cessor, which is currently being
shipped from Brazil. The breaker is
due in the UK in mid-September and
will become operational in early 2022.
Its final destination will be Recyclus'
plant in the UK Midlands, where the
breaker will separate the lead ele-
ments, battery acids and plastics for
re-use. The plant will industrialise
what is traditionally a labour intensive
market and will target a 'zero to land-
fill' and 'zero to incinerator' strategy
for used lead acid battery stock.
'The global lead battery market will
reach US$ 95 billion by 2026 and, with
a continued demand for vehicles, this
will increase,' comments Alex
Stanbury, ceo of Technology Minerals.
He notes that around 18 000 tonnes
of these batteries are produced in the
UK every year but the nation's lead-
acid battery recycling industry has
worsened existing pollution problems
by incinerating spent batteries.
'We have the opportunity to use
hydrometallurgical processes to
reduce the carbon footprint of lead-
acid batteries by 85%, cut slag by
over 90%, and recycle the plastics as
well as the lead within these batteries
icBr 2021: BacK in
GEnEva!
With a better handle on the pan-
demic and vaccines readily avail-
able, ICM is glad to announce its
annual International Congress of
Battery Recycling (ICBR2021) is
taking place 'live' once again.
Recycling International will be on
hand to cover the three-day
event. The conference will take
place in Geneva, Switzerland,
from 22-24 September with a
plant tour planned for the last day
of the event. You can expect a full
review of the most interesting
topics, demonstrations and panel
discussions in our final issue of
2021.
a u t h o r Kirstin Linnenkoper
38-39_batteries.indd 38 15-09-21 11:50