OUT NOW: Autumn issue!
Subscribe
Page 36 from: OUT NOW: Autumn issue!
36 The rebirth of medical scrap metal There are many niche markets within the global recycling community. Some recyclers focus on aircraft dismantling, others on aspects of electronics but one uncommon field of expertise is recovering...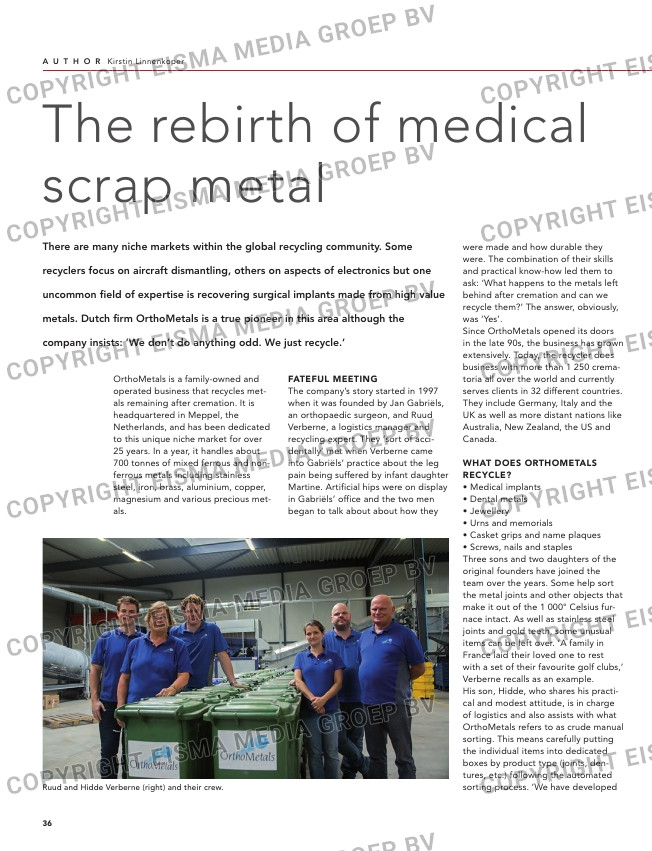 36
The rebirth of medical
scrap metal
There are many niche markets within the global recycling community. Some
recyclers focus on aircraft dismantling, others on aspects of electronics but one
uncommon field of expertise is recovering surgical implants made from high value
metals. Dutch firm OrthoMetals is a true pioneer in this area although the
company insists: 'We don't do anything odd. We just recycle.'
custom-made, specialised machinery
that suits our specific sorting lines.'
Meaningful second life
Hidde adds: 'The sorted metals are
smelted for reuse at our partner
foundries. None of the metals will be
recognisably reused and will serve
other purposes entirely.' This means a
knee replacement won't see a second
life as a knee replacement.
An interesting part of OrthoMetals'
business case is that more than 50%
of the value of the recovered metals
is donated to charity. The Verberne
family underlines that the recovered
metals are 100% pure and that most
output is precious metals. Even so,
OrthoMetals is a family-owned and
operated business that recycles met-
als remaining after cremation. It is
headquartered in Meppel, the
Netherlands, and has been dedicated
to this unique niche market for over
25 years. In a year, it handles about
700 tonnes of mixed ferrous and non-
ferrous metals including stainless
steel, iron, brass, aluminium, copper,
magnesium and various precious met-
als.
fateful Meeting
The company's story started in 1997
when it was founded by Jan Gabriëls,
an orthopaedic surgeon, and Ruud
Verberne, a logistics manager and
recycling expert. They 'sort of acci-
dentally' met when Verberne came
into Gabriëls' practice about the leg
pain being suffered by infant daughter
Martine. Artificial hips were on display
in Gabriëls' office and the two men
began to talk about about how they
were made and how durable they
were. The combination of their skills
and practical know-how led them to
ask: 'What happens to the metals left
behind after cremation and can we
recycle them?' The answer, obviously,
was 'Yes'.
Since OrthoMetals opened its doors
in the late 90s, the business has grown
extensively. Today, the recycler does
business with more than 1 250 crema-
toria all over the world and currently
serves clients in 32 different countries.
They include Germany, Italy and the
UK as well as more distant nations like
Australia, New Zealand, the US and
Canada.
What does orthoMetals
recycle?
• Medical implants
• Dental metals
• Jewellery
• Urns and memorials
• Casket grips and name plaques
• Screws, nails and staples
Three sons and two daughters of the
original founders have joined the
team over the years. Some help sort
the metal joints and other objects that
make it out of the 1 000° Celsius fur-
nace intact. As well as stainless steel
joints and gold teeth, some unusual
items can be left over. 'A family in
France laid their loved one to rest
with a set of their favourite golf clubs,'
Verberne recalls as an example.
His son, Hidde, who shares his practi-
cal and modest attitude, is in charge
of logistics and also assists with what
OrthoMetals refers to as crude manual
sorting. This means carefully putting
the individual items into dedicated
boxes by product type (joints, den-
tures, etc.) following the automated
sorting process. 'We have developed
a u T h O r Kirstin Linnenkoper
high deMand for Medical Metals
The global orthopaedic implants market is a booming sector, expected to
reach US$ 67 billion (EUR 57 billion) by 2027, meaning a US$ 9 billion
growth over the next five years. Most of these medical items are made from
titanium or stainless steel (alloys), while a portion is polymers and ceramics.
Dental implants (titanium and zirconium) are gaining in popularity, worth
almost US$ 3.5 billion in 2020 and forecast to exceed US$ 7 billion by 2028.
As an aside, the US National Funeral Directors Association estimates up to
80% of citizens will choose cremation by 2040. At the moment, the top
three countries with the highest cremation rate (over 95%) are Japan, Nepal
and Thailand. The Netherlands, where Orthometals is based, has a crema-
tion rate of roughly 65%.
Ruud and Hidde Verberne (right) and their crew.
36-37_orthometals.indd 36 15-09-21 11:50