OUT NOW: Autumn issue!
Subscribe
Page 34 from: OUT NOW: Autumn issue!
34 Lisa O'Donoghue, founder of Votechnik (featured in the latest issue of Recycling Technology). The compa- ny focusses on recycling liquid crystal displays, so most of the material she encounters is e-scrap. One pile of scrap stood...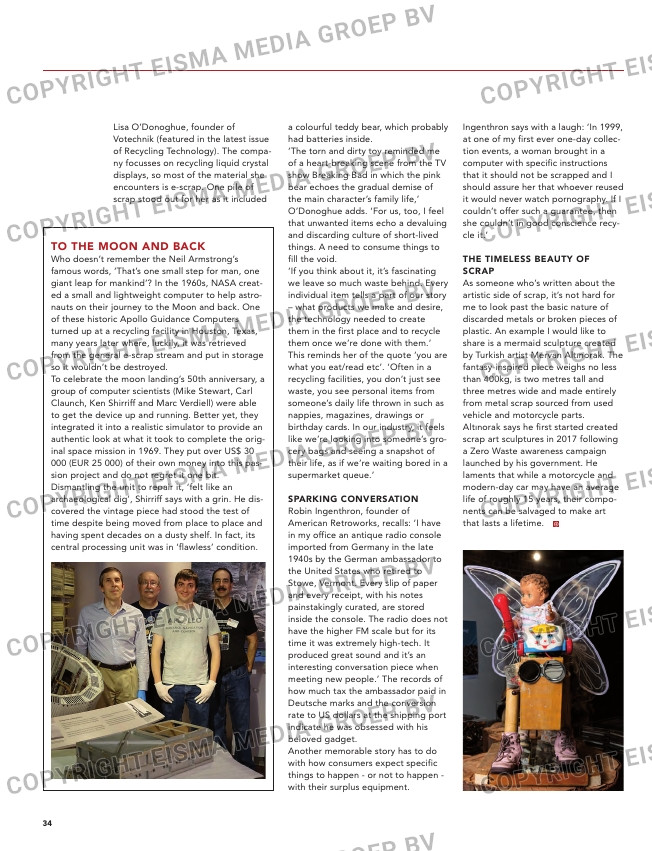 34
Lisa O'Donoghue, founder of
Votechnik (featured in the latest issue
of Recycling Technology). The compa-
ny focusses on recycling liquid crystal
displays, so most of the material she
encounters is e-scrap. One pile of
scrap stood out for her as it included
a colourful teddy bear, which probably
had batteries inside.
'The torn and dirty toy reminded me
of a heart-breaking scene from the TV
show Breaking Bad in which the pink
bear echoes the gradual demise of
the main character's family life,'
O'Donoghue adds. 'For us, too, I feel
that unwanted items echo a devaluing
and discarding culture of short-lived
things. A need to consume things to
fill the void.
'If you think about it, it's fascinating
we leave so much waste behind. Every
individual item tells a part of our story
– what products we make and desire,
the technology needed to create
them in the first place and to recycle
them once we're done with them.'
This reminds her of the quote 'you are
what you eat/read etc'. 'Often in a
recycling facilities, you don't just see
waste, you see personal items from
someone's daily life thrown in such as
nappies, magazines, drawings or
birthday cards. In our industry, it feels
like we're looking into someone's gro-
cery bags and seeing a snapshot of
their life, as if we're waiting bored in a
supermarket queue.'
sparKing conversation
Robin Ingenthron, founder of
American Retroworks, recalls: 'I have
in my office an antique radio console
imported from Germany in the late
1940s by the German ambassador to
the United States who retired to
Stowe, Vermont. Every slip of paper
and every receipt, with his notes
painstakingly curated, are stored
inside the console. The radio does not
have the higher FM scale but for its
time it was extremely high-tech. It
produced great sound and it's an
interesting conversation piece when
meeting new people.' The records of
how much tax the ambassador paid in
Deutsche marks and the conversion
rate to US dollars at the shipping port
indicate he was obsessed with his
beloved gadget.
Another memorable story has to do
with how consumers expect specific
things to happen – or not to happen –
with their surplus equipment.
Ingenthron says with a laugh: 'In 1999,
at one of my first ever one-day collec-
tion events, a woman brought in a
computer with specific instructions
that it should not be scrapped and I
should assure her that whoever reused
it would never watch pornography. If I
couldn't offer such a guarantee, then
she couldn't in good conscience recy-
cle it.'
the timeLess beauty of
scrap
As someone who's written about the
artistic side of scrap, it's not hard for
me to look past the basic nature of
discarded metals or broken pieces of
plastic. An example I would like to
share is a mermaid sculpture created
by Turkish artist Mervan Altınorak. The
fantasy-inspired piece weighs no less
than 400kg, is two metres tall and
three metres wide and made entirely
from metal scrap sourced from used
vehicle and motorcycle parts.
Altınorak says he first started created
scrap art sculptures in 2017 following
a Zero Waste awareness campaign
launched by his government. He
laments that while a motorcycle and
modern-day car may have an average
life of roughly 15 years, their compo-
nents can be salvaged to make art
that lasts a lifetime.
to the moon and bacK
Who doesn't remember the Neil Armstrong's
famous words, 'That's one small step for man, one
giant leap for mankind'? In the 1960s, NASA creat-
ed a small and lightweight computer to help astro-
nauts on their journey to the Moon and back. One
of these historic Apollo Guidance Computers
turned up at a recycling facility in Houston, Texas,
many years later where, luckily, it was retrieved
from the general e-scrap stream and put in storage
so it wouldn't be destroyed.
To celebrate the moon landing's 50th anniversary, a
group of computer scientists (Mike Stewart, Carl
Claunch, Ken Shirriff and Marc Verdiell) were able
to get the device up and running. Better yet, they
integrated it into a realistic simulator to provide an
authentic look at what it took to complete the orig-
inal space mission in 1969. They put over US$ 30
000 (EUR 25 000) of their own money into this pas-
sion project and do not regret it one bit.
Dismantling the unit to repair it, 'felt like an
archaeological dig', Shirriff says with a grin. He dis-
covered the vintage piece had stood the test of
time despite being moved from place to place and
having spent decades on a dusty shelf. In fact, its
central processing unit was in 'flawless' condition.
30-31-32-33-34_recycledornot.indd 34 15-09-21 11:50