OUT NOW: Autumn issue!
Subscribe
Page 33 from: OUT NOW: Autumn issue!
INSPIRATION 33recyclinginternational.com | September/October | 2021 The reliable brand! untha.com/products/zr-mobile Find out more TOUGH in performing, SMART in saving The new ZR class is the most economical 2-shaft shredder with ...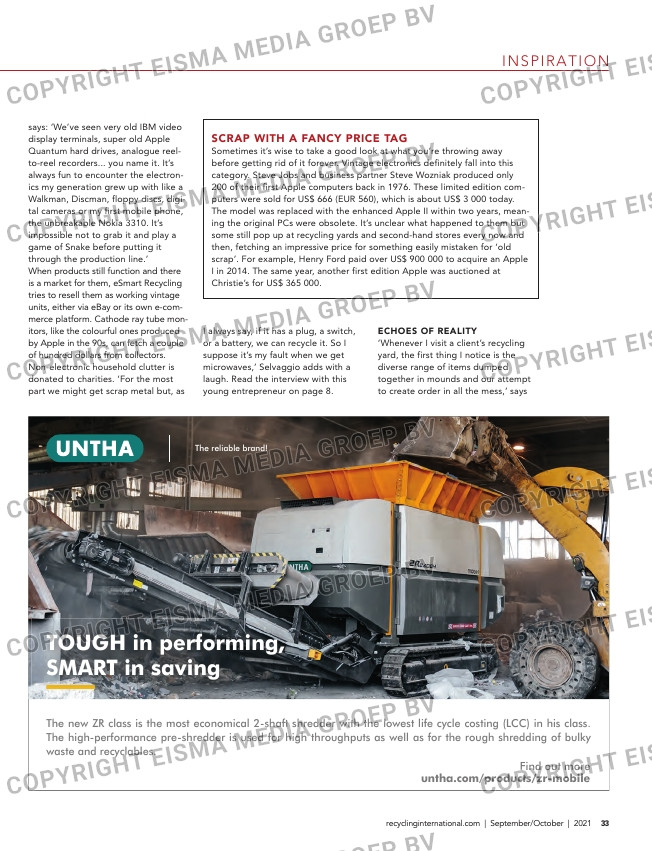 INSPIRATION
33recyclinginternational.com | September/October | 2021
The reliable brand!
untha.com/products/zr-mobile
Find out more
TOUGH in performing,
SMART in saving

The new ZR class is the most economical 2-shaft shredder with the lowest life cycle costing (LCC) in his class.
The high-performance pre-shredder is used for high throughputs as well as for the rough shredding of bulky
waste and recyclables.
says: 'We've seen very old IBM video
display terminals, super old Apple
Quantum hard drives, analogue reel-
to-reel recorders… you name it. It's
always fun to encounter the electron-
ics my generation grew up with like a
Walkman, Discman, floppy discs, digi-
tal cameras or my first mobile phone,
the unbreakable Nokia 3310. It's
impossible not to grab it and play a
game of Snake before putting it
through the production line.'
When products still function and there
is a market for them, eSmart Recycling
tries to resell them as working vintage
units, either via eBay or its own e-com-
merce platform. Cathode ray tube mon-
itors, like the colourful ones produced
by Apple in the 90s, can fetch a couple
of hundred dollars from collectors.
Non-electronic household clutter is
donated to charities. 'For the most
part we might get scrap metal but, as
I always say, if it has a plug, a switch,
or a battery, we can recycle it. So I
suppose it's my fault when we get
microwaves,' Selvaggio adds with a
laugh. Read the interview with this
young entrepreneur on page 8.
echoes of reaLity
'Whenever I visit a client's recycling
yard, the first thing I notice is the
diverse range of items dumped
together in mounds and our attempt
to create order in all the mess,' says
scrap like artificial hips, recalls finding
several Sikh knives (part of the Indian
burial ceremony) among the ashes
collected at cremation facilities in the
UK. They were intact as the steel or
iron blades can withstand the heat of
the 1 000° furnace. With the owner
having shuffled off this mortal coil, the
recycler believes it's fitting that the
blades loop round to start a new life.
See page 36 for a company profile on
OrthoMetals.
'unbreaKabLe' noKia
'We mostly get printed circuit boards
and other e-scrap, contamination is
not that bad,' recounts Tony Selvaggio
of Florida-based eSmart Recycling.
'Sure, the occasional kitchen applianc-
es will come with random plates and
silverware. That's only when doing
community recycling drives.'
Asked about memorable finds, he
scrap with a fancy price tag
Sometimes it's wise to take a good look at what you're throwing away
before getting rid of it forever. Vintage electronics definitely fall into this
category. Steve Jobs and business partner Steve Wozniak produced only
200 of their first Apple computers back in 1976. These limited edition com-
puters were sold for US$ 666 (EUR 560), which is about US$ 3 000 today.
The model was replaced with the enhanced Apple II within two years, mean-
ing the original PCs were obsolete. It's unclear what happened to them but
some still pop up at recycling yards and second-hand stores every now and
then, fetching an impressive price for something easily mistaken for 'old
scrap'. For example, Henry Ford paid over US$ 900 000 to acquire an Apple
I in 2014. The same year, another first edition Apple was auctioned at
Christie's for US$ 365 000.
30-31-32-33-34_recycledornot.indd 33 15-09-21 11:50